Introduction:
Since peaking at $16.49 in November last year, China Distance Education Limited (NYSE:DL) has corrected over 30% in less than two months. In my view, the correction is a result of two main factors: 1) slower revenue growth expected in 2015 and 2) fears of a broader Chinese market slowdown resulting in fears of holding stocks with exposure to China. These fears, however, are misplaced and stem mainly from the lack of understanding of the Chinese education market, in my view.
Regular followers of DL will recall my initiation report on DL on the 10th of September last year where I recommended accumulating the stock. The climate then was not much different from now, where fears of a Chinese slowdown saw a global sell off in equity markets before recovering. Since accumulating then, I have seen the shares of DL rise a staggering 56% in two months. I think the latest sell down presents investors who had missed the boat the first time around another opportunity to accumulate shares of DL like I did last Friday.
Slower revenue growth for 2015 a one-off event
Shares of DL started declining after their fourth quarter results announcement on the 12th of November last year (DL's fiscal year begins in October), which saw them report revenue growth of only 11.3%, a five year low. The results saw them miss revenue estimates in the fourth quarter.
The slower revenue growth for 2015 was a marked departure from the average 30% growth they managed over the period 2011 to 2014. The result of the above is that investors have sold off shares of DL since the fourth quarter results announcement.
The slower revenue growth, however, was the result of delays to the Certified Public Accountants (NYSE:CPA) exams and the suspension of registered tax agents (RTA) exams in China. Management elaborated on this during the fourth quarter results announcement; you can see this for yourself below:
"Fiscal 2015 was clearly a challenging year. Our revenue growth was impacted by the previously announced suspension of the Registered Tax Agent or RTA exam, regulation changes related to our Engineering and Construction vertical, and exam timing changes for some of our main courses. Despite these challenges, we delivered a double-digit revenue growth and non-GAAP operating margin increase over the previous year."
I think their ability to deliver double digit growth in such challenging conditions, alludes to management's ability to continue attracting students in such times and the resiliency of the business. In my view, the current change in the curriculum of the RTA exam is nothing more than a temporary event that would be resolved in no time. Consequently, the announcement of the resumption of the RTA exam would be a potential catalyst for DL.
Fears of a Chinese market slowdown misplaced
The rapid pace in the sell off of DL follows that of the summer sell off in Chinese stocks last year. The current sell off in my view is nothing more than the current risk aversion of investors with Chinese stocks. This is evidenced by the 21.7% correction in DL since the beginning of the year.
Such fear, however, is a little irrational given the resilience of the education sector in China. According to the 13th Five Year Plan (FYP) announced by China in 2015, education continues to be one of the most important areas of development for the next five years with heavy investments earmarked by the government in this area.
While I concede the current risk-off sentiment towards Chinese stocks could keep DL depressed in the short- to medium-term, I think the tide remains in DL's favor from the 1) Hukou reform (elaborated on in my Initiation report) and 2) accommodative policies announced by the Chinese government in education in the FYP. I think long-term shareholders of DL will be rewarded once the risk-off sentiment towards Chinese stocks starts to wane. I will be looking to add to my current position.
Undemanding valuations
DL is currently trading at about 16x earnings vs. the sector's 32x with a generous dividend yield of over 7%. I think the steep sell down presents investors (including myself) another opportunity to accumulate shares of DL, which is on sale now.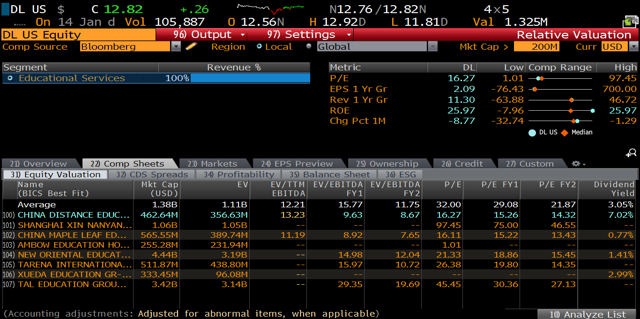 Click to enlarge
Source: Bloomberg
Conclusion
Owing to its small market size, around $450 million based on last Friday's close, DL is an under-covered stock, leading to many in the marketplace not understanding the business. Education in China is seen as extremely important to the Chinese in order to break out of the poverty trap, benefiting companies like DL. I think the 7% dividend yield should give investors comfort and I will be looking to add positions in DL.
Disclosure: I am/we are long DL.
I wrote this article myself, and it expresses my own opinions. I am not receiving compensation for it (other than from Seeking Alpha). I have no business relationship with any company whose stock is mentioned in this article.