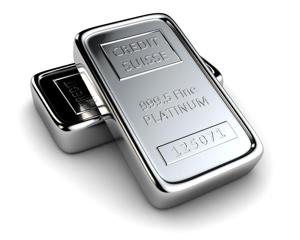 Precious metal markets were walloped last year. A sharp appreciation of the U.S. dollar amid interest rate hike speculation-it eventually happened in December- reduced investors' appetite for non-interest yielding assets. Last year, all precious metal backed exchange traded funds ended sharply lower.
Platinum's performance, however, has been terrible. The metal lost about 27% in 2015, performing just better than palladium, which nosedived about 31%.
Physical Platinum Shares ETF (NYSEARCA:PPLT) has slumped around 35% in last twelve months.
Apart from rising dollar, several other factors have weighed on the metal price. The biggest contributor has been continued mining of platinum despite years of depressed price environment. Adding to the misery, sharp depreciation of the South African currency, rand, also incentivized miners to boost exports. South Africa accounts for about 70% of the world's total platinum production.
Platinum, which typically trades higher than gold in terms of value per ounce, is now trading cheaper than the yellow metal for about a year now.
However, the metal could finally post some gains although not in the very near future.
Precious Metals could gain under prevailing environment
Firstly, I believe that the Fed will not be inclined to hike the benchmark interest rates any further given that the state of the global economy is looking fragile. Moreover, other emerging market economies are reeling under tremendous pressure. Many of these commodity export- oriented economies such as Brazil, Indonesia have been witnessing steep decline in exports, shipments due to a weakness in global demand. Moreover, emerging market currencies have also taken a beating due to the Fed's monetary tightening.
Any further interest rate hike will result in more outflows of funds from emerging markets, which in turn, could add to the volatility in the market. In any case, the Fed has maintained that the pace of rate hike will be slow. China's economy has slowed down significantly. So, I expect the Fed will be little circumspect in this regard before it decides to raise interest rates any further. That should help in stabilizing the dollar, which could create some demand for precious metals. We can already see some recovery in the gold market since the beginning of the year.
Likewise, equity markets investors are spooked by the recent turmoil. While concerns over China have rattled investors, U.S. equities, many believe, may witness correction as valuations seem to be high. It may prompt investors to hedge risk by looking towards precious metals.
Robust Demand from Automobile industry and Cutback in Capital Expenditure Could Balance the Market in the Middle term
Nevertheless, we have to bear in mind that investment demand for the white metal, unlike gold, is very low. Investment demand accounts for just about a tenth of the total annual demand for platinum.
Platinum's primary demand arises from the automobile and jewelry sector. The demand for platinum jewelry, however, has slumped ever since China started to crackdown on corruption; which in turn, slowed down the rampant practice of gifting expensive goods.
Still, the demand from automobile sector has been very robust. Thanks to a strong demand from the sector, platinum market was expected to record a deficit of 652,000 ounces in 2015. The automobile demand is expected to remain strong this year as well.
Nonetheless, the fact that platinum miners continued to increase production all these years, notwithstanding slump in prices, has resulted in demand-supply disequilibrium.
That situation might just change in coming years. The Financial Times, citing the World Investment Council in September, reported that an extended period of depressed platinum prices, has forced South African miners to cut their capital investment budget for next two years.
According to the report, South African platinum miners' annual investment, which stood at $3 billion in 2008, fell to $1 billion in 2015. As a result, sooner rather than later, the market could witness some equilibrium, which could support prices, not in a very near-future, but in the middle-term time horizon.
Overall, in the near-term, I expect platinum miners to continue to face challenges. But more medium-term, once market stabilizes, things could improve for platinum miners. The question is whether miners can survive the current environment.
Disclosure: I/we have no positions in any stocks mentioned, and no plans to initiate any positions within the next 72 hours.
I wrote this article myself, and it expresses my own opinions. I am not receiving compensation for it (other than from Seeking Alpha). I have no business relationship with any company whose stock is mentioned in this article.