Introduction
I used to like B2Gold (NYSEMKT:BTG) in the past, but the company has lost some of its appeal to me, as I wasn't convinced about the company's plans at the Fekola gold project in Mali, as I feared the company overpaid for the asset. Fortunately B2Gold did what it had to do at the Otjikoto gold mine in Namibia, and the production ramp-up there went pretty smooth, making the Otjikoto mine the second largest gold producer in the company's portfolio.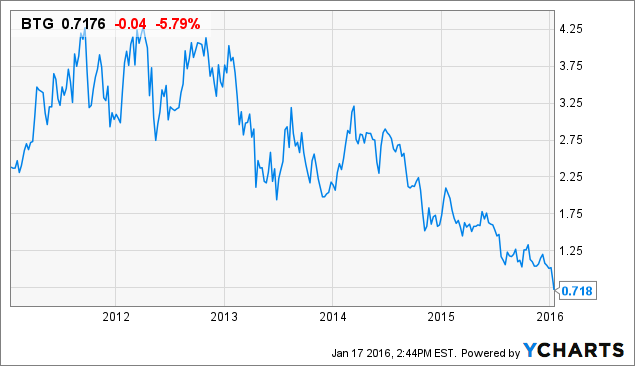 Time to check up on the 2015 performance and to break the 2016 guidance down in parts!
2015 was in line with expectations, but 2016 is looking a bit light
The 2015 production results were in line with expectations, and achieving a seventh consecutive year with a record gold production definitely has a nice ring to it. The total gold output came in at almost 494,000 ounces, just short of the magical 500,000 ounce mark. This excellent performance was largely due to the better than expected start-up phase at the Otjikoto gold mine in Namibia. That mine only reached commercial production in 2015 but the capacity of the processing plant was immediately increased by 20% to 3 million tonnes per year to unlock even more economies of scale.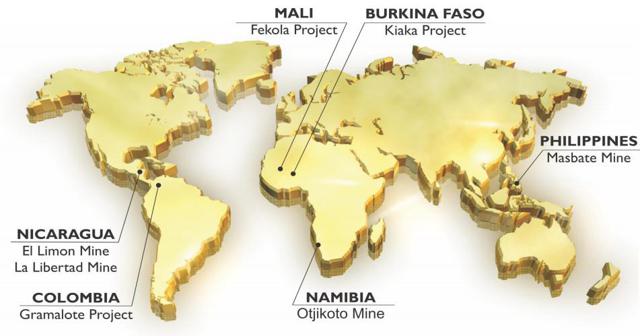 Click to enlarge
Source: company presentation
The Otjikoto mine produced a total of almost 146,000 ounces of gold after an exceptionally strong Q4 production (wherein the plant was tested to find out if the capacity increase to 3M tpa was indeed achieved), and Otjikoto's Q4 productionrate was almost 40,000 ounces, indicating an annualized production rate of 160,000 ounces of gold per year!
Otjikoto was performing pretty well, but it was once again the acquisition of the Masbate mine in the Philippines a few years ago was a good move. The mine produced approximately 175,000 ounces of gold in 2015 but is now slated to produce 175,000-185,000 ounces of gold per year at an operating cash cost of $620-660/oz. Even after throwing in the expected sustaining capex of less than $25M, the AISC could (and should) remain limited to $800/oz, confirming Masbate's cash cow status. On top of that, B2Gold is planning to spend an additional $22M in growth capex in the first half of 2016. This cash will be spent on acquiring and installing additional process tanks, as well as throwing some more money on the cyclones and carbon regeneration systems which should increase the throughput of the Masbate plant as well as increasing the gold recovery rate (which is just 72%). The upgrades should be installed by the end of Q3, so it will be interesting to see what kind of improvements B2Gold will be able to see in the final quarter of this year.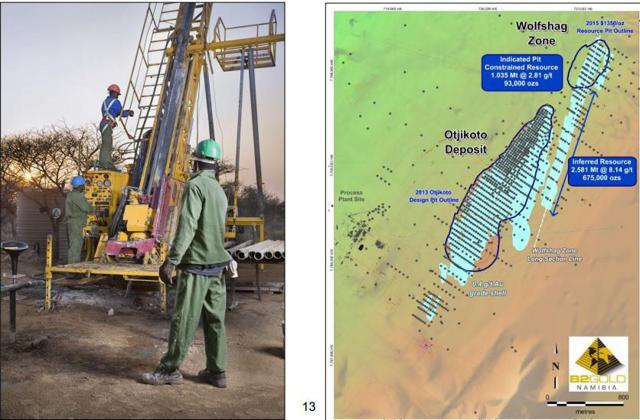 Click to enlarge
Source: company presentation
I was also a little bit surprised by seeing approximately $30M being earmarked as growth capex for the Otjikoto gold mine in Namibia, but apparently B2Gold is budgeting the pre-strip phase at the Wolfshag zone as growth capex rather than sustaining capex. B2Gold will also spend almost $5M on almost 11,000 meters of drilling at the Wolfshag Resource and will very likely also plug a few holes at the Ondundu gold project, located approximately 120 miles away from Otjikoto. I'm looking forward to see the drill results of the Wolfshag drill program, as the average grade in the current (small!) resource estimate is approximately twice as high compared to the overall grade of the Otjikoto open pit (2.81 g/t vs 1.43 g/t), so a blend of Otjikoto ore and Wolfshag ore in a 90/10 ratio could boost the average grade of the processed ore by 10%, further increasing the output at Otjikoto whilst reducing the production costs in the process.
I can live with the lower production expectation, but B2Gold will have to address its capital needs
Unfortunately the production guidance for 2016 seems to be pretty conservative as B2Gold is now guiding for a total production rate of 510,000-550,000 ounces of gold (midpoint: 530,000 ounces). That's a little bit lower than the midpoint of 550,000 ounces I was eyeing, but I think B2Gold might be deliberately conservative in its projections as it would allow the company to outperform.
Once thing's certain, despite the lower than expected guidance, B2Gold should be able to produce a record amount of gold for the eighth consecutive year. B2 is also preparing to extend this streak to the ninth consecutive year as the company expects to spend in excess of $233M on the development of the Fekola gold project in Mali, where B2Gold has drilled a total of almost 53,000 meters in the past 12 months to increase its confidence in the existing mineralized zones. An additional 43,000 meters will be drilled this year whilst B2Gold will start to push forward with the concrete work and the earthworks.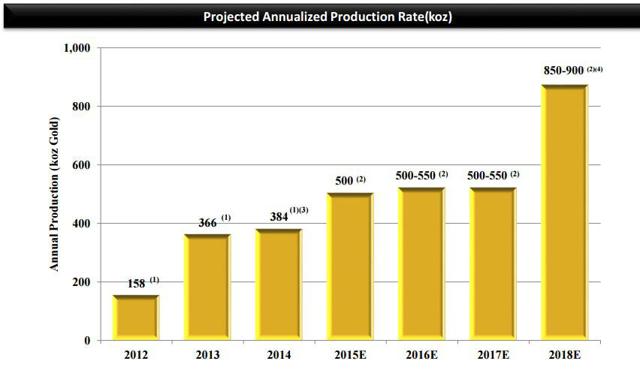 Click to enlarge
Source: company presentation
Of course, this will cost quite a bit of cash, and B2Gold will need external financing to complete all activities it wants to. Based on the mid-point of the production and operating cost guidance for 2016, an average gold price of $1100/oz should result in a pre-tax operating cash flow of approximately $265M. After deducting the (sustaining + growth) capex of $136M at the producing projects and the consolidated G&A expenses B2Gold should have $100M available to spend at its other projects (including Fekola).
This means that if B2Gold is serious about investing $233M at Fekola this year, it will need to find an additional $100-130M throughout the current year and that's the main reason why the company has filed a base shelf prospectus to raise up to $300M of new securities.
Investment thesis
B2Gold has finished 2015 with yet another gold production record and has set its sights on an eight consecutive production record as it now plans to produce in excess of half a million ounces of gold in 2016. The Otjikoto project has now been under steam for quite a while and should produce in excess of 160,000 ounces of gold this year and provide a sound base for several years to come.
That being said, B2Gold will have to make some choices. If it wouldn't have to spend cash on the Fekola project, the company would be free cash flow positive, but as B2Gold wants to invest $233M at the project in Mali, it will need to find additional cash sources. An equity dilution cannot be excluded given the base shelf prospectus that has recently been filed by the company.
Disclosure: I/we have no positions in any stocks mentioned, and no plans to initiate any positions within the next 72 hours.
I wrote this article myself, and it expresses my own opinions. I am not receiving compensation for it (other than from Seeking Alpha). I have no business relationship with any company whose stock is mentioned in this article.
Editor's Note: This article covers one or more stocks trading at less than $1 per share and/or with less than a $100 million market cap. Please be aware of the risks associated with these stocks.