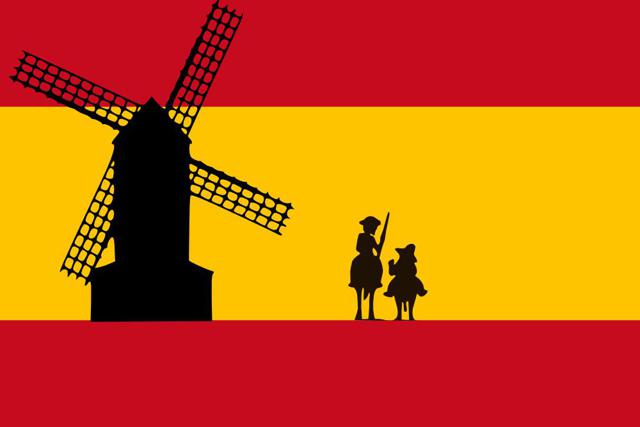 Click to enlarge
Don Quixote and Sancho Panza. Source: flickr.com
Canadian Pacific's (NYSE:CP) unfriendly takeover attempt of Norfolk Southern (NYSE:NSC) made a big splash in November. Since, the Fed has raised interest rates, the S&P 500 (NYSEARCA:SPY) is off nearly 10%, and Canadian Pacific's offer is looking like a glorified public relations stunt. The deal took another body blow last week after regulators raised issues that railroad mergers could lead to safety deficiencies:
The Federal Railroad Administration, which regulates safety for the U.S. industry, expects to scrutinize the "significant safety hurdles" that would result from merging any of the nation's major railroads, the head of the agency said.

"Combining large rail systems, rule books, workforces, and safety cultures can lead to safety vulnerabilities and deficiencies," Federal Railroad Administrator Sarah Feinberg said. "It's our job to insure that safety is not only not compromised in any potential merger, but prioritized."
Though the FRA is not empowered to block the merger, it could influence the decision makers. The Surface Transportation Board ("STB") which approves railroad mergers, will likely require the deal to [i] be in the best interest of the public and [ii] enhance competition. The deal's potential impact on safety could come up under the broad scope of public interest. That might not bode well for Canadian Pacific.
Is CP The "Don Quixote" Of The Railroad Industry?
I tend to write about economics and finance. However, I also took some Spanish courses in college. What I remember most was the story of Don Quixote, written by Miguel de Cervantes Saavedra, and his vivid imagination. That imagination may be equaled by Canadian Pacific and its mercurial CEO, Hunter Harrison.
Canadian Pacific And Unrequited Love
Don Quixote's lady love was Dulcinea del Toboso, a local peasant girl whom Quixote fancied as the most beautiful girl in the world. Quixote goes on incessantly about Dulcinea's beauty and class, yet admits he has never met her and she doesn't know he's alive. I anticipated a chase scene and some type of resolution; it ultimately turned out to be several pages of unrequited love.
Meanwhile, Harrison has expressed to the world his interest in Norfolk Southern. I first saw Harrison on CNBC a month ago. What I found odd was that despite the fanfare and incessant news articles about the potential merger, Norfolk Southern and Harrison had never met face-to-face. The Virginia railroad is well-aware of Harrison's affections, yet it has rejected his overtures on three occasions. Norfolk Southern called the company's third bid grossly inadequate, and cautioned Canadian Pacific on the high regulatory hurdles a merger would have to overcome.
Undeterred, Harrison has threatened to take the offer directly to NSC shareholders in the form of a proxy fight:
Harrison appealed directly to Norfolk Southern's shareholders Wednesday. "If they're not going to come to the table and they're not going to talk, and they're not going to enter a dialogue with us, then the only way it's going to happen is if you show support for this transaction," he said on the call. "If you don't want it to happen, all you have to do is tell us. It's up to you."
Proxy material must be submitted by February 14th for Norfolk Southern's annual meeting. That said, Harrison's imagination appears to have gotten the best of him. Silence from NSC board members and major shareholders sounds like a "No," yet Harrison remains in denial about it.
Is CP Chasing Windmills?
Quixote was also known for his adventures. The conquistador's most infamous battle was an attack on vicious giants that turned out to be windmills. The U.S. idiom -- "chasing windmills" -- connotes fighting imaginary enemies or pursuing adventures that simply are not real. It may also apply to the Canadian Pacific -- Norfolk Southern adventure.
Harrison believes the size of the combined entities will create natural efficiencies that will ultimately benefit customers. An increase in railroad safety and service levels would be two benefits one would expect from more size. However, the FRA's recent rant practically debunked the "increased safety" angle. Norfolk Southern's customers also lobbied regulators not to approve the deal, fearing it would lead to higher prices and lower service levels.
Lastly, Harrison has received opposition to his thesis that the merger could solve congestion and train delays in the Chicago area. Union Pacific (NYSE:UNP) argued that the transaction would create more congestion, not less. According to The Globe And Mail, Norfolk Southern would be a dream come true for Harrison -- a railway that reaches three coasts. Nonetheless, his attempts to sell the deal as good for customers or for the industry is shaping up to be a pipe dream.
Grim Reality For CP
Talk of a street fight with Norfolk Southern may sound nice for the press, but the reality is that investors may have soured on the deal.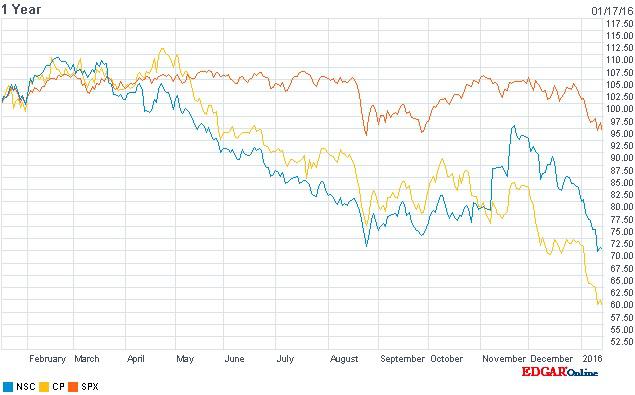 Over the past year NSC and CP are down 27% and 37%, respectively. This compares unfavorably to the S&P 500 which is off about 3% over that time frame. Moreover, the value of Canadian Pacific's offer has also fallen, indicating that investors may have soured on the deal.
In mid-November the offer was valued at $34 billion. Now that the share prices of both companies have declined, the value has fallen 18% to $28 billion. The overall market has pulled back after the Fed hiked rates in mid-December. Secondly, deflation in commodities prices and free falling rail traffic will remain headwinds for both companies going forward. For the week ended January 9th respective U.S. and Canadian rail traffic was down 3.7% and 2.8%.
Anemic Revenue Growth Could Send CP Lower
The popular narrative has been that Canadian Pacific is well-run and efficient while many of the U.S. railroads are inefficient. Harrison has helped rightsize CP through cost cuts and is now attempting to negotiate for lower benefits and headcount reductions with the unions. The company's EBITDA margins are an impressive 49%, versus 39% for Norfolk Southern. However, after taking a closer look, Canadian Pacific's financial performance does not appear to be that impressive.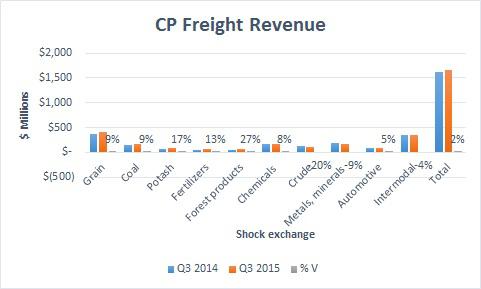 Freight revenue growth for Q3 2015 was an anemic 2% Y/Y. Of note is that coal revenue and grain revenue were both up 9%. This is in sharp contrast to U.S. railroads that have suffered revenue declines in coal in grain. Coal exposure has been the black swan of the U.S. railroad industry. Of the two railroads Harrison has make unfriendly offers for -- CSX Corporation (NASDAQ:CSX) and Norfolk Southern -- both have outsized exposure to coal; CSX gets 16% of its revenue from coal traffic and Norfolk Southern receives 17%. With that much exposure to coal, their revenues and earnings will fall regardless of what their management teams do. Harrison may have approached them in an attempt to prey on the weakest members of the herd.
The company's efficiency gains and hefty margins are already baked into the share price. Going forward investors will likely focus on Canadian Pacific's dismal top line growth and earnings growth. EBITDA was up 10% Y/Y while earnings fell 12%. The company took a $168 million pretax hit primarily related to foreign exchange adjustments on its dollar-denominated debt. That said, I do not believe the company's financial performance justifies its 16x p/e multiple.
CSX's recent dismal earnings report did not help matters. CSX's Q1 revenue was off 13%. Every product line experienced a decline except intermodal which had flat growth Y/Y. I expect CP to continue to fall heading into earnings season. Post-earnings, the stock will likely trade based on its revenue and earnings growth and less on its imaginary takeover of NSC. That's a long-winded way of saying CP is a sell.
Disclosure: I am/we are short CP, NSC, UNP.
I wrote this article myself, and it expresses my own opinions. I am not receiving compensation for it (other than from Seeking Alpha). I have no business relationship with any company whose stock is mentioned in this article.