Woes about a possible global economic slowdown put pressure on commodity prices. Crude oil trades in the high $20s per barrel down from $70s a year ago. Doctor Copper, arguably one of the industrial barometers, is down 22% and it currently trades in the high $1.90s. As the commodities environment continues to deteriorate, machinery suppliers should see sale orders reduced prompting a decline in their revenue - and share price. Astec Industries (NASDAQ: ASTE) is a machinery company selling products to the mining, energy and infrastructure industry. Although Astec's performance seems stable as per its Q3 2015 financial report, investors should sell their shares for the following reasons.
Declining revenue from the most profitable segments
According to Astec's latest financial report, the company's net sales declined by 4% to $211.3 million in Q3 2015 over a y/y basis. Nonetheless, net income increased by 10% to $1.9 million over the same period due to lower cost of sales. One of the reasons of concern is that revenue from the aggregate/mining and energy groups declined by 8% and 15% respectively. These groups represent the highest profitability in the company's operations, Figure 1, Table 1.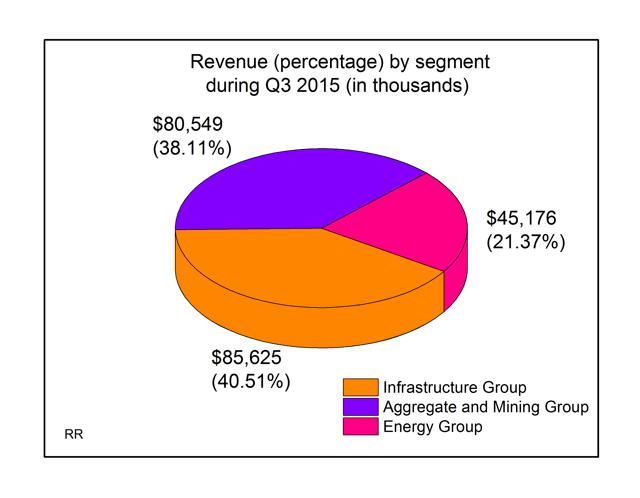 Click to enlarge
Figure 1. Percentage composition of revenue per segment during Q3 2015
| | | | |
| --- | --- | --- | --- |
| | Infrastructure | Aggregate and Mining | Energy |
| Revenue | 85,625 | 80,549 | 45,176 |
| Change Y/Y | 8.0% | -8.7% | -15.1% |
| Gross Profit % | 18.8% | 23.9% | 21.7% |
Table 1. Revenue and gross profit percentage by segment during Q3 2015
Industry outlook is negative
Since the mining and energy industries are expected to remain under pressure in the interim, investors should expect Astec's revenue to continue declining in coming quarters, Figure 2. As sales struggle, I am concerned in Astec's ability to sell its inventory. Currently, inventory is valuated at $384 million representing 70% of the company's current assets. However, due to the illiquid nature of machinery inventory, the company may struggle turning the inventory into cash.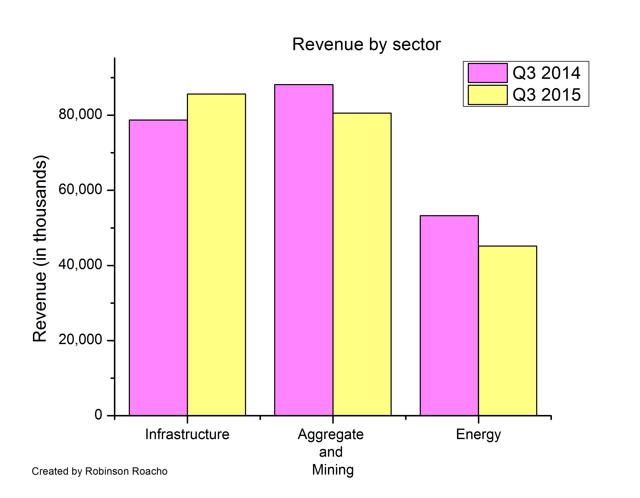 Click to enlarge
Figure 2. Quarterly revenue by sector comparison on a y/y basis
Low on cash
Popular metrics to determine whether a company has sufficient working capital to meet its short-term obligations are the current or quick ratios. However, since the inventory cannot be turned to cash rapidly, investors must consider analyzing the cash ratio. In my view, Astec's cash ratio is concerning. The company reported a cash balance of $13.9 million while its current liabilities are $137.9 million. Despite the barely noticeable improvement of cash ratio on a yearly basis for Q3, the company should improve its cash cushion to decrease the likelihood of a cash shortfall.
| | | |
| --- | --- | --- |
| (in thousands) | Q3 2015 | Q3 2014 |
| Cash | 13,985 | 13,820 |
| Current Liabilities | 137,974 | 150,093 |
| Cash ratio | 0.10 | 0.09 |
The bottom line
Presently, the industry outlook is bearish. As the most profitable segments of Astec continue to struggle, Astec price per share is likely to decline in the interim. Also, the low cash and high inventory reserves may pose a significant trouble for Astec since the company's risk of a cash shortfall is high and the company may struggle selling its current inventory. For these reasons, investors must sell their shares on any bounce.
Disclosure: I/we have no positions in any stocks mentioned, and no plans to initiate any positions within the next 72 hours.
I wrote this article myself, and it expresses my own opinions. I am not receiving compensation for it (other than from Seeking Alpha). I have no business relationship with any company whose stock is mentioned in this article.