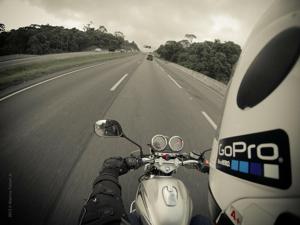 I have a confession to make: I'm stupid, sometimes. But that just makes me human. I'm pretty sure you make silly decisions, too... sometimes. The trick is to learn from those mistakes. And, just as important, to learn from the mistakes of others so you don't have to repeat their errors. GoPro's (NASDAQ:GPRO) implosion is the latest in a long list of lessons Mr. Market has offered up about chasing a fad.
One of my weaknesses
I'm not a big technology guy and I like dividends, so I largely stayed out of the 2000 dot.com bust. However, after the tech sector started to fall I reasoned that the Internet was here to stay and put some money into a technology index fund. I was right about the Internet (OK, not exactly a genius realization there), but I was wrong about just how bad the bursting bubble could get. There was another leg down, I sold at a loss, and I got some tax losses...
But the real lesson from that event, which I didn't grasp until later, had nothing to do with tech. It's that I run into that burning building hoping to find good deals. An index isn't going to offer up unique opportunities (lesson number one) and if I'm going to be early I had better make sure I own the cream of the crop so I can stay the course (lesson number two). And, of course, there's the not so subtle lesson that I shouldn't run into burning buildings quite as quickly as I do.
I still think you can find value among the rubble of a disaster. But I look at things differently now that experience has taught me a few things about myself. Which is why I've watched GoPro with such interest.
Again?
GoPro, if you don't know the name, makes digital cameras. If you hear that and think, "That's not so special" you'd be correct. Digital cameras have been ubiquitous for years. What differentiates GoPro's cameras is that they are meant to be used while engaging in extreme situations like skiing, skateboarding or skydiving. They are small and clip to you or an object so you can video your action in real time. And then you can share it with the world.
To be honest, that's kind of cool. And the brand caught on fairly quickly. But here's the big question: Is that a defensible niche? Essentially, GoPro sells small cameras with clips. Yes, there's more to it than that, but if you had to explain it to your grandmother that's what GoPro does. There's no way GoPro could stop competitors from jumping on that bandwagon.
So, as a one-trick pony with a product that's easy to copy, it's little wonder that GoPro's financial results and stock price have come down hard after the initial enthusiasm that surrounded the company and its cool idea. The thing is, I've seen this story before.
For example, Crocs (NASDAQ:CROX) makes nifty plastic shoes. People seem to love them and when they were first gaining consumer attention the stock skyrocketed. But, just like GoPro's cameras, other people can make plastic shoes, too. Not to mention that tastes change and people move on, particularly when it comes to fashion issues like footwear. (Although it hasn't happened yet, I really hope people move beyond watching videos of other people doing stupid and often dangerous things - but I'm not holding my breath.)
Then there's SodaStream (NASDAQ:SODA). The company's big hit was to create a way to make soda as you want it... No, wait, that's called a soda siphon. SodaStream just repackaged an old technology in a cool way. Consumers ate up the product and, since it really is pretty cool, it quickly took on fad status. But is it any surprise that enthusiasm for what is basically an old technology faded over time? Or that larger competitors have moved into the same space? It shouldn't be.
We never learn
The big takeaway from GoPro, Crocs and SodaStream is that you should try to avoid investing in companies that sell products that are, essentially, fads. Go ahead and buy the product if you want, but think long and hard before you buy stock in the company that sells it. It ends badly far too often to take the risk. And unless you plan to watch the investment like a hawk from day one, you should leave that kind of risk taking to others.
But there's another lesson here, too. While YOU can learn this, Mr. Market never will. That's because Mr. Market is the amalgam of all the investment decisions made by every investor. Mass psychology wins, with those incapable of learning from their mistakes, those who haven't learned from market history or experience, and those who think they can ride the wave of momentum (and get out at the crescendo) driving things to extremes in both directions.
Which brings me back to my little character flaw, running into burning buildings. When I saw the news about GoPro imploding, I couldn't stop myself from taking a look. It isn't worth owning, it's just a fad stock and I see that. Maybe a larger company will buy it at some point, but that alone isn't a good reason to own GoPro, or any other company for that matter.
But I recognize (or at least better recognize) the difference between Mr. Market's whims and finding a potential bargain in the ashes, chastened by experience and watching Mr. Market's frequent failures. So as you watch GoPro go down the tubes, stop to think about it. See what there is for you to learn. It's worth the time if you consider it an educational moment. And, unless you are a really aggressive investors, don't buy in.
Disclosure: I/we have no positions in any stocks mentioned, and no plans to initiate any positions within the next 72 hours.
I wrote this article myself, and it expresses my own opinions. I am not receiving compensation for it (other than from Seeking Alpha). I have no business relationship with any company whose stock is mentioned in this article.