EPR Properties (NYSE:EPR) is a triple net lease REIT that should at least be on the radar for investors seeking solid dividend income. Shares took a substantial hit on Friday. While the market as a whole was tanking, the triple lease REIT sector was a mixed bag with some names moving higher. Unfortunately for shareholders, the market was selling off shares of EPR in reaction to a release from the company stating that they intended to issue additional shares. The fierce selling of shares demonstrates that the market does not fully comprehend how triple net lease REITs work.
Equity Issuance
EPR issued the news release after the market closed Thursday. The issuance of shares is done so that the company can raise cash which will be used to pay down a revolver the REIT uses to finance properties. From a very simplistic point of view it sounds like the company thinks shares are overvalued and wants to sell them to pay down a loan with a low interest rate. If that were the case, it would represent complete incompetence. However, management appears to understand precisely what they are doing. Allow me to explain what I would be thinking if I were management.
Cost of Funds
The first thing I'd think about when managing the triple net lease REIT and debating the issuance of new equity is the cost of funds for the operations. I would only want to issue new equity when I had an investment opportunity available that would earn sufficient returns to enhance the total return to shareholders.
Paying Down Debt
If I wanted to pay down a revolving line of credit with cash from equity issuance, it sure wouldn't be to save on interest expense. The beauty of that revolving line of credit would be how rapidly I could access the debt. Having liquidity on that line of credit would be excellent for giving me the ability to negotiate a favorable deal to buy new properties. Issuing equity can be much slower than simply calling on a line of credit. Therefore, if I were going to negotiate to buy some properties that my shareholders would love, I would want to have access to enough liquidity that I could sign the papers as soon as I was happy with the terms of the deal.
My Best Guess
In the statement sent out by EPR, they indicated:
"The Company intends to use the net proceeds from the offering to reduce the outstanding principal balance of its unsecured revolving credit facility. Such application of net proceeds will increase the amounts available under the Company's unsecured revolving credit facility, which the Company intends to use primarily to fund its ongoing pipeline of acquisition and build-to-suit projects."
Of course, management didn't say a word about when they intended to use that revolving credit facility. Since nothing has been stated about when it will be used, it is easy to just write this off as changing the structure to have more equity and less debt. However, there is no clear benefit to management from simply issuing equity and paying down debt. The only rationale reason to do this is to clear up liquidity in preparation for deals that are already under consideration.
Lost in the Shuffle
The news that wasn't moving the market was the very positive announcement by EPR that they would be increasing the dividend by nearly 6%. That's great news for shareholders that want more income. Is there any other kind of shareholder? Shareholders are looking for a combination of dividends and growth in dividends. The growth in dividends tends to drive share prices higher over time.
The Connection
Those are not simply two isolated events that happened to be occurring on consecutive days. Management is able to continue raising the dividend because of investments that grow the portfolio and generate attractive levels of income relative to the cost of financing the properties. If management simply closed their eyes to new opportunities and refused to issue any new equity, the shares wouldn't have dropped by 6%. However, if they were not watching for those new opportunities that provide attractive yields compared to the cost of funds, they wouldn't be able to grow dividends as rapidly.
Consider the following chart from latest presentation: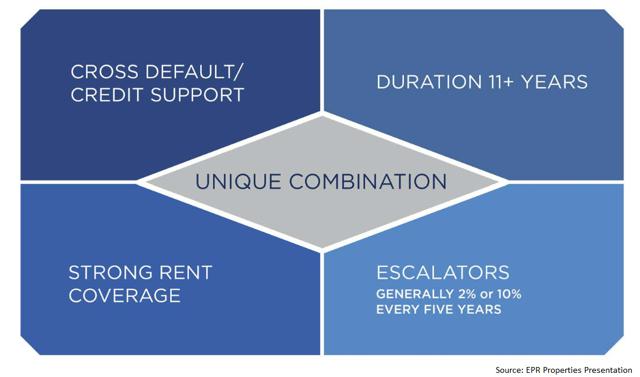 Click to enlarge
In the bottom right corner they indicate that leases will generally contain escalators that drive up cash rental revenues by 2% per year or 10% every five years. Those increases in rent are great, but a 2% increase in rental revenues for the year does not explain a dividend increase of 5.8%. Those boosts to dividends rely on the company finding new properties that they can acquire where the yield on the investment is materially higher than their WACC (Weighted Average Cost of Capital).
My View on EPR
I've been doing a little bit of digging around on some of the different triple net lease REITs and EPR was on my list. I went through the rest of the presentation and so far it is looking pretty solid.
Management's guidance for 2015 AFFO (adjusted funds from operations) was $4.41 to $4.46. Their guidance for next year is a range of $4.70 to $4.80. That increase requires more than just getting the gains from the escalators in their leases.
When I started looking at their portfolio I was a little concerned by their heavy emphasis on entertainment properties. However, as I've gone over it the company looks pretty solid. I'll try to do some deeper digging into the company, but so far there are no major issues.
Debt Maturity
The following table shows the debt maturity schedule: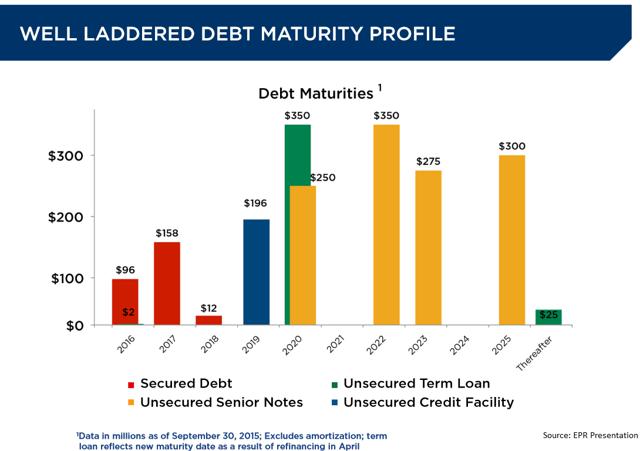 Click to enlarge
Notice that the company has some debt maturing in 2016. The timing of this equity release has one other very plausible explanation. By issuing new debt and paying down their revolver the company also has more flexibility when it comes to replacing the structured debt that matures in 2016. Based on 2.25 million shares and a share price around $54 to $58 I would expect the company to be raising around $120 million to $125 million. That would be more than enough to cover the secured debt that comes due. By freeing up some liquidity on their revolver the company has a better negotiating position for any additional debt they decide to acquire to replace that debt.
Conclusion
Shares sold off materially on the news that management wanted to issue additional shares. However, I see no negatives for shareholders. The most likely scenario is my opinion is that management wants liquidity ready to allow them to sign new deals that would benefit shareholders. The second plausible scenario is that management is issuing this equity proactively to give them a superior negotiating position. Of course, it is also possible that they intend to do both.
The trend towards triple net lease REITs selling off when they announce an equity issuance is one of the most ironic and consistent failures available in the market. When it comes to triple net lease REITs, equity issuance is a positive sign that management has identified new opportunities to improve earnings (or FFO and AFFO) on a per share basis.
Disclosure: I/we have no positions in any stocks mentioned, but may initiate a long position in EPR over the next 72 hours.
I wrote this article myself, and it expresses my own opinions. I am not receiving compensation for it (other than from Seeking Alpha). I have no business relationship with any company whose stock is mentioned in this article.
Additional disclosure: Information in this article represents the opinion of the analyst. All statements are represented as opinions, rather than facts, and should not be construed as advice to buy or sell a security. Ratings of "outperform" and "underperform" reflect the analyst's estimation of a divergence between the market value for a security and the price that would be appropriate given the potential for risks and returns relative to other securities. The analyst does not know your particular objectives for returns or constraints upon investing. All investors are encouraged to do their own research before making any investment decision. Information is regularly obtained from Yahoo Finance, Google Finance, and SEC Database. If Yahoo, Google, or the SEC database contained faulty or old information it could be incorporated into my analysis.