Introduction:
On January 13th, LaSalle Hotel Properties (NYSE:LHO) issued a Q4 warning stating that the company expected decelerating growth and flat RevPAR for Q4. The company also announced that it wouldn't give guidance for 2016. This sent most lodging REITs, including Chatham Lodging Trust (NYSE:CLDT), disproportionately lower in the following couple trading sessions.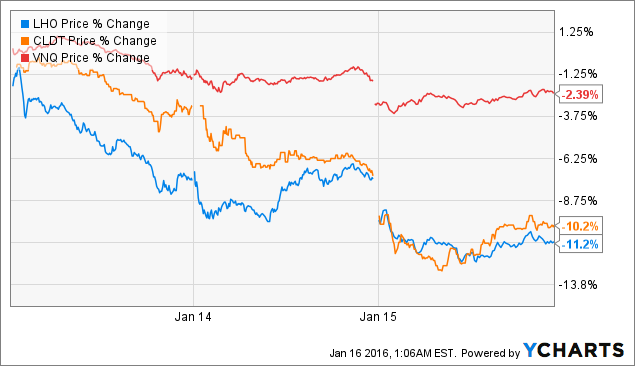 LHO Price data by YCharts
This article will discuss the reasons why owners of LaSalle Hotel Properties stock should consider swapping their shares with Chatham Lodging Trust at this point in time.
Consideration #1: Airbnb
I don't consider Airbnb a significant threat to either LaSalle or Chatham in the near future, but it is a popular topic, so I've decided to address it first. Morgan Stanley Research has shown that while Airbnb is gaining penetration into the market, and while it does attracted wealthier users (those earning over 75k a year), most of the business lost to the company in the hotel industry is by lower cost hotels. And most of it is by extended stay, leisure travelers. Since LaSalle serves higher-end guests, while Chatham mostly caters to business travelers, I don't expect either to be materially affected by Airbnb in the near future.
However, if Airbnb does eventually gain more penetration, I expect it to come first and foremost in the cities where lodging is the most expensive. In this respect, Chatham has a distinct advantage over LaSalle. Virtually all of LaSalle's properties are located in major US cities like Washington D.C., Boston, Los Angeles, and San Francisco. I am of the opinion that tourist destination cities like these will be disproportionately affected by Airbnb. The reason I think this is that these cities are disproportionately expensive compared to the rest of the country. If you are a price-sensitive traveler (a value traveler, if you will), and you want to, say, go to New York City to visit family, whereas in the past you would be stuck paying a high price for almost any hotel, now you can use Airbnb and save yourself hundreds of dollars on a comfortable place for a few nights.
While Chatham has properties in some high-cost urban areas, including San Francisco, it isn't nearly as concentrated as LaSalle. If at some point Airbnb has a material effect on the hotel industry, I expect it to happen in these expensive urban locations first, and this makes Chatham more appealing than LaSalle in the medium term.
Consideration #2: Strong Dollar/International Recession/Bear Market
LaSalle's high-end, destination city properties are likely to attract fewer international travelers in 2016. Economically, we are in an interesting situation where we may experience a bear market without experiencing a recession. If this turns out to be the case, it will affect higher net worth travelers more than it does middle-income workers. Let's put it this way, the average middle class American is still likely to take a vacation, attend a friend's wedding, or travel to see little Johnny play in his sports tournament, even if the stock market is down. They may even be more likely to do so when gas prices are under two dollars a gallon and utility bills are cheap. Additionally, run-of-the-mill business travelers are still going to travel for business. But middle-to-high end international leisure travelers might skip that trip to New York if the market is down 20% and the dollar is strong, and instead, they may take a vacation someplace else. With a struggling stock market, travel related to the financial sector may also be diminished in the urban center locations that LaSalle specializes in. For these reasons, LaSalle is more likely to be affected by a strong dollar and a bear market in stocks, while Chatham is at least partially insulated.
Consideration #3: Part of LaSalle's warning was due to company specific union problem
Dane Bowler wrote an excellent explanation of how LaSalle's issues are company-specific, how the company's warning was backward-looking rather than forward-looking, and how the hotel industry is actually expected to grow in 2016. Dane points out that STR's growth expectation for RevPAR in 2016 is 5.7%, while Dane's expectation is 1-3%. My own expectation is for around 3% growth, on average. (Which I actually consider pretty good in world which will likely have very little inflation likely in 2016.) On top of this, LaSalle's Q4 was affected by union issues not experienced by Chatham.
Consideration #4: Consolidation of Third-Party Booking Companies
I consider third-party booking companies to be the biggest issue that separates Chatham from LaSalle. The big problem LaSalle is going to have going forward is its lack of branded properties. Brad Thomas has written detailed reports on both companies here and here, with lots of graphs and charts that give an overview of the respective operations. Most notable is that approximately 68% of LaSalle's properties are independent and un-branded, while Chatham is essentially 100% branded, with most of its brands being tied to either Marriott (NASDAQ:MAR) or Hilton (NYSE:HLT).
Here is why brands matter: More and more guests are booking their stays online. If a hotel doesn't have a strong brand and has an especially popular loyalty program, then an increasing amount of the business is going to come to it via third parties like Expedia (NASDAQ:EXPE) and Priceline (NASDAQ:PCLN). The fees Expedia and Priceline charge can be in excess of 12%, and recent consolidation means a virtual oligopoly has formed. This gives these booking companies a lot more leverage when negotiating fees than they previously had. Independent hotels are at a distinct disadvantage in this regard.
When someone wants to find a room in a town they haven't stayed in before, the first thing they do is go online to search for the best hotel, in the best location, with the best rate. That means, unless a person has a reason not to, they go to Expedia, Priceline, or TripAdvisor (NASDAQ:TRIP). Branded properties, through their loyalty programs, are increasingly giving travelers a reason not to, however. Both Marriott and Hilton have popular loyalty programs, but I am more familiar with Hilton's, so let me explain the steps the company is taking to mitigate possible damage from third-party booking companies.
The first thing Hilton did was change its loyalty program so that anyone can join at any time. This is a big change. Before last year, guests were only asked to enroll in the program if they stayed four or more nights per year, and they more or less had to be invited by a hotel agent to join. Starting in 2015, the rules were changed so that anyone could join, and front desk agents were encouraged to ask everyone who checked in to the hotel to join. In fact, you don't even have to stay at a hotel to join now.
Because of this, more and more people are joining Hilton's loyalty program. What this does is encourage potential guests to go to Hilton's website and book through that portal instead of through a third party. In fact, if you book through a third party, you no longer receive loyalty points from Hilton. You have book directly through Hilton to get your loyalty points. Now, guests have a reason to avoid third parties. I don't know if Marriott is doing something similar, but I'm sure it soon will if it hasn't already.
These loyalty programs will make an important difference going forward, and you want to own the lodging REITs that have relationships with these branded properties, not the ones that don't.
Conclusion
I previously recommended a 2% weighting in Chatham Lodging Trust, which I still think is a good buy. While I wouldn't add to that weighting just yet given the velocity of the stock market sell-off we are witnessing, I would recommend that those who own LaSalle who want to keep owning lodging REITs, consider swapping it for Chatham. I think Chatham has distinct advantages going forward over the next 2-3 years.
Disclosure: I/we have no positions in any stocks mentioned, and no plans to initiate any positions within the next 72 hours.
I wrote this article myself, and it expresses my own opinions. I am not receiving compensation for it (other than from Seeking Alpha). I have no business relationship with any company whose stock is mentioned in this article.