The stock market in 2016 has given investors much to worry about with high volatility, uncertainty, and a record sell off to begin the New Year. My humble opinion is that this will likely continue, especially the "uncertainty" aspect of it, and that investors should be looking for stocks in industries that can endure economic slowdowns. I have a slightly bearish outlook for the economy going forward but that is an article for another time. Find some good readings on that here and here.
Investors should be looking at the good buying opportunities that this market sell off has given them and I will outline why Gilead Sciences is one of those stocks.

Gilead Sciences, Inc., (NASDAQ:GILD), is a research-based biopharmaceutical company that discovers, develops and commercializes innovative medicines. The Company's primary areas of focus include human immunodeficiency virus (HIV), liver diseases such as chronic hepatitis C virus (HCV) infection and chronic hepatitis B virus (HBV) infection, oncology and inflammation, and serious cardiovascular and respiratory conditions. The Company's HIV products include Stribild, Complera/Eviplera, Atripla, Truvada, Viread, Emtriva, Tybost and Vitekta. Its Liver Diseases products include Harvoni, Sovaldi, Viread and Hepsera. Zydelig is the Company's oncology product. Its cardiovascular products include Letairis, Ranexa and Lexiscan/Rapiscan. Its Respiratory products include Cayston and Tamiflu. Its other products include AmBisome and Macugen.
From a fundamental standpoint GILD is a gem. Below is a graph on GILD's EPS since 2011.

Click to enlarge
As we can see, GILD has been very successful in growing their pipeline and offering blockbuster drugs that have at times doubled sales and earnings on a YOY basis. The significant increases in sales and revenue can be attributable to GILD's star drugs, Harvoni and Solvadi, which are a single dose treatment for HCV. Most people that follow GILD will argue that these levels of increases in their top and bottom line are not sustainable. The reason for this argument is that once the treatment for HCV with these drugs is complete, the patient is cured, thus shrinking the addressable market as the drugs are so effective. I am in agreement that over time (a very long time i.e. 5-7 years) the market in the U.S will mature and sales in GILD's liver disease treatment business will stagnate and possibly decline. This slowdown is especially worrying since in 2014, sales of Sovaldi and Harvoni (HCV products) were $12.4 billion. HCV product sales accounted for 54% of our total antiviral product sales for the year. HCV product sales were $10.5 billion in the United States and $1.6 billion in Europe in 2014. Since the launch of Sovaldi in December 2013 and Harvoni in October 2014, more than 170,000 patients around the world have been treated with a sofosbuvir-based regimen. The truth is GILD's management is well aware of this and has actually mentioned this in their latest 10-k.
"As a result of the launch of Sovaldi and Harvoni in the United States and Sovaldi in parts of Europe, our business more than doubled in 2014. While we do not expect this level of growth in 2015, we do anticipate overall net product sales growth as we expect expanded access to Sovaldi and Harvoni in the United States and the launch of Harvoni in additional European Union countries and other international markets. However, this growth is subject to a number of uncertainties. These uncertainties include the continuation of a challenging macroeconomic environment in Europe inclusive of the potential adoption of additional pricing measures to reduce healthcare spending, particularly in HCV, the potential for continued volatility in foreign currency exchange rates, the number of HCV patients treated, an increase in discounts, chargebacks and rebates due to ongoing private and public payer negotiations, a larger than anticipated shift in payer mix to more highly discounted payer segments and the regulatory approval and commercial launches of Sovaldi and Harvoni in Japan."
It is good to see that GILD's management is aware of this potential threat as well as others that can harm the business causing sales to decline. GILD currently has 11 product Candidates across the board in advanced approval stages for the treatment of HIV, liver diseases, oncology and inflammation, cardiovascular, and respiratory. This along with a hefty free cash flow of about $17 billion, to partake in M&A is the reason I believe that GILD will be able to weather the storm for the long-term and continue to add innovative offerings to their product pipeline.
On a relative valuation to industry peers GILD also shines. Price/Earnings (TTM, GAAP) has GILD at 8.41x compared to the industry PE of 37.91x. Since EPS can be manipulated with buy backs and many other accounting tricks I also take a look at Price/Sales (NYSE:TTM) which has GILD at 4.21x versus an industry average of 296.13.
The following graph is from GILD's 10-k. It compares total stockholder returns for the past five years to two indices: the Standard & Poor's 500 Stock Index, labeled S&P 500 Index; and the Nasdaq Biotechnology Index, labeled NBI Index. The total return for each index assumes the reinvestment of all dividends, if any, paid by companies included in these indices and are calculated as of December 31 of each year.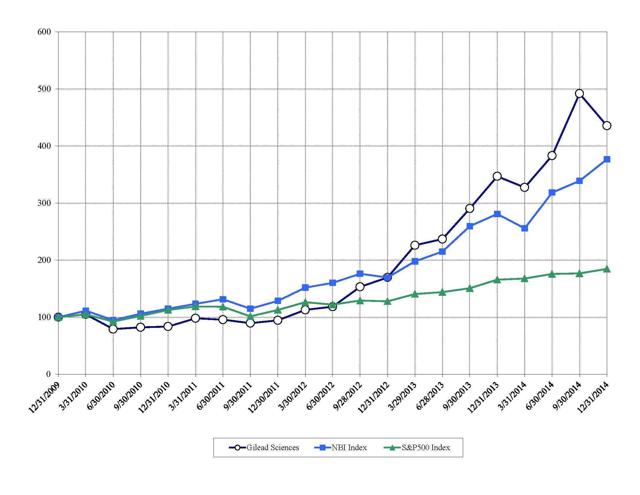 Click to enlarge
Below is a performance chart of the iShares Nasdaq Biotechnology ETF (NASDAQ:IBB), which tracks the Biotech Industry.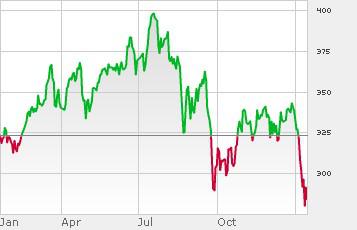 For a while before even the August 2014 sell off there have been talks about the entire biotech industry being overvalued and possibly even in a bubble that was getting ready to burst. The IBB has seen a 52 week range between a 400.79 high to a current low of around 273.47. Therefore I see the probability of the biotech industry of being in a bubble highly unlikely and currently presenting a good opportunity to buy one of the best performers in the industry.
DCF / Ratio Analysis for GILD
I use DCF analysis in order to come up with a fair value for GILD. The image below shows my implied share price of $130.07, which represents an upside potential of 42%.
Click to enlarge
Now let's take a look at how efficient GILD is in terms of key ratios. GILD has a trailing twelve month return on asset ratio of about 42.56% which essentially means that GILD is efficient at converting assets into net income. This puts GILD ahead of the game in their industry and allows for greater future investment by the firm because they effectively and proactively invest in assets and capital to increase earnings. On top of that, GILD has a return on invested capital of 55.57%.
GILD also exhibits a very strong balance sheet with a current and quick ratio of, 2.77 and 2.33, respectively. This tells us that GILD has enough cash on hand to cover their short and long term obligations very easily with money left over.
In conclusion, I believe the market is presenting a very attractive opportunity to invest in GILD at a very favorable discount. I rate GILD as a BUY at or around the 85-88 dollar range only due to the market volatility and other macro level issues and trends.
Disclosure: I/we have no positions in any stocks mentioned, and no plans to initiate any positions within the next 72 hours.
I wrote this article myself, and it expresses my own opinions. I am not receiving compensation for it (other than from Seeking Alpha). I have no business relationship with any company whose stock is mentioned in this article.