As I'm contemplating the changes I want to make to my investment portfolio and my strategy for 2016, I see some opportunities for improvement. After the volatility we've seen in the markets, I decided I wanted to work towards a more stable portfolio. I began with reassessing my sector weights and then moved into looking at individual holdings. Once I had a list of the desired individual holdings, I ran some tests on the portfolios performance over the last several years to assess the volatility. Keep in mind that this is not treating past returns as being indicative of future performance. It is considering that past volatility may be a reasonable estimate of future relative volatility. In short, I would expect things that were more volatile than most of the market over the last 4 years to continue being volatile.
The Suggested Allocation
I'm contemplating moving towards an allocation that more closely resembles this pie chart: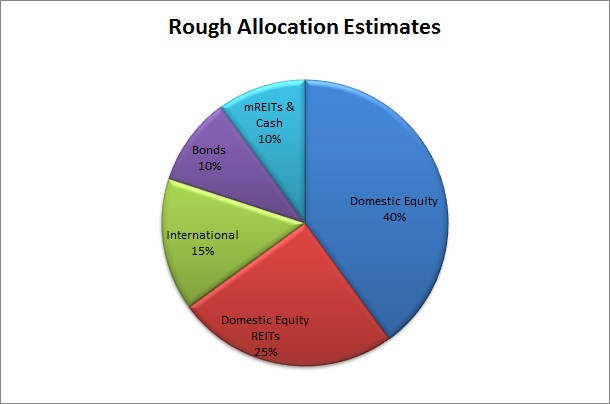 This would be a fairly substantial move for me as my current position is materially overweight on domestic equity. Weak bond yields make going into bonds somewhat unattractive, but I'd like to reduce the standard deviation of monthly returns on the portfolio. Currently my direct bond exposure is at 0%, though I do have a material position in mREITs which create leveraged exposure in the bond sector. I'm contemplating moving it to a range of 10% to 15%. For this piece, I'm demonstrating the impacts with the position at 10%.
Since the mREITs occasionally tank at the same time as the rest of the market, they aren't doing as well at stabilizing the portfolio value.
The Challenge
I prefer to avoid being a frequent trader. I buy far more than I sell and expect to make 1 to 2 purchases in a month. However, my portfolio has become substantially overweight on domestic equity. It wouldn't be feasible to adjust the total portfolio in only one or two years without selling off some domestic equity exposure.
The New Portfolio
I wanted to run a sample portfolio with the following investments:
| | |
| --- | --- |
| Ticker | Name of Fund |
| | Vanguard Total Stock Market ETF |
| | Altria Group |
| | Exxon Mobil |
| | Wal-Mart Stores, Inc. |
| | Vanguard REIT Index ETF |
| | National Retail Properties |
| | STORE Capital |
| | Realty Income Corp. |
| | W.P. Carey, Inc. |
| | Schwab International Equity ETF |
| | Schwab International Small-Cap Equity ETF |
| | Phillip Morris International |
| | Fidelity Spartan® U.S. Bond Index Fund |
| | Schwab U.S. Aggregate Bond ETF |
| | Annaly Capital Management |
| | Dynex Capital |
| | CYS Investments |
I'm not expecting to use precisely this portfolio, but it provides a solid representation of the exposures I would be creating. In the case of WPC, I'm haven't finished due diligence yet to determine if they belong with the rest of the triple net lease REITs on my list. However, I needed the diversification benefits from limiting the individual positions.
Within the 25% or so allocation that I want to give to domestic equity REITs, I expect to have about 4 triple net lease REITs and a couple diversified funds. I might take this as high as 30%, depending on how many great triple net lease REITs I'm able to find.
When I ran a regression on the dividend adjusted close values for the chosen investments, the results were limited by STORE Capital having only a couple years of history. Therefore, I ran the simulation again with the allocation that would have gone to STOR being placed in Realty Income Corp. instead. The following table demonstrates the performance since July 2011: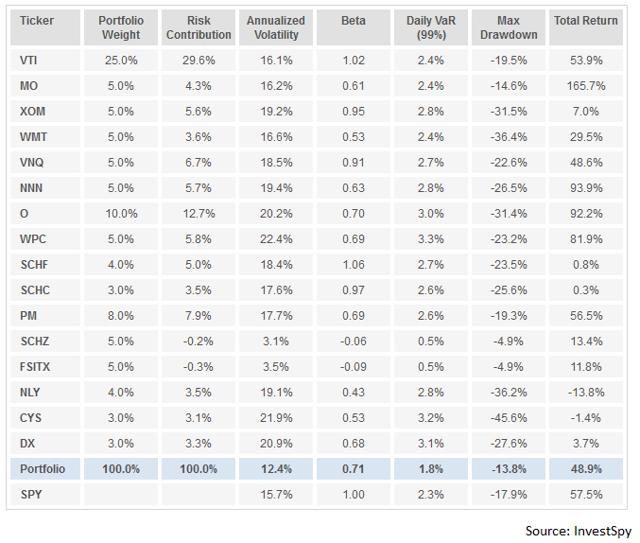 Click to enlarge
The portfolio did exceptionally well on the annualized volatility which was the major measure I was tracking. The volatility comes in at about 79% of the level demonstrated by the S&P 500. The returns come in materially lower, but I wouldn't want to rely on past returns anyway. This is a portfolio that lost by less than 10% despite having 15% international allocation during a weak period for international investments and 10% in mREITs during a period when they performed horribly.
I've also chosen XOM and WMT as established dividend champions trading at lower valuations. The decline in share prices makes the past performance weak, but I'm focused on future returns and future variance of returns.
Rationale for Triple Net Lease REITs
The portfolio shows a huge preference for triple net lease REITs over other kinds of equity REITs. This reflects my belief about the success that the industry should have over the next few decades. There is an enormous volume of physical real estate that could be held more efficiently in the triple net lease REIT structure which creates a compelling reason for other companies to work with these REITs to unlock value for shareholders in both companies.
It is also interesting to note that the three triple net lease REITs I've chosen did substantially more than outperform an incredibly diversified index in VNQ. They also had a lower "risk contribution" to the portfolio because they had a materially lower correlation with the S&P 500. That makes sense when you consider that a great triple net lease REIT will have a substantial portion of their property leased out over a decade into the future. Absent their tenants going bankrupt, these REITs have more certainty about their future revenues.
Rationale For International
The international allocation was a tricky area. For several years international allocations have been fairly volatile and produced very mediocre returns. However, there is no reason to believe that they won't start delivering returns in the future. I was going to keep the international allocation fairly low, but I found Phillip Morris is a great fit for my investing style. The company has a solid dividend yield, solid margins, and an addictive product.
To be fair, the margins are downright excellent if you exclude the sin taxes from revenues. Over 60% of gross sales that are recorded are paid out in sin taxes.
As Phillip Morris grew on me, I decided I would increase my international exposure with Phillip Morris representing more than half of the international portfolio. In this sample I was running the company as "only" 8% of the total portfolio, but I'm considering going up to 10%. Their sales are entirely international, which makes them materially more international than funds that simply buy companies with their headquarters in a foreign country. Despite being fully international, they have absolutely crushed any international benchmark.
Their sales are demonstrated in the chart below: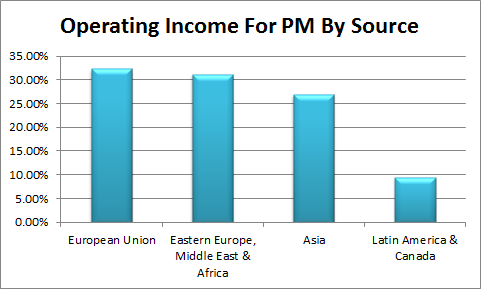 For investors that are interested, I did a more complete write up on how Phillip Morris has beaten other international investments.
Cash and mREITs
Most investors probably wouldn't put those asset categories together. However, as an mREIT analyst I'd like to have some cash on hand to invest in some of my calls. Since the relative value of an mREIT can change rapidly, I may want to suddenly buy or sell something in the sector.
Yield on the Portfolio
Because the portfolio is stacked with dividend champions and boosted by a few mREITs, the total yield on the portfolio comes in at 4.57%. The mREITs are facing some material risk for the potential for a flatter yield curve and higher borrowing costs, but several of the other allocations have the potential to grow their dividends materially over the next few years. Therefore, I'm willing to treat the trailing yield as a reasonable estimate.
For the sake of simplicity, I used VTI as my total market ETF. However, I also have a position in the Schwab U.S. Dividend Equity ETF (NYSEARCA:SCHD) that I intend to keep. If I had calculated this portfolio with SCHD in place of VTI, the yield would have increased to 4.82%.
Disclosure: I am/we are long DX, MO, NNN, PM, SCHC, SCHD, SCHF, STOR, VNQ, VTI.
I wrote this article myself, and it expresses my own opinions. I am not receiving compensation for it (other than from Seeking Alpha). I have no business relationship with any company whose stock is mentioned in this article.
Additional disclosure: Information in this article represents the opinion of the analyst. All statements are represented as opinions, rather than facts, and should not be construed as advice to buy or sell a security. Ratings of "outperform" and "underperform" reflect the analyst's estimation of a divergence between the market value for a security and the price that would be appropriate given the potential for risks and returns relative to other securities. The analyst does not know your particular objectives for returns or constraints upon investing. All investors are encouraged to do their own research before making any investment decision. Information is regularly obtained from Yahoo Finance, Google Finance, and SEC Database. If Yahoo, Google, or the SEC database contained faulty or old information it could be incorporated into my analysis.