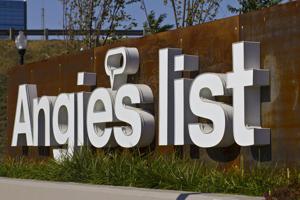 American media giant IAC/InterActiveCorp (IACI) wanted to buy Angie's List (NASDAQ:ANGI) last year, but was unsuccessful reaching an agreement. So what does IAC's takeover proposal mean for Angie's List and its shareholders moving forward?
Angie's List closed 2015 with a per-share price of $9.35, which has since fallen to below $9. And as a result, some investors may feel pessimistic about the long-term value of Angie's List shares.
However, there are many reasons for investors to feel optimistic about Angie's List per-share price moving forward. It also has an activist investor, TCS Capital, that continues to buy up shares. TCS wants to see a merger with IACI, assuming they offer a "fair" price.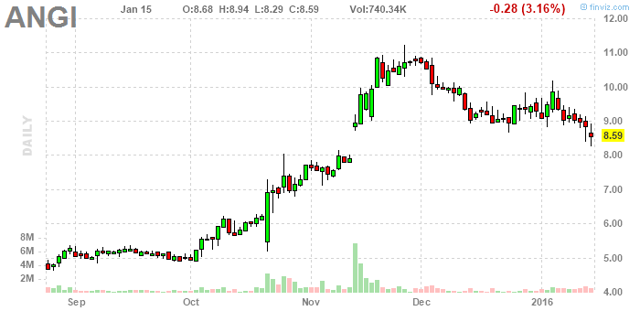 Click to enlarge
Angie's List's CEO hasn't ruled out a possible sale
IAC submitted its proposal to acquire Angie's List on Nov. 11, 2015. Less than a week later, Angie's List's Board of Directors unanimously rejected the proposal.
But the IAC proposal represented only a 10% premium at the time it was made, and there's still the potential that IAC and Angie's List could return to the negotiating table.
Let's not forget, Angie's List CEO Scott Durchslag has yet to rule out a potential sale. Back in November, he noted Angie's List's board did not believe it was "in the best interest of Angie's List shareholders to rush to judgment" regarding IAC's proposal.
Angie's List did enjoy a profitable third quarter
The third quarter of 2015 proved to be a landmark period for Angie's List, as the company's revenue rose 7% year over year to $87 million. It also represented the first time Angie's List reported a profitable third quarter in its history.
Meanwhile, Angie's List is targeting further revenue growth. Durchslag noted Angie's List would "begin scaling our new Angie's List 4.0 platform, release [its] new service provider mobile application and improve execution in e-commerce" in 4Q15. And each of these moves could help Angie's List boost its profits, and ultimately, its per-share price.
Angie's List is looking to carry a strong second half into 2016
Angie's List's per-share price fell 25% in the first six months of 2015. Conversely, Angie's List's per-share price skyrocketed over the second half of the year. And overall this price to jumped 51% year over year.
The strong second half likely makes Angie's List a possible acquisition target for IAC and others. Furthermore, acquisition rumors could help Angie's List's per-share price continue to climb, too.
Angie's List has a CEO who understands what it takes to build a successful e-commerce business
Angie's List's executive team has changed drastically over the past few months, which could hold the key for the company's long-term success.
On Sept. 8, 2015, Angie's List appointed Durchslag as its CEO. The move came after co-founder Bill Oesterle resigned in April; he was replaced by Chief Operating Officer J. Mark Howell, who served as the company's CEO on an interim basis until Durchslag's was hired.
Durchslag's appointment should not be ignored. Prior to joining Angie's List, Durchlag helped Best Buy (NYSE:BBY) revamp its global e-commerce business and was responsible for a $3 billion profit and loss (P&L). And if Durchslag comes anywhere close to replicating the results with Angie's List, the business' shareholders could reap the rewards of his efforts.
Angie's List continues to promote from within
Angie's List concluded 2015 with a series of internal promotions, including: Promoting Senior Vice President of Technology Darin Brown to Chief Technology Officer; naming Robin Fleming as its SVP of Technology; Fleming previously served as VP of Site Operations, Development Operations and Quality; and appointing Lead Architect Chris Navta to VP of User Experience.
These moves show Durchslag is not afraid to promote from within and could deliver short- and long-term benefits for Angie's List.
In addition to possessing extensive knowledge of Angie's List's technology and user experience operations, each of the recently promoted executives has been instrumental in Angie's List growth in the past. Therefore, these professionals could help Angie's List take yet another step forward - something the company's shareholders are sure to appreciate.
Turnarounds are never easy, especially when facing formidable competition. Angle's List has some momentum and the offer form IACI validates its business model to some degree. Will they come back with a higher offer, that's possible, with the sooner being the better in this case - where as Angie's List continues to strengthen the "fair value" that management is putting on the company will only rise.
Disclosure: I/we have no positions in any stocks mentioned, and no plans to initiate any positions within the next 72 hours.
I wrote this article myself, and it expresses my own opinions. I am not receiving compensation for it (other than from Seeking Alpha). I have no business relationship with any company whose stock is mentioned in this article.