If a weight loss drug can allow you to lose 20 pounds but people do not know about it, will it hurt sales? Perhaps another important question is this. If insurance covered your weight loss drug in 2015, but excludes it on 2016, will you remain on that drug or will you be likely to start it?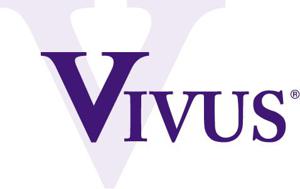 Vivus (NASDAQ:VVUS) investors suffered through much of 2015 trailing the pack in script sales and market share. Despite being first to market, and despite the opinion of some that it is most effective, the drug has suffered from a lack of meaningful sales growth for almost two years now. These days sales run neck and neck with Belviq from Arena (NASDAQ:ARNA) and are well behind the newest drug in the sector, Contrave from Orexigen (NASDAQ:OREX).
The first week of 2016 saw Qsymia sales come in at about 9,600 scripts and in third place in a class of three. Belviq saw sales of about 9,900 and Contrave saw sales of about 15,000.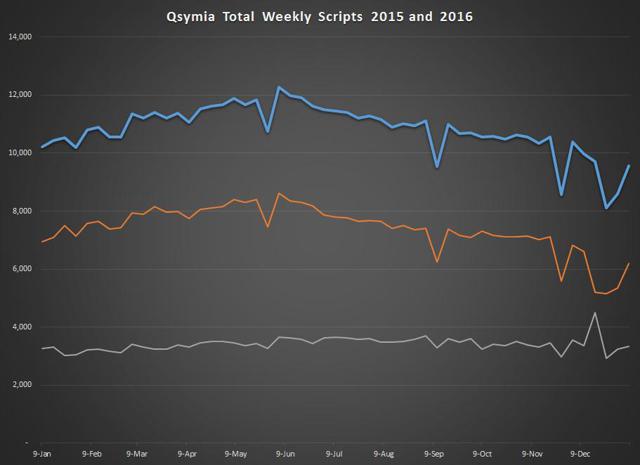 Click to enlarge
Chart Source - Spencer Osborne
On a quarter over quarter basis, the Qsymia story is not starting off well. Sales are about 1,000 scripts from last quarter which means a decline of 9.48%. In fairness, Q1 is the beginning of "weight-loss season", so this comparison should improve. That being said, there are insurance challenges that may make that task much more difficult. I will cover those issues below. Even on a year over year basis we are seeing scripts start out 700 less. As you can see in the chart below, sales are starting below all of the previous four quarters.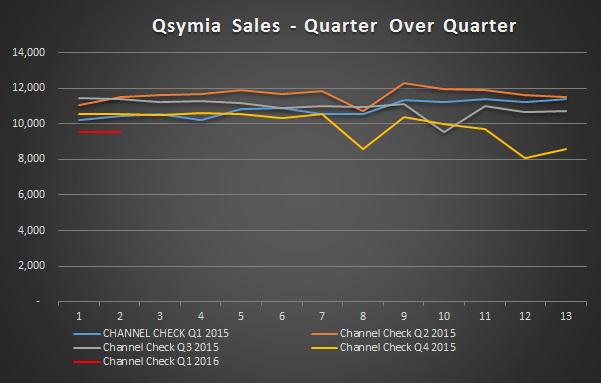 Chart Source - Spencer Osborne
The biggest concern I see with Qsymia in 2016 is now insurance. Qsymia has been excluded from the 2016 formulary of CVS Caremark as well as Express Scripts. This will be a big blow to sales in my opinion. It can cause the loss of people already on the drug, and will serve as a deterrent for those considering a weight loss drug. Certainly Vivus could initiate a new savings program, but with a minimal sales force, how does the word get out?
CVS Caremark excludes Qsymia and offers Belviq, Contrave, and Saxenda as alternatives. Express Scripts excludes Qsymia and offers phentermine as an alternative. The bottom line is that Qsymia will find itself at a distinct disadvantage to its competitors in 2016. Investors need to seriously consider this dynamic as this year unfolds. In fact, I think we will see the impacts in the first month or so of the year and will be able to project sales trends from that data.
For Vivus many investors the investment thesis seems to be one of hope. They hope Carl Icahn will make a bold move to save the company in a shareholder friendly manner. They hope that Stendra can be re-partnered and that the company can get big up-front payments. They hope that the FDA will substantially reduce the scope of the post approval CVOT clinical trial despite the fact that competitors are doing full scope trials. They hope that Europe will change its mind on the legality phentermine despite no real indication that this will be done. Hope is not a very good investment strategy.
The investment strategy that does seem to work with Vivus is the strategy of playing the dips and rises that happen when retail investors are sold on hope.
I do not need to look very far to see the problems starting. Between the last week of 2015 and the first week of 2016, Qsymia lost nearly two full points in U.S. market share of branded anti-obesity drugs. Qsymia market share is now at its lowest point to date at 27.76%. The loss of almost two points, in my opinion, is a direct result of the changes in insurance coverage that saw Qsymia being dropped from formularies. Investors need to be well aware of this.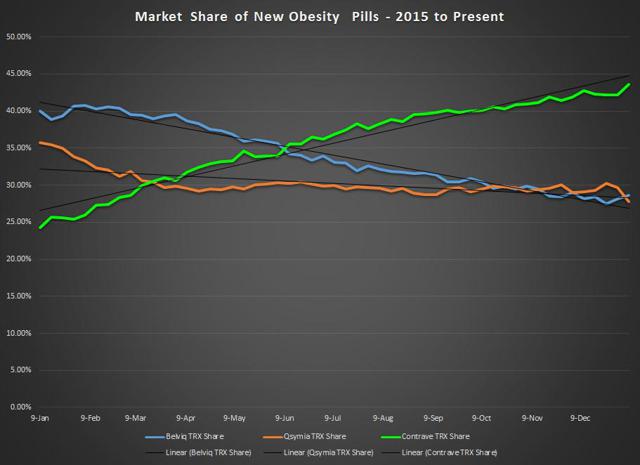 Click to enlarge
Chart Source - Spencer Osborne
Vivus stock is trading near $1 per share. Indeed there is a speculative attraction to playing this. A bit of good news could deliver a short lived 10% or 20% pop at any given time. That being said, the trend on this stock has been a flow of bad news followed by sales pitches that things can turn around. Yes, the company got back the rights to the erectile dysfunction drug Stendra and can partner it again soon. That will be critical for this company. In my opinion investors watching Qsymia need to face a reality that the challenges of 2016 are higher than they were in 2015. Stay Tuned!
Disclosure: I am/we are long ARNA, OREX.
I wrote this article myself, and it expresses my own opinions. I am not receiving compensation for it (other than from Seeking Alpha). I have no business relationship with any company whose stock is mentioned in this article.
Additional disclosure: I have no position in Vivus