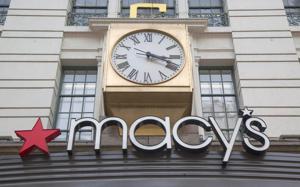 Shares of Macy's (NYSE:M) have jumped intraday with news surrounding David Einhorn's recent equity positions announced in the retailer. It's being reported that the cost average position is around $45 a share, which currently puts the hedge fund manager of Green Light Capital underwater. The news of this Green Light Capital position aligns David Einhorn's investment thesis with Starboard Value. Just last week, Starboard Value presented a letter to Macy's calling for it to pull the trigger on real estate deals.
It should be recognized that "peicemealing" together a long-term strategy to unlock real estate value for a department store retailer has been attempted before and by hedge fund managers. From 2008-2009, Bill Ackman attempted to unlock real estate value in Target Corp. (NYSE:TGT) by inviting and persuading the company to entertain the idea of REIT construction. But even as other retailers and hedge funds have failed to garner long-term positive traction through unlocking real estate value, Macy's is willing. A recent publication titled "Macy's - Tough Quarter Is Overshadowed By Increased Willingness To Monetize Real Estate" walks investors through Macy's recent discussions and actions taken that signal its exploration of real estate monetization.
Macy´s announced that it has hired Eastdil Secured and some investment banks to look for partnerships or joint ventures for some of its real estate. While this does not suggest that the company will sell its real estate, such options should be able to unlock shareholder value as well. It could still very well be that Macy´s might enter in sale-and-leaseback constructions, rather than outright sales.

The good news for investors is that Macy´s is also considering its options for its very valuable flagship stores in New York, Chicago and San Francisco.
It remains to be seen what the long lasting effects of this venture for Macy's will produce, but the core of its business remains under pressure and investors will likely keep a sharp focus on the fundamentals. As shares of M are currently off the highs of the day, the retail sector continues to lag with shares of Kohl's (NYSE:KSS), Bed Bath & Beyond (NASDAQ:BBBY), Williams-Sonoma (NYSE:WSM) and Target all in the red. Bed Bath & Beyond is achieving another 52-week low intraday. J.C. Penney (NYSE:JCP) is also in the red, down almost 1.35 percent in the early morning trading hours.
Speaking of J.C. Penney, the retailer announced recently another initiative that it hopes to witness growth for its home goods business segment. J.C. Penney will sell home appliances for the first time in over thirty years as part of a new strategy. The retail chain will begin the initiative with a test run in San Antonio, Tampa, and San Diego of popular home appliance brands.
J.C. Penney is coming off another strong quarterly sales performance as the firm recently announced disclosed its holiday period comparable sales rose 3.9% Y/Y. Additionally, the company backed its full-year EBITDA target of $645M. J.C. Penney is scheduled to report Q4 earnings on February 26.
Circling back to Bed Bath & Beyond, I've patiently been watching and waiting for the stock to decline further and since it last reported quarterly results. At the current trading price of $43.40 I'm dipping my toe in the water and hoping to further scale into a greater position should shares become more depreciated. I'd like to target my next share allotment at $41, give or take. Like most every other retailer of scale in the market today, Bed Bath & Beyond faces an uphill battle with regards to matching its omni-channel footprint and assortment to the growing shift in demand. This demand shift comes as the millennial generation has become the largest demographic in the United States.
Imagine your business requires customers to visit your locations in order for your business to grow sales. A steady supply of customers was always available to you. As older customers moved out, younger customers moved in and therefore you always had a steady supply of customers, year in and year out. And this went on for decades, nearly a century until…something changed. It is this something, this variable that retail establishments are facing in the 21st century. It is this variable which is changing the retail landscape for years to come.
Millennials, it is the one word that is making big-box, department store and hypermarket retailers cringe. Millennials, or America's youth born between 1982 and 2000, now number 83.1 million and represent more than one quarter of the nation's population. Their size exceeds that of the 75.4 million baby boomers, according to new U.S. Census Bureau estimates. Overall, millennials are more diverse than the generations that preceded them, with 44.2 percent being part of a minority race or ethnic group (that is, a group other than non-Hispanic, single-race white). With over $200 billion in annual buying power, millennials have a lot of influence over older generations and are trendsetters across all industries from fashion to food.
In terms of what drives consumer spending or purchases among millennials, Forbes conducted a study last year that offers a great deal of insight into this subject matter. Here are just a few of the findings from study and surveys:
They aren't influenced at all by advertising. Only 1% of millennials surveyed said that a compelling advertisement would make them trust a brand more. Millennials believe that advertising is all spin and not authentic. That's why they use Tivo to skip commercials regularly and avoid banner advertisements on Facebook and various news websites.
They review blogs before making a purchase. 33% of millennials rely mostly on blogs before they make a purchase, compared to fewer than 3% for TV news, magazines and books. Older generations rely more on traditional media, whereas millennials look to social media for an authentic look at what's going on in the world, especially content written by their peers whom they trust.
They want to engage with brands on social networks. 62% of millennials say that if a brand engages with them on social networks, they are more likely to become a loyal customer. They expect brands to not only be on social networks, but to engage them. This obviously takes more labor from companies to be able to maintain social networking feeds, but it's worth it if you want to reach millennials.
They want to co-create products with companies. 42% said they are interested in helping companies develop future products and services. In our society, companies usually create products and hope that their target market will consume them. When it comes to millennials, they want to be more involved with how products get created. Companies that enable them to be part of the product development process will be more successful.
They are using multiple tech devices. 87% of millennials use between two and three tech devices at least once on a daily basis. 39% are either very or completely likely to purchase a tablet computer in the next five years, while 30% are for wearable devices. When there's new technology available, you can bet that millennials will be all over it!
They are brand loyal. 60% said that they are often or always loyal to brands that they currently purchase. The sooner you build a relationship and deep connection with millennials, the better because they will continue to purchase from you as an adult.
The survey results from the Forbes study are longer than I've restated in this article, but these are the ones I find most pertinent to the retail landscape of the day and the future. I believe the main themes depicted in the Forbes study suggest that millennials desire two things, engagement and authenticity. Millennials are definitively "followers" and they have no issue with this characterization other than they desire the characterization to be made complete. In other words, millennials are followers, but they desire to follow strength, generosity, the just and for the benefit of good. And millenials use technology to achieve these desired likenesses. Of course this is a generalization and not going to be the case for every single millennial.
Retailers have a good deal of work to do in the coming years to acquire the millennial shoppers loyal dollar. While some are restructuring in an effort to unlock value, I can only hope they are employing other initiatives that focus on driving demand and engagement with the millennial consumer.
Disclosure: I am/we are long BBBY.
I wrote this article myself, and it expresses my own opinions. I am not receiving compensation for it (other than from Seeking Alpha). I have no business relationship with any company whose stock is mentioned in this article.