A year ago, KB Home (NYSE:KBH) reported Q4 2014 earnings that greatly disappointed financial markets. The stock lost 16% in the immediate aftermath. The stock took 5 months to recover only to peak once again. KBH has traded downhill ever since. On January 7, 2016, KBH fell 15% in response to yet another disappointing round of earnings, this time for Q4 2015. The stock now trades at 3 1/2 year lows. Like the year before, KBH's sell-off sent reverberations across the stocks of home builders.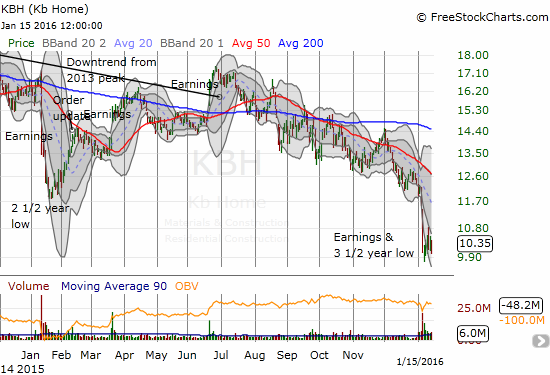 The latest disappointment from KB Home repeats an act seen a year ago.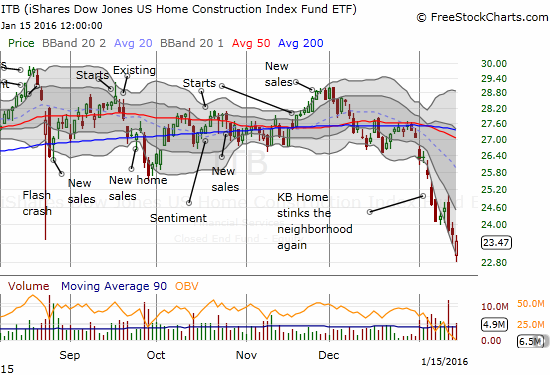 KBH's troubles help add momentum to the recent plunge in iShares US Home Construction (NYSEARCA:ITB)
Source: FreeStockCharts.com
There was a distinct contrast in this earnings call between the stubborn bullishness of management and the reality out in the "streets" of trading in the stock. On January 13, 2016, in apparent effort to try to change the sour mood on Wall Street, management put the company's money where their mouths are by announcing an expansion of the existing buyback authorization:
"Effective January 12, 2016, the board of directors of KB Home ('Company') authorized the Company to repurchase a total of up to ten million shares of its outstanding common stock. This authorization reaffirms and incorporates the current balance of four million shares remaining under a prior board-approved share repurchase program."
This announcement is a near 180 degree turn-around in attitude from KBH. During the 2015 Q4 earnings conference call, management suggested that the company had better uses for its cash. From the Seeking Alpha transcript of the earnings call:
"Like any CEO I think our equity right now is undervalued…but having said that right now we are focused on driving our topline and growing our business. We think that will give us the best return for the shareholders."
I am assuming that after further consideration, management understands that the stock is sitting in a bit of a "last stand" moment. The stock has severely underperformed the stock of many competitors. At 3 1/2 year lows and a post-recession peak back in March, 2013, the market is clearly showing a lack of belief in the company. Valuation is similarly near or at rock-bottom: price/book of 0.6, price/sales of 0.3, trailing P/E of 12.2, and forward P/E of 6.6.
The post-earnings intraday low of $9.80 needs to hold otherwise risk a resumption of the current downtrend. For now, I am betting on that line holding with some help from buybacks. This support will undoubtedly get challenged. Not only is extreme selling pressure weighing on the general market, but also the Q&A session of the conference call resurrected the debt fears that dogged KBH from the bursting of the housing bubble and right through the 2012 trough. From Ivy Zelman of Ivy & Associates (she and her firm are mainstays on the earnings conference calls of home builders):
"…the stock is getting and has been underperforming and getting crushed and the stock is trading below book value…

…the market is saying that you're not going to survive because the economy is going to roll over, we're going to have a recession and you guys are buying land, going into 2016 and to 2017 your gross margins are still well below where they were in 2013 and 2014…

And incrementally you're underwriting when you're buying land today without having the same momentum I think Jeff Kaminski you said that pricing is going to moderate. We know costs are inflating so I think when you look at the processes or controls that are in place what can you give us to help us get comfortable that you're going to mitigate the risk that the Company's leverage is not going to catch up right at exactly the time that the economy is going to roll over? So I think that's why the stock is trading where is trading…

…we're trying to provide more clarity to investors that are saying hey, the stock is trading below book value, is housing crashing or what?"
Zelman acknowledged that KBH bonds are selling at par and thus not reflecting the fear that is rampaging through the equity market. Yet, her questioning strikes at the core unease undermining housing-related shares in this moment. The market seems to be tripping over itself to anticipate an imminent recession. Housing's cyclical nature makes the sector very vulnerable to such fears. KBH seems to be particularly poorly positioned for a weakening market with lower margins, "moderating" pricing power, higher costs, and financing needs converging at an inopportune time in the next two years.
Management completely avoided the recession question. Instead, it tried to reassure the audience that KBH stands on strong financial ground. Here is the core of Executive Vice President and Chief Financial Officer Jeff Kaminski's response:
"…I'm surprised I guess to hear some of your comments being so extreme on the Company that particularly the way we've been managing the capital structure and the cash flows, we've had very strong liquidity for a couple of years, we have just put an expanded revolver in place recently we still haven't touched it. So I think from that point of view from a liquidity point of view it has been very strong."
Kaminski addressed the margins issue by pointing to gross profit margin guidance "north of 17%." This guidance includes moderating prices and any cost issues. CEO Jeffrey Mezger tried to add reassurance about KBH's financial discipline. He noted that tax avoidance is enhancing cash flows, and the company can deal with 2017 debt "as it comes." I am guessing these points fell on deaf ears unwilling to give KBH the benefit of the doubt. As a result, 2016 will be a "show me" year for KBH and a host of other home builders. KBH is off to a good start by expanding the buyback.
These recession fears present an intriguing buying opportunity for the stocks of home builders. In my review of the latest housing data, I concluded that housing stocks look like a coiled spring. The spring has coiled even tighter now. If the economy continues trudging along as it has done year-after-year in this housing recovery, home builders like KBH are offering bargains just as seasonal tailwinds point to strong performance going into the Spring selling season. So, after first souring on KBH in late 2014, I have come back around again to start nibbling on what looks like a good risk/reward "no recession" bet.
Ironically, I think KBH's celebration of a series of record performances adds to recession-related anxieties. Recession fears tend to interpret such accomplishments as meaning performance cannot possibly get any better. Here are the list of records and strong trends the company provided:
17th consecutive quarter of year-over-year revenue growth.
22nd consecutive quarter of year-over-year ASP increases.
3rd consecutive year of profitability.
Traffic to communities was the highest for any Q4 since 2007.
Highest annual topline revenue since 2008 - a 26% increase from 2014.
Largest number of home deliveries since 2009: 8,196.
Highest annual pretax income since 2006 - a 34% increase from 2014.
Highest net orders since 2007 - a 22% increase from 2014.
Guidance for 2016 is very mixed. Strong revenue growth is combined with a modest margins and moderating pricing power.
Housing revenue of $3.35B to $3.65B - the mid-point is a healthy 16% increase over 2015.
Housing gross profit margin "north of 17%" starting with 16% in Q1 (a slight year-over-year gain from 2015 Q1). This margin is lower than annual margins seen in 2013 and 2014. From the conference call commentary, KBH appears to be setting a very conservative target that management has full confidence it can beat.
Average selling price (NYSE:ASP) will increase 6-8% over 2015. ASP increased 8% from 2014 to 2015.
Operational hiccups continue to dog KBH; a big downside to holding the stock. The company experienced a shortfall in deliveries in the fourth quarter relative to guidance. This also caused revenue to come in below expectations. In turn, margins disappointed as lower revenue drove lower than expected operating leverage. KBH blamed construction delays related to heavy rains in Texas and Colorado. I am now wondering whether heavy rains in California from the on-going storms of El Nino will similarly impact KBH in the current quarter. California is a big deal for KBH at 50% of its business.
Finally, these days a report on housing must include a reference to Texas, Houston in particular. In a telltale sign, KBH continues to reduce its investment in Houston. Other builders have also reduced investments in the metro area. KBH's community count in Houston decreased year-over-year. KBH began ramping down early in 2015 as the slide in oil was well underway. KBH is seeing a slowdown in the higher price band. KBH's "affordable first move up communities are continuing to sell well at high margin and solid sales pace." Houston is a small but notable chunk of KBH's business at 6.5% of total revenue in the fourth quarter, 12% of the community count, and 11% of home deliveries.
While KBH is in "show me" mode, the stock offers patient investors ready to bet against a recession a very attractive entry point. I am definitely not calling a final bottom here: the general stock market is undergoing significant deterioration in its technicals. I am just staking a claim in the stock finally getting beaten up enough and cheap enough to make accumulating the stock worth the risk. I am also going to get more aggressive in accumulating ITB.
Be careful out there!
Disclosure: I am/we are long KBH, ITB.
I wrote this article myself, and it expresses my own opinions. I am not receiving compensation for it (other than from Seeking Alpha). I have no business relationship with any company whose stock is mentioned in this article.
Additional disclosure: I am long KBH through call options, long ITB shares and call options