As of Tuesday the Internal Revenue Service will begin accepting individual electronic returns and processing paper tax returns. One company that will be hoping to be in the thoughts of the millions of tax payers is H&R Block Inc. (NYSE:HRB).
H&R Block is the world's largest provider of tax return preparation and related services and products. Although it provides its services worldwide, its main source of revenue is the US market.
After years of not quite knowing what it actually wanted to be, much like a child in school thinking about their future, H&R Block finally seems to have found itself by going back to its roots and concentrating on tax. The divestiture of its bank was a great move, freeing up capital and allowing it to repurchase some $3.5 billion worth of shares through to 2019.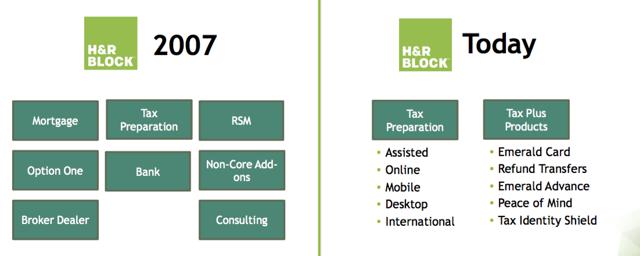 Click to enlarge
(Source: Company Presentation)
Last year the company handled 1 out of 7 tax returns in the United States. We expect this to hold firm in 2016 which, with increased tax returns expected to be filed, should produce good levels of revenue growth. Unemployment levels being at seven-year lows will undoubtedly provide the company with an expanding target market, as well as its growing international businesses.
At the company's investor day management stated its belief that tax returns will grow at a steady rate.
"We think it will continue to be about 1% to 2% growth in total returns in United States both for this year and as we look at over the next three years. There will be some differences between assisted and DIY really with the DIY continuing to benefit from really the tail end into the pen and paper filers that are converting over to DIY that will moderate and we'll expect the DIY to actually slowdown."
While this growth is hardly going to make investors sprint to their phones to call their brokerages, one thing we must consider is the growth in market share that the company can potentially achieve.
We're sure most people will agree that Obamacare has made taxes that little bit trickier. These added complexities are all it takes to have people seek assistance and who better to go to than H&R Block with their 11,000 US locations? This number of locations means that according to their 2015 Annual Report the company is situated within 5 miles of most Americans. We believe this level of omnipresence is what will give them an edge over its competitors.
On the promotional side of things the company is currently undertaking a 32 day $32 million giveaway promotion, which we believe is a great way raise awareness at just the right time as tax season begins.
We believe that the digital segment will be key to accelerating growth in the future. Other than when you have a complex tax return, you're very likely to be able to handle it by filing it online. The digital service provided will be key to capturing this business. It's not the only player in the arena though. The company faces stiff competition from Liberty Tax (NASDAQ:TAX) and Intuit (NASDAQ:INTU) which provides the TurboTax software.
But we feel the company will prevail here due in part to its overwhelming presence and association with the industry.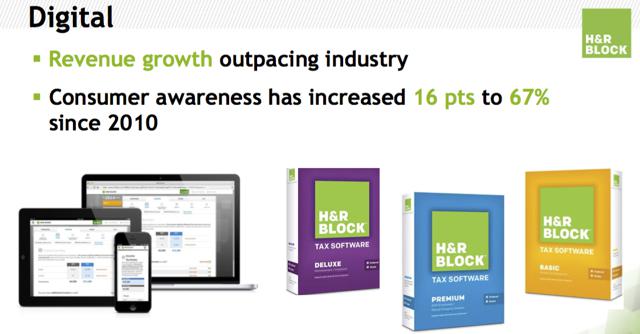 Click to enlarge
(Source: Company Presentation)
With consumer awareness up to 67% and growing by the year, we feel the company's digital offering will be the first stop for those that file online, providing the software is up to scratch. The feedback from users so far has being positive, which gives us confidence moving forward.
Looking ahead we expect margins to expand in fiscal 2016. As shown below, they have been improving in the last few years. Most recently they have come under a bit of pressure from negative impacts of the bank divestiture, but we expect this to ease allowing for improvements in fiscal years 2016 and 2017. In the medium-term we expect the EBITDA to trend up towards the 32% mark, as per management guidance at its recent investor day.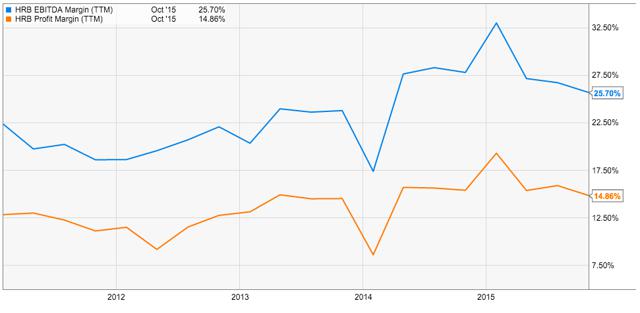 Click to enlarge
(Source: Ycharts)
So what does this all mean for shareholders? Well, firstly, looking at the current share price it means great things. In the last three months the share price has lost over 10%, which has really brought the stock to a very investable price for us.
For fiscal 2016 we anticipate revenue of $3.2 billion dollars and earnings per share of $1.96 from it. This is an increase of 3.9% and 12%, respectively, year over year.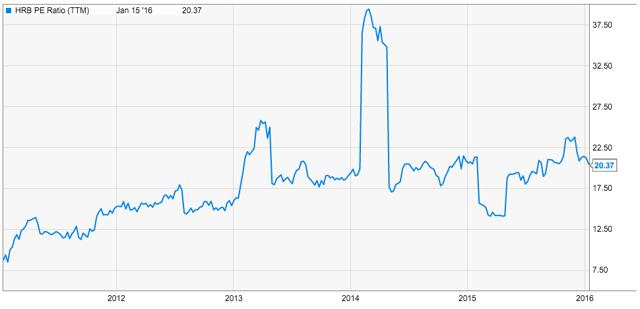 Click to enlarge
(Source: Ycharts)
Trading at an average price to earnings ratio of 18 in the last five years, we see great gains for shareholders, based on this and our earnings forecast. We have set a one-year price target of $35.10, or approximately a 10% return from where it is trading now.
Due to our expectation of the company growing market share further in 2017 we anticipate earnings growth to continue in the mid-teens and the share price to appreciate in line with this growth.
Takeaway
For us, H&R Block represents a great investment. Tax will always be around, as will consumers wanting to maximise their returns. As the unemployment level reaches record 7 year lows, we see tax returns increasing steadily and H&R Block being positioned perfectly to benefit.
Disclosure: I am/we are long HRB.
I wrote this article myself, and it expresses my own opinions. I am not receiving compensation for it (other than from Seeking Alpha). I have no business relationship with any company whose stock is mentioned in this article.