Overview
comScore (NASDAQ: SCOR) is up +15% on a 5-day basis, lifted by increased volume, while the S&P500 is down ~(3%) this past week. The increase in share price has been driven by additional purchases by WPP Plc, already the largest owner with +16%, which now owns 17.7% of shares.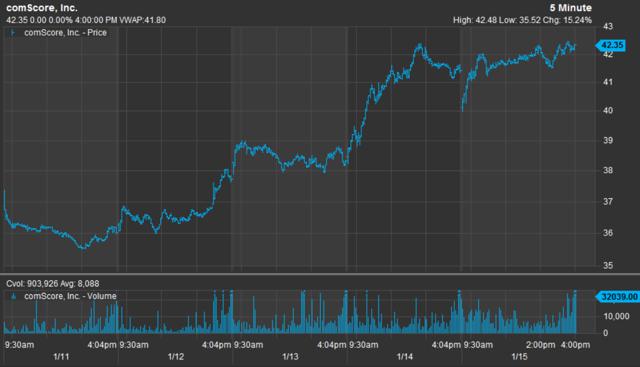 Click to enlarge
(Source: FactSet)
Pending the upcoming merger approval vote from Rentrak shareholders on January 28th, WPP Plc. is allowed to acquire up to 19.9% of the combined company. Based on our estimates, WPP Plc. has an additional 605,000 shares available to repurchase from SCOR before they hit this 19.9% ceiling.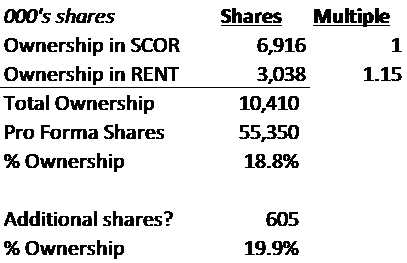 (Source: FactSet)
Based on the share price movement this past week we are writing with a brief update on our key thesis from the previous article on comScore: comScore: Digital Analytics Top Pick
Investment Thesis Progress
1. Product and service competitiveness
We believe there was a certain amount of negativity built into comScore's stock price this past fall. Nielsen announced its intention to enter the digital multiplatform space with the Total Audience Measurement tool, which was demoed this past December at select clients and is expected to roll to market 1H2016. This tool will provide de-duplicated ratings data for linear TV, mobile, radio and subscription video on demand (SVOD). This is a direct competitor product to comScores XMedia and Media Metrix products.
The market is nervous about Nielsen's product becoming the currency for digital advertising spend, but we believe there is space for two products. Our discussions with several comScore customers suggests that there is value in having both comScore and Nielsen as data sources to provide independent verification. Both firms have a strong reputation, which distinguishes them from smaller competitors and as the market continues its double digit growth, we think comScore is well positioned to maintain market share. We believe the market is starting to correct for the discount that was being placed on future revenue growth.
2. Rentrak Merger
The impending Rentrak (NASDAQ: RENT) merger has brought additional attention to comScore and we believe the market is beginning to understand the merger's potential. As the chart below suggests, the market has now applied a positive cumulative abnormal return to Rentrak, which essentially means that the firm has returns more positive than its historically projected performance relative to the market.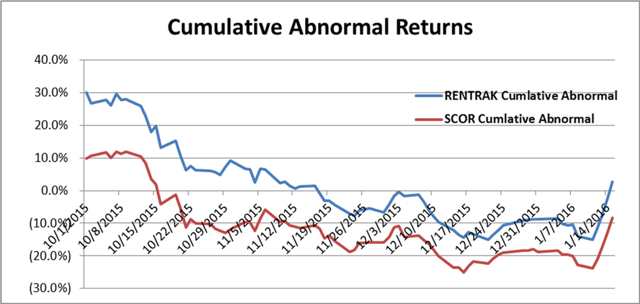 Click to enlarge
(Source: Yahoo Finance)
This is an important signal because the abnormal returns have had a downward trend since the merger was announced and share prices jumped ~30% and ~10% respectively (again, relative to the market). We expect this positive momentum to continue with the January 28th shareholder approval vote.
Valuation Update
As a result of the strong stock performance this past week, we are updating our price target to $50 per share (~+20%), with an upside of $68 (+60%) and a downside case of $30 (-30%). The update is due to the stock's recent momentum, but it is also due to a change in the probability weighting from our previous article, which we believe more accurately reflects the stock's potential. As a highly cash generative business, we put additional weighting on our APV analysis which values the discounted cash flows from operations as well as the tax shield.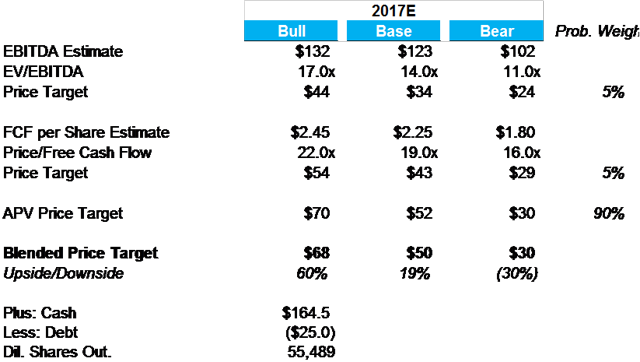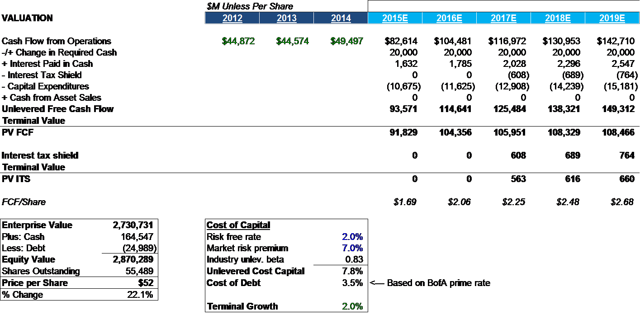 Click to enlarge
Disclosure: I/we have no positions in any stocks mentioned, and no plans to initiate any positions within the next 72 hours.
I wrote this article myself, and it expresses my own opinions. I am not receiving compensation for it (other than from Seeking Alpha). I have no business relationship with any company whose stock is mentioned in this article.