Most of the market turmoil is centered around China and more especially the yuan, with oil and the Fed as other elements in the mix.
The basic scare is that a substantial slowdown in China will lead to an accelerated capital outflow, risking a substantial devaluation of the yuan. This exports much of the Chinese deflation to the rest of the world at a time when we can least afford it.
Basically, we can group the market commentators into optimists, pessimists, and those in outright panic.
The optimists
Jeff Miller, who writes extremely well balanced and informative weekly outlooks, and his models see little in the way beyond a garden variety correction (10-20%).
Jim Cramer was initially optimistic on Thursday and argued that one could start to nibble a bit at shares as they were oversold. Over the weekend he changed his tune and told us to sit tight and wait.
From a technical market perspective, SA contributor David Templeton argues that maximum fear might be near. The things he looks at are a put/call ratio which is above 1 and backwardation in VIX future, and extreme pessimism amongst investors signal that indicate at least a short-term relief rally is near.
Indeed, others note the extreme pessimism of investors, like Credit Suisse's Helen Haworth, noting that:
This can be very good news for investors who have the stomach for some risk, for a short time at least. Where there is panic, euphoria can't be very far away.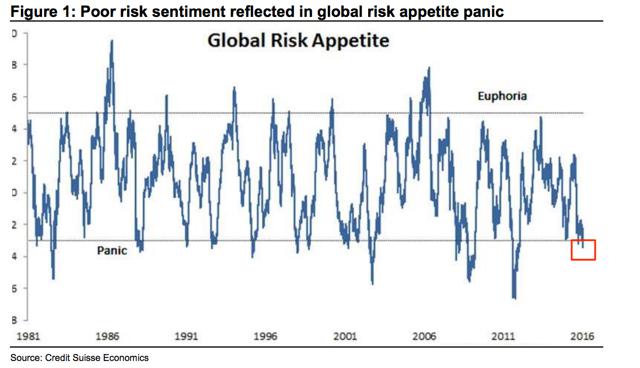 Click to enlarge
In Davos, there are not too many pessimists either:
"Sentiment has likely lurched far too quickly into a bearish posture and over-hyped downside scenarios," said Tim Adams, the U.S. Treasury's former point-man on China and now president of the Institute of International Finance. "In the end, China will likely emulate every major economy and muddle through."
Some economists counter that there's reason for optimism as Chinese consumers are still spending, property prices are stabilizing, demand for exports has picked up and there is plenty of room for fiscal and monetary stimulus if required. Though growth is indeed fading, China is on track to expand 6.5 percent this year, according to the median estimate of economists surveyed by Bloomberg.
SA contributor Hale Stewart showed that consumer spending (70% of GDP) is holding up pretty well, dispelling fears of an imminent US recession. Brett Jensen argues that as long as one sticks to cheap quality names that pay large dividends, one can ride out the storm and even put some more money to work.
The pessimists
SA contributor William Koldus argues that the stock market correction has begun already in 2015 with smaller cap, commodities stocks and in emerging markets.
The stock market decline has gained momentum in 2016, and much like a runaway train, the current decline will be hard to stop, until the persistent overvaluations plaguing the stock market over this current bull market are corrected. The correction that has caused the average stock in the United States to correct over 25%, thus far, started as an innocuous move down in global equities, outside of the depression enveloping the downtrodden emerging markets and commodities stocks, and then spread from transportation stocks to market leaders like biotechnology companies. The first wave down culminated in a gut-wrenching August 2015 sell-off that saw the Dow Jones Industrial Average (NYSEARCA:DIA) fall 1000 points at the open on August 24th, 2015. The panic was quickly brushed aside, but not forgotten, as market leading stocks made new highs in the fall of 2015.
His arguments are more based on overvaluation, the momentum of the sell-off and the lack of policy tools of the Fed than anything relating to China, but he predicts the selling won't stop until "leading stocks and market capitalization indexes correct materially."
There are other pessimists, like Krinsky from MKM Partners:
For Krinsky, the worst-case scenario for the S&P 500 could be a re-test of the breakout from 2007, which comes in around 1,575. "It seems scary but that's only about 25 percent off the highs and that's well within the confines of normal pullbacks," he said. That's a more than 16 percent move from Friday's price of around 1,885.
Über bears
Those that see huge falls for stocks are seeing stuff like:
Severe overvaluation
Unsustainable debt levels
Deflation threat
Collapse in China and emerging markets
Recession
If you're too scared to read on you might want to first inocculate yourself by reading this blog from Jeff Miller, who deals with many of these fears.
For stocks to really keel over, some kind of catastrophe is really necessary, a mere recession is likely to lead to a correction, but no crash.
The real pessimists are either hard money people like Michael Pento or Peter Schiff, or perma bears like Edwards from Societé Générale.
Pento argues that:
But a recession has occurred in the U.S. about every five years, on average, since the end of WWII; and it has been seven years since the last one - we are overdue. Most importantly, the average market drop during the peak to trough of the last 6 recessions has been 37 percent. That would take the S&P 500 down to 1,300; if this next recession were to be just of the average variety. But this one will be worse.
China isn't growing anymore and is succumbing to the pile of debt, which has increased 28 times since 2000. The result is China "going offline" and the yuan to devalue. This matters a great deal, as:
China accounted for 34 percent of global growth, and the nation's multiplier effect on emerging markets takes that number to over 50 percent.
Further complicating the picture is a severe overvaluation in US stocks and the inability of the Fed to react to these events due to the prior excesses of zero interest rates and expanding balance sheet.
Most famous perhaps was RBS bank, with their "sell everything" call last week. On even slightly closer inspection, that cataclysmic headline isn't really matched with their predictions, arguing that major stock markets could fall by a fifth. One could argue that many, perhaps most stocks have already fallen that much and more. They do see the problems emanating from China though:
RBS said the epicentre of global stress is China, where debt-driven expansion has reached saturation. The country now faces a surge in capital flight and needs a "dramatically lower" currency. In their view, this next leg of the rolling global drama is likely to play out fast and furiously. "We are deeply sceptical of the consensus that the authorities can 'buy time' by their heavy intervention in cutting reserve ratio requirements (NYSE:RRR), rate cuts and easing in fiscal policy," it said.
Another pessimist is Edwards from Societé Générale:
Albert Edwards, strategist at the bank Société Générale, said the west was about to be hit by a wave of deflation from emerging market economies and that central banks were unaware of the disaster about to hit them. His comments came as analysts at Royal Bank of Scotland urged investors to "sell everything" ahead of an imminent stock market crash.
Although 20% isn't actually all that catastrophic, we were already down 10% and, as we've argued elsewhere (here), most stocks are already in a bear market.
And of course Larry Summers warned us of this:
Policymakers who dismiss market moves as reflecting mere speculation often make a serious mistake. Markets were on to the gravity of the 2008 crisis well before the Federal Reserve was; to the unsustainability of fixed exchange rates in Britain, Mexico and Brazil while the authorities were still in denial; and to the onset of a slowdown or recession well before forecasters in countless downturns.
But of course, also this:
There is little question that markets are highly volatile relative to the fundamentals they seek to assess. Economist Paul Samuelson famously quipped 50 years ago, "the stock market has predicted nine of the last five recessions."
Another Austrian hard money man, SA contributor Dale Mortenson blames it all on the Fed's experiment with loose money and argues the next crisis will be worse than 2008.
The rise in debt is indeed remarkable, as the following figure shows: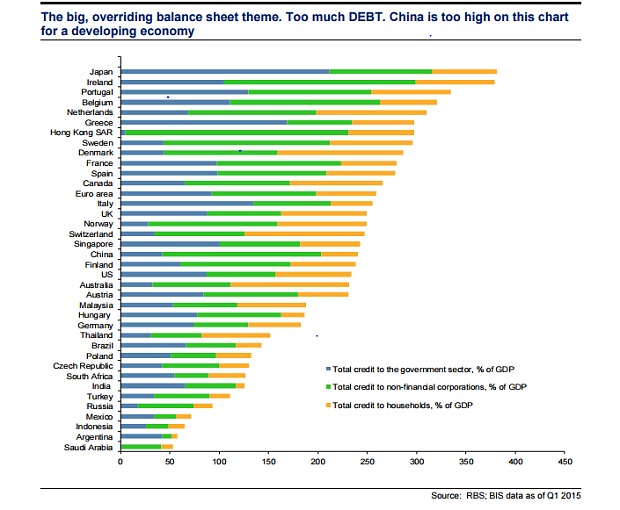 Conclusion
The optimists stress oversold conditions, little chance of a US recession and China muddling through. The pessimists think conditions are serious enough to warrant a substantial correction.
The über bears argue that markets are going to crash because of excessive valuations caused by money printing. The ballooning of debt in much of the world in general, and China in particular, isn't sustainable, causing a wave of deleveraging and deflation.
Central banks aren't able to stem the tide like in 2008 because they exhausted their ammunition back then.
Disclosure: I/we have no positions in any stocks mentioned, and no plans to initiate any positions within the next 72 hours.
I wrote this article myself, and it expresses my own opinions. I am not receiving compensation for it (other than from Seeking Alpha). I have no business relationship with any company whose stock is mentioned in this article.