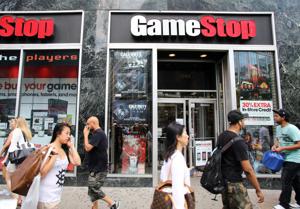 At the time of writing GameStop Corp. (NYSE:GME) is trading at $25.64 and paying a dividend that yields 5.62%. This is admittedly a very attractive yield, much greater than its normal yield as shown below, and well above the S&P 500 average of 2.31%, but is it good enough to warrant making an investment?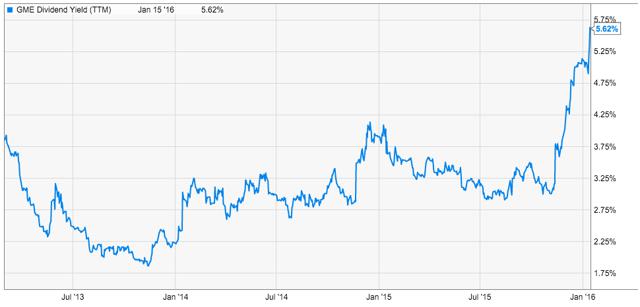 Click to enlarge
(Source: Ycharts)
The reason it is yielding so much is down to the fact the stock has dropped 42% in the last three months. Had it remained at its three-month high of $47 then it would be yielding just the standard 3% we have become accustomed to.
So is this a great time to buy the stock? Well, firstly, the payout ratio is a low 37% so clearly that is on the healthy side. The question then becomes less about the dividend and more about the company's future.
This is where we start to feel a little troubled, and unsurprisingly the company causing this unease for us is Amazon (NASDAQ:AMZN). When comparing prices of some of the most in-demand games of the moment Amazon comes out on top.
Take for example FIFA 2016 on PS4, its $39.99 delivered from Amazon, or $59.99 delivered from GameStop. Similar can be said for Fallout 4 which on Xbox is retailing at a 13% discount to GameStop. It doesn't take a rocket scientist to figure which of the two options the average consumer is going to opt for. Ignorance may win now and then for GameStop, but smart consumers will inevitably head over to Amazon.
Now there are occasions when the company offers a promotion to match that of Amazon, but our fear is that these offers essentially become a pyrrhic victory for the company, by reducing margins greatly.
Amazon has a real advantage here. It can afford to sell low margin items because of the sheer number and diversity of the items it sells. Much the same way that in the UK supermarkets would often sell things at a loss just to get you in store by using the loss leader strategy. But when your main business segment is being undercut by a company like Amazon, we fear things are not going to end well.
But one advantage the company does have over Amazon is its store network. Like many retailers it has attempted to blur the lines between bricks-and-mortar and online. The ability to buy online and pick up from store is great for those that just can't wait for deliveries. With over 4000 stores in the US there's going to be one reasonably close to the majority of consumers. Of course, the trend to digital downloads could eliminate this advantage. It would level the playing field, but could leave the company with an unnecessarily large store network.
Also, the company is making an effort to diversify somewhat. It now operates 1000 Technology Brand stores where it sells items such as iPhones, the Apple Watch, and Beats headphones. This is on top of ThinkGeek and Kongregate which both are offering decent levels of growth, albeit on a smaller scale. So there are positives to be found here.
Because approximately a third of its store network is international, headwinds related to the strong US dollar will continue to persist in 2016 causing a few issues. This FX headwind is especially apparent when you see the company's recent holiday sales. Which on a side note, we were quite impressed with.
"Total global sales for the holiday period increased 1.8% to $2.99 billion (a 5.9% increase in constant currency), compared to the 2014 holiday sales period. Foreign currency exchange rates reduced total sales by $119.5 million."
Which when considering that this holiday period was one of the weakest for US retail sales since 2009, we're pleasantly surprised by the performance of the company. This makes us feel much more comfortable with the company's medium-term prospects.
The stock is trading at a PE ratio of 6.9 at the moment, which we see as undervalued. Because we have long-term concerns for the company due to the threat posed by Amazon, we certainly wouldn't want to be paying any more than 9 times earnings for the company.
Analysts are currently expecting earnings per share in the range of $3.66 and $3.71 for fiscal 2016. If we take the low end of expectations, at 9 times earnings, we still come to a price target of $32.94. Representing a 28% return from the last price of $25.64.
Takeaway
We believe investing in GameStop is not without risks. We don't believe the business model, as it is right now, is sustainable in the ultra long-term due to risks posed by competitors, but still see some near-term successes. The company has a reasonably strong balance sheet and the same can be said for its free cash flow. We can't really see the share price being dragged down much further than where it is right now, so we are going to cautiously open a position.
Disclosure: I am/we are long GME.
I wrote this article myself, and it expresses my own opinions. I am not receiving compensation for it (other than from Seeking Alpha). I have no business relationship with any company whose stock is mentioned in this article.