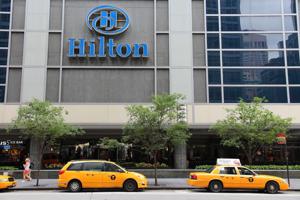 Hilton Worldwide Holdings Inc (NYSE:HLT) along with other lodging stocks have taken quite a hit in the past six months. HLT is down 37%, Hyatt Hotels (NYSE:H) is down 37.5%, Marriott International Inc (NYSE:MAR) is down 23.5% and InterContinental Hotels (NYSE:IHG) is down 23%. In comparison to these, S&P 500 has dipped 11.5% only. There are many reasons for this downfall including macroeconomic headwinds that have left the investors shunning these stocks.
However, the sector has several positive factors which should help in giving this sector an upward momentum anytime soon. With the growth of Airbnb, these traditional lodging sector players would go for consolidation to protect their turf. We should continue to see further mega M&A in this sector in 2016-2017. Eventually there can be a formation of a troika, where three main players control a majority of the market. Already we can see this happening in terms of hotel pipeline market share. The top four players (Hilton, Marriott & Starwood, IHG and Accor) have cornered a whopping 65% of the hotel development pipeline. This consolidation should help in reducing heavy competition within the sector, keep the supply of rooms in check and eventually help the main players gain a pricing advantage.
Hilton should also see some company specific positive news in the earnings release which can shift the stock on an upward trajectory. First, there is already news that the firm is looking to spin off hotel properties into a REIT. As far as the current status is concerned, it should not face any legal hassles. There is also a big possibility that the management might bring out plans to spin-off the timeshare business which consists of 45 properties and 7,152 units.
According to Q3 earnings, the timeshare segment brought in revenues of $334 million and adjusted EBITDA of $99 million, an increase of 24 percent Y-O-Y. Adjusted EBITDA for the firm was $758 million showing an increase of 13 percent in comparison to Q3, 2014. Hence, the growth of timeshare business is much better and it should certainly help unlock value if the management goes for separating this business like Marriott did with Marriott Vacations Worldwide (NYSE:VAC) in 2011.
Q4 outlook in the last earnings was also good, with the management projecting a system-wide RevPAR growth between 4.0 percent and 6.0 percent on constant currency basis. Management and franchise fees are also expected to increase by 5.0 to 7.0 percent and diluted EPS between $0.21 and $0.23.
The full year outlook for 2016 is also quite positive with RevPAR growth between 4.0 and 6.0 percent and net room growth to expand by 45,000 and 50,000. As of September 30th, 2015 it had 745,074 rooms in operation. Hence this increase is a respectable 6-7 percent growth on current portfolio. In addition to RevPAR growth, the unit growth should help propel EBITDA growth to double digits.
Back in July-2015, it was trading at a pricey forward pe ratio of 34x. Since then it has come down to a reasonable valuation of 18x forward pe. This stock might not go much below this level and we should be hitting the bottom anytime soon.
Conclusion
Hilton Worldwide Holdings has several favorable factors working for it. These include macroeconomic factors like low unemployment rate, low oil prices, consolidation within the industry and more. There are several company specific positive points like spinning-off of hotel owned properties into REIT, separating timeshare segment, good RevPAR growth and high unit growth. The current valuation is much more conducive for an entry and this stock should be leading the lodging sector when the growth momentum returns within this industry.
Disclosure: I/we have no positions in any stocks mentioned, and no plans to initiate any positions within the next 72 hours.
I wrote this article myself, and it expresses my own opinions. I am not receiving compensation for it (other than from Seeking Alpha). I have no business relationship with any company whose stock is mentioned in this article.