Eagle Point Credit Company (NYSE:ECC) is a closed end fund ("CEF") focused primarily on equity and junior debt pieces of collateralized loan obligations ("CLOs"), or the relatively "riskier" portions of the CLO (i.e. first/second loss tranches, etc.).
Since going public in October 2014, ECC has perpetually traded for a premium to NAV. From CEFConnect, please find the historical trading range below (as a % of NAV):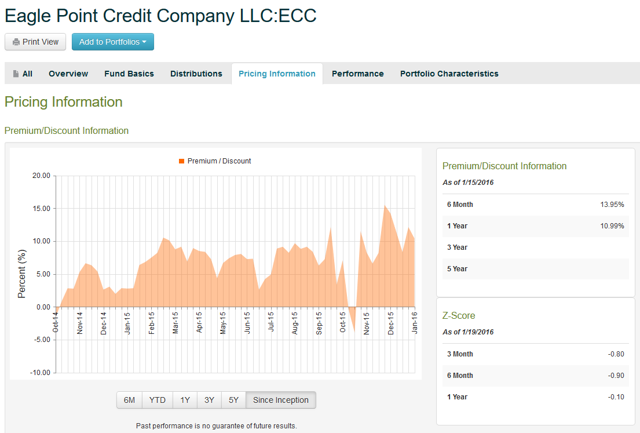 Click to enlarge
A cursory glance shows that a ~10% premium has been given by the market since-IPO. While this doesn't "rationally" make sense (i.e. why would someone pay $1.10 for $1.00 worth of assets?), the author isn't attempting to comment normatively on the premium (though it just accentuates the point of the article). This premium is likely due to retail investors bidding up the $2.40/year annualized dividend (23% of which was from a return of capital through 9/30/15)
However, a careful analyst will notice that the NAV upon which the market is pricing ECC's equity is fairly "stale" (from CEFConnect):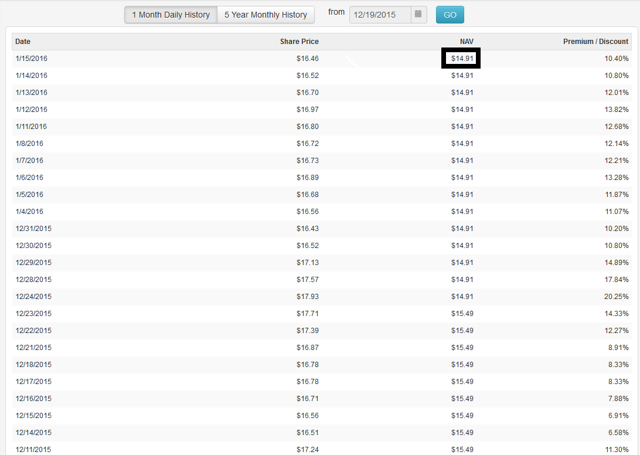 Click to enlarge
If the current NAV were in fact $14.91, then at $16.46, ECC's market price is in the same 10% premium zip-code as is "typical". This NAV was "released" in late-December and is based on 11/30/15 data.
However, while the latest NAV hasn't been officially released to the closed end fund sources that track net asset value (i.e. CEFConnect), deeply buried in the ECC website is an estimate of the latest NAV: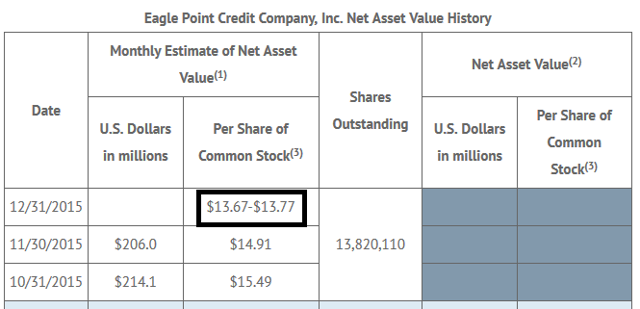 Click to enlarge
As you can see in the above, ECC estimates NAV as of 12/31/15 between $13.67-$13.77, or -7.9% vs. the $14.91 NAV estimate on CEFConnect.
Using the 110% of NAV heuristic (recent average), would suggest a target price of $15.09, or -8.3% vs. the current price of $16.46.
However, as we all know (and are living though), the market for risky assets has not been kind in 2016, with the S&P 500 -8%; Russell 2000 -11%; and high yield -4% (using JNK as proxy). A rational analyst would conclude that ECC's NAV has likely further eroded in January 2016.
More risk tolerant investors could look to short ECC (as the author is currently), but please note that the borrow is limited and the borrow cost is relatively high (15% annualized). The author is fine with this given the near-term nature of the catalyst (should be <1 month holding period given December NAV should be officially released this week and the January NAV within a month's time).
In conclusion, ECC should be avoided by investors (and shorted by enterprising investors), as the current market price doesn't reflect the cut to NAV which is shortly forthcoming. Additionally, there is likely significant further NAV risk in January.
Disclosure: I am/we are short ECC.
I wrote this article myself, and it expresses my own opinions. I am not receiving compensation for it (other than from Seeking Alpha). I have no business relationship with any company whose stock is mentioned in this article.
Additional disclosure: Additional Disclosure: The author and/or others he advises holds short a position in ECC at the time of publishing this article. The author may make trades in securities mentioned without notification. The information contained in this article is impersonal and not tailored to the investment needs of any specific person. You should consult with a professional where appropriate. The author shall not be liable for any loss of profit or any other commercial damages, including but not limited to special, incidental, consequential, or other damages. The opinions expressed in this article are for informational purposes only and should not be construed as investment advice. The article is not a recommendation of, or an offer to sell or solicitation of an offer to buy, any particular security, strategy or investment product. The research for this article is based on public information that the author considers reliable, but the author does not represent that the research or the article is accurate or complete, and it should not be relied on as such. The views and opinions expressed herein are current as of the date of this article and are subject to change. Any projections, forecasts and estimates contained in this article are necessarily speculative in nature and are based upon certain assumptions. In addition, matters they describe are subject to known (and unknown) risks, uncertainties and other unpredictable factors, many of which are beyond the author's control. No representations or warranties are made as to the accuracy of such forward-looking assumptions. It can be expected that some or all of such forward-looking assumptions will not materialize or will vary significantly from actual result.