by Howard Jay Klein
"You can't connect the dots looking forward, you can only connect the dots looking backward. So you have to trust the dots will somehow connect to your future…" Steve Jobs
From the 1990s onward, these were the leading separate public companies in gaming: Caesars, Harrahs, Horseshoe, MGM, Mandalay Bay, Ballys, Boyd, Mirage Resorts, etc, etc, etc. What a look back at the factors that triggered the mergers showed was a conviction among industry leaders that the business had to consolidate: 1) because the capital base needed for expansion in many new jurisdictions needed to be broadened, 2) acquisitions to the asset base could increase borrowing capacity, and 3) database marketing systems could be extended to new properties to enable cross marketing of a huge, expanded customer base.
The dots pinpointed in that process tell us that we are now facing a similar set of circumstances in the area of regional gaming. With Las Vegas already consolidated, and Macau's mammoth size confining it as a big boy's game only, operators are turning to the US gaming regionals for opportunities to build shareholder value with sensible, affordable expansion in an essentially stable US market.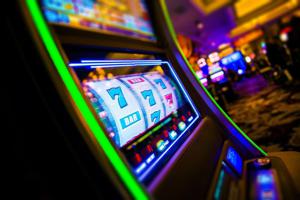 Last week in a move unrelated to the current market turbulence, Isle of Capri Casinos (NASDAQ:ISLE) announced a top management shift. Virginia McDowell, 57, CEO announced her retirement from the St. Louis-based operator of 15 regional US casinos and was replaced by Eric Hansler, who had been CFO. McDowell, who I'd known during her early career days in Atlantic City as a PR person at the Tropicana, had rapidly moved up the ladder through marketing and ultimately into general management positions in the industry, which had taken her to the CEO spot at Isle in 2007.
During her tenure, the company significantly improved its financial performance through a sustained program of strong marketing and cost controls. Isle has one of the strongest balance sheets in the regional gaming space. We believe her departure, after a solid performance and at a relatively young age, suggests a change in strategic direction at the board level on which members of the founding Goldstein family sit.
Also promoted was Arnold Block, who has become COO, and Michael Hart, who has assumed the post of CFO. Before entering the industry, both Hansler and Hart came out of Wall Street. Hansler had been a gaming and lodging analyst at Bear Stearns before entering the industry itself, and Hart is a CPA.
I'm reading runes here that tell me a transaction could be in the offing sometime as early as this year, producing a very smart entry point for conviction buyers now as the stock nears the low end of its 52 week trading range.
During December, Isle got both strong buy and buy recommendations from analysts who liked their financial performance, robust balance sheet and like us, believed the stock was undervalued. That was before the recent market swoon, but we believe the fundamentals of this company still justify a serious look. And the management change supports our outlook that this just might be a great entry point on the stock.
A quick look:
Price at writing: $12.35
52 week range: $9.76 - $21.43
Market cap: $503m
P/E (TTM): 21.82
EPS 0.57
Q3 Revenues: $236m Net earnings: $7.81 EPS: 0.12
Gross margins: were stable at 69.69%
Operating EBITDA rose to 19.78% from 17l05%
Change in Operating Cash Flow: 10.55%
Debt to Equity: 22.94
Industry peers:
We've analyzed the current status of Isle's industry peer group to evaluate just who among them might be the best natural fit for either a merger or acquisition of Isle.
Both Pinnacle Entertainment (NYSE:PNK) and Penn National Gaming (NASDAQ:PENN) are now operating companies whose realty has been sold to the Gaming and Properties, Inc., REIT (NASDAQ:GLPI). We believe this brings a complication into any possible transaction for either of these two companies, though the strategic fit is good. As we've written on SA before, we're not believers in REITs for the gaming industry.
Last March 19, when the flurry of hot breathing over REITs became the savior of highly leveraged casino operators, we demurred. (See our article: Here's the pros and cons of casino REITS…)
We said then and continue to believe that casinos are single purpose buildings, in single purpose locations and their triple net lease deals commit their operating companies to long-term outlays that can't by design anticipate any severe revenue downdrafts. Since the enthusiastic early support, REITs for gaming have come in for a second, less bullish review by among others, Fitch, which recently published a report that essentially echoed our hesitations about gaming REITs last year.
We continue to like Pinnacle as an operating company, but don't see it as a possible acquirer of anything until at least its REIT deal is completed this March and thereafter, it has lots of its own knitting to tend.
However, we don't see what a REIT conversion or possible sale of Isle to an existing REIT operator like GLPI brings to the party, especially now that it appears the IRS is casting a new eye on rules for tax treatment on such conversions. That entire space will be treading water, at least until the turtle like pace of the IRS shuffles to some conclusive recasting or sustaining of the current rules.
Boyd Gaming (NYSE:BYD), which has recently been pushed by analysts as worthy of a buy, is another fine operator, but only a fair strategic fit for Isle. Its business divides into strength in the Las Vegas locals market and its 50% ownership of the wildly successful Atlantic City Borgata. Its properties in Iowa, Illinois, Indiana, Louisiana and Mississippi do well in fairly stable markets, and for them Isle can add some strength in the Midwest, but we're not certain that Boyd's gimlet eye isn't really saving its financial bullets for a possible buyout of the MGM (NYSE:MGM) half of the Borgata after that company's proposed parent controlled REIT, MGM Growth Properties, debuts.
That move, clearly created to reduce MGM's heavy leverage, could signal other asset sale options as more MGM product enters the market in Maryland, Massachusetts and Macau.
Regardless of the formidable challenges continuing to face the Atlantic City market, the Borgata continues to outperform every property there and produce strong EBITDA flows. They could wind up as one of the five survivors in AC in a market better scaled to population and competitive thrusts and in that case, a strong long-term investment Boyd would be pleased to undertake.
Caesars (NASDAQ:CZR), which commands the largest US regional gaming chain under the Harrah's and Horseshoe brands, is currently mired in a complex bankruptcy proceeding laced with second lien noteholder lawsuits and is more likely to be a seller rather than a buyer of gaming properties going forward.
Our candidate pick:
Churchill Downs (NASDAQ:CHDN) Price at writing: $138.69
As we've previously written in SA, we continue to be somewhat puzzled by the toppy price range, institutional support and prospects for this fine company. Its heavy footprint in the horse racing industry, both on track and online wagering, is essentially fighting a losing battle against the constantly aging demo of its customer base. We suspect that all the support is based on its excellent acquisition of the Big Fish online social gaming business, which has turned out to be a great call for management and continues to promise strong growth in the years ahead.
Churchill's casino business is small and just bumping alone with properties in Oxford, Maine; Vicksburg, and Greenville, Mississippi; and Miami Valley, Ohio. These properties comprise a relatively smaller percentage of Churchill's total revenue base.
Our take: Given the current trading range of Isle and its new management focus, we believe there will be fishing going on in the regional space for a merger partner, and Churchill seems like a good one to us.
Here's the match rationale we see:
1. Conservative fiscal management. Both companies excel in cost controls, debt levels and steady as she goes management strategies. Both are Midwest/near South-based with Midwest mindsets and operating values and would present a potentially smooth cultural transition.
2. Offer considerable geographic expansion of Churchill's casino division into the Midwest with good, operating companies under the Lady Luck and Isle brands. Both companies operate racinos as well.
3. Isle's near 25 million share float is small, its price is at the low end of its 52-week range, its properties are up-to-date and the consensus for going forward earnings moved from $1.25 to $1.42 for this year.
4. Ownership is concentrated with 39% held by insiders, including members of the founding Goldstein family; 54.80% institutions, making for an easier merger structure that could be anything from a simple share swap, a tender offer unobstructed by predatory interests or an all-cash transaction.
5. Acquisition of Isle would double the revenues of Churchill Downs, ($812 million for 2014). Isle would add an estimated $1.1 billion for 2015, making a $2 billion company, increasing both their diversity of product, geography and properties and platforming it for yet more acquisitions in the 2017 to 2020 out years.
6. Consolidation of US regional gaming is coming and will accelerate as new properties both in commercial and tribal gaming open to challenge existing revenue flows for all operators in the space. The probable wind up of the Caesars' bankruptcy by the end of this year could be something different from the plan proposed to the court by management, i.e., a REIT conversion. Our belief is the many Caesars' legacy properties, both those in Las Vegas as well as the regionals, could find themselves on the selling block, and that the most logical buyers would be other, strong regional players, among them, Churchill Downs, the most limited of all in geographic spread.
The takeaway:
With Isle now sitting cheaper than most of all its regional peers, and its recent management change putting finance people with Wall Street backgrounds into key management spots, the timing feels right that a transaction may be in the offing. Clearly, Isle could reverse the process and given its strong financial condition, reach out to acquire a competitor itself. Either way on most metrics we see, and echoed by a consensus that ranges from strong buy to buy, we like Isle of Capri to start showing some movement when and if the current market maelstrom clears.
About the author: Howard Jay Klein, is a 25+ year C-level veteran of the casino industry and currently is a consultant for companies in gaming, entertainment and casino development. He is the author of Mastering the Art of Casino Management. He is the publisher of The House Edge, a premium site on Seeking Alpha.
Disclosure: I/we have no positions in any stocks mentioned, and no plans to initiate any positions within the next 72 hours.
I wrote this article myself, and it expresses my own opinions. I am not receiving compensation for it (other than from Seeking Alpha). I have no business relationship with any company whose stock is mentioned in this article.