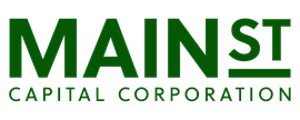 I added Main Street Capital Corporation (NYSE:MAIN) in 2015 to my income portfolio, but have begun to follow smaller niche BDCs that have made compelling investment propositions in the meantime. In November, for instance, I added Hercules Technology Growth Capital (NYSE:HTGC) to my $100,000 high-yield income portfolio, and I have set my sights on Triangle Capital Corporation (NYSE:TCAP), another BDC that has taken a beating lately, but is not far behind Main Street Capital in terms of producing competitive IRRs.
That said, though, every time Main Street Capital falls below $30, I can hardly contain my excitement. In an earlier article I penned in August of last year, I contended that Main Street Capital makes for a compelling buy below $30 a piece.
The market slide of 2016 has presented investors with just that opportunity, to buy MAIN below $30, again. Main Street Capital's stock has slid 6.2% year-to-date, which is a rather significant drop in value considering that the BDC hasn't given shareholders any reason to sell. Rather, BDC stocks slumped with the broader market, making a purchase quite compelling.
Can MAIN outperform in a bad market?
Reputable companies and their stocks have a tendency to outperform the market during stressful times.
Main Street Capital, for instance, has earned a reputation for impressive NAV and NII growth over the last decade that has made it a magnet for investor capital. Importantly, when U.S. stock market indices and income stocks fall off a cliff, companies like Main Street Capital or Realty Income (NYSE:O), for that matter, become "safe harbor" investments in the high-yield sector that investors feel comfortable owning during times of market stress.
As a result, Main Street Capital is one of the best income vehicles to bet money on in today's market because investors can reasonably expect the company to continue paying its monthly dividend.
Better valuation, better yield... what's not to like?
The purpose of "buying a correction" is not only to allocate more capital to "safer" income investments, but of course to be opportunistic and to pick up a good stock when one is on sale.
Without a doubt, Main Street Capital is such a stock. MAIN's valuation has come down quite a bit during the last market correction, which makes it even more appealing to buy the BDC for income. At the time of writing, MAIN sells for ~1.25x net asset value.
That's not cheap, but it is a stark contrast to the ~1.48x P/NAV valuation we have witnessed at the beginning of December.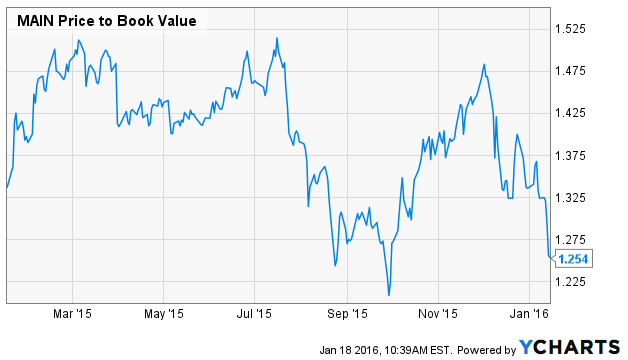 Main Street Capital is not only cheap according to its P/NAV ratio.
Based on Main Street Capital's annualized Q3-15 net investment income of $2.24/share, MAIN sells for just ~12.2x forward NII. A bargain... and I am probably not the only income investor with a smile on my face seeing these compelling valuation ratios.
Your Takeaway
As weird as it sounds income investors have a lot to look forward to when reputable income vehicles like Main Street Capital or Realty Income go on sale. Realty Income has held up well during the latest market crash, at least so far, but there can be really little doubt that Main Street Capital is in absolute "Strong Buy" territory right now. The BDC can be bought for a much lower P/NAV ratio than in December while investors can lock in an ~8% dividend yield on a recurring dividend basis. Since Main Street Capital used to pay special dividends, there is a good chance that new shareholders will see their effective dividend yield shoot up to close to 10% in 2016. Buy for income.
Disclosure: I am/we are long MAIN, HTGC, O.
I wrote this article myself, and it expresses my own opinions. I am not receiving compensation for it (other than from Seeking Alpha). I have no business relationship with any company whose stock is mentioned in this article.