Are You Looking Through The Windshield Or Into A Rearview Mirror?
By Walter Davis, Alternatives Investment Strategist
Whenever I meet with advisors and clients, I emphasize the importance of looking through the windshield when investing, rather than looking into the rearview mirror. In other words, invest in anticipation of what might happen in the future - not in reaction to what has happened in the past. To see why this is important, let's examine what the view looks like from the driver's seat today.
Looking in the rearview mirror: above-average equity returns and low risk
Given where we are today, investors who look in the rearview mirror see a wonderful period for US equities post-financial crisis. As the table and chart below illustrate, over the past five years, US equities have generated returns well above their long-term historical average. Furthermore, these returns have been achieved with relatively low levels of risk (as measured by standard deviation).
The past five years have been marked by high returns and low volatility for stocks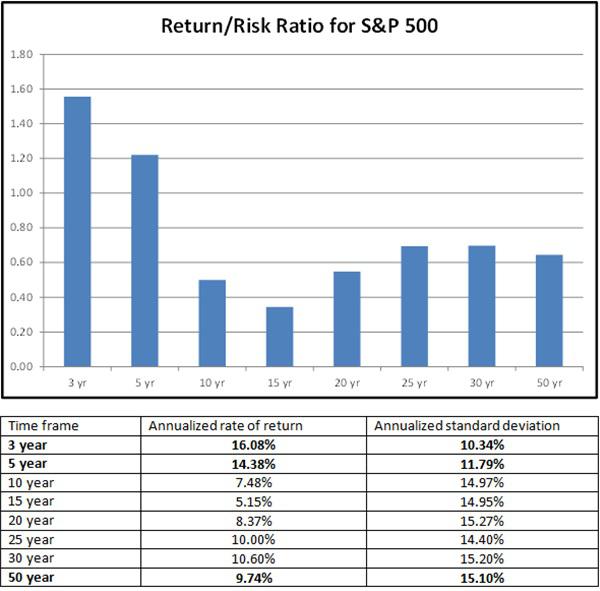 Source: Lipper, Inc. Data through Nov. 30, 2015. Stocks represented by the S&P 500 Index. An investment cannot be made directly in an index. Past performance is no guarantee of future results.
Looking through the windshield: a possibility of below-average returns
While many stock investors have benefitted tremendously over the past five years, firms like Morgan Stanley have begun to warn investors to "prepare for an era of below-average returns."1 While no one knows what the future holds for equities, I believe it's prudent for investors to prepare for a normalization of equity returns and volatility (i.e., for equity returns to decline from current levels, and for volatility to increase from current levels - performing more in line with their long-term historical averages.)
Preparing for change in the markets
How can investors prepare for this scenario? I believe that alternative investments will prove helpful to investors, especially as equity returns normalize. As the chart2 below demonstrates, over the long term, alternative investments have historically delivered equity-like returns with lower levels of volatility and maximum decline.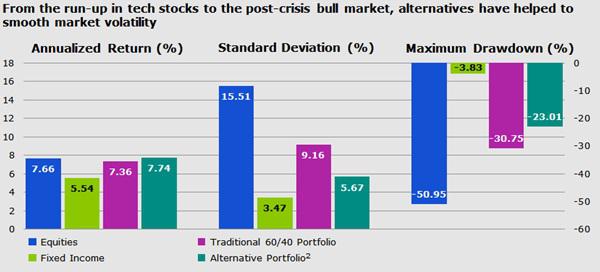 The period represented is January 1997 through June 2015. Past performance is not a guarantee of future results.
While the above chart is helpful for examining alternatives over the long term, many investors' experience with alternatives has been limited to the post-financial crisis period, a time in which equities have outperformed alternatives. As a result, many investors ask why they should consider alternatives when they've been able to generate strong equity returns with relatively low levels of risk over the past few years.
Looking at the historical performance of alternatives during bull and bear market cycles (see chart2 below), it is clear that alternatives have historically lagged stocks during bull market periods and outperformed stocks during bear market periods. As investors consider how to position their portfolios for the future, they need to consider whether the recent period of strong equity returns and low equity volatility will continue or whether equity returns and volatility will normalize.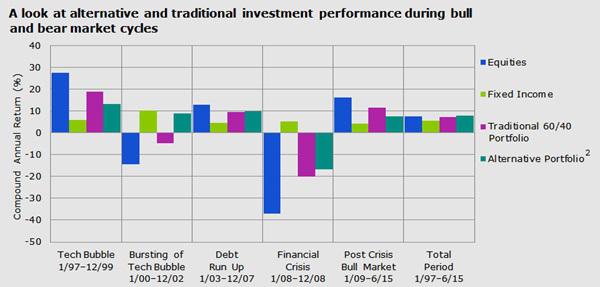 The period represented is January 1997 through June 2015. Past performance is not a guarantee of future results.
What's your view?
For an investor who looks in the rearview mirror and believes the recent period of equity performance will continue, it may be preferable to avoid alternative investments and focus on equities. But for investors who look through the windshield and see the need to prepare for the possibility of declining equity returns and increasing equity volatility, I believe alternative investments should be considered for inclusion in their portfolios.
For more information about alternatives
Important information
Bloomberg Business, "Morgan Stanley: Get Ready for a Period of Low Returns in the Market", Nov. 30, 2015.
Source: StyleAdvisor. Alternatives portfolio represented by a portfolio comprising allocations to each of the following alternatives categories:
Inflation-hedging assets, represented by 15% FTSE NAREIT All Equity REIT Index and 5% Bloomberg Commodity Index. The 15%/5% split reflects Invesco's belief that investors tend to invest in strategies with which they are more familiar.
Principal preservation strategies, represented by 20% BarclayHedge Equity Market Neutral Index.
Portfolio diversification strategies, represented by 12.5% BarclayHedge Global Macro Index and 7.5% BarclayHedge Multi-Strategy Index. Multistrategy is underweighted in this example due to its potential overlap with global macro.
Equity diversification strategies, represented by 20% BarclayHedge Long/Short Index.
Fixed income diversification strategies, represented by 10% CS Leveraged Loan Index and 10% BarclayHedge Fixed Income Arbitrage Index.
The performance of individual alternative investments will differ from that of the index.
Equities represented by S&P 500 Index. Fixed income represented by Barclays US Aggregate Bond Index. Traditional 60/40 Portfolio represented by 60% S&P 500 Index and 40% Barclays US Aggregate Bond Index. An investment cannot be made directly in an index. Index returns do not reflect any fees or expenses. Past performance is not a guarantee of future results.
The Bloomberg Commodity Index is a broadly diversified commodity price index.
The Credit Suisse Leveraged Loan Index represents tradable, senior-secured, US-dollar-denominated, noninvestment-grade loans
The Barclays US Aggregate Bond Index is an unmanaged index considered representative of the US investment-grade, fixed-rate bond market.
BarclayHedge indexes reflect performance of hedge funds, not of retail investment strategies, and are used for illustrative purposes only solely as points of reference in evaluating alternative investment strategies. The BarclayHedge Equity Market Neutral Index includes funds that attempt to exploit equity market inefficiencies and usually involves being simultaneously long and short matched equity portfolios of the same size within a country. The BarclayHedge Global Macro Index includes funds that carry long and short positions in any of the world's major capital or derivative markets. The BarclayHedge Multi Strategy Index includes funds that are characterized by their ability to dynamically allocate capital among strategies falling within several traditional hedge fund disciplines. The BarclayHedge Long/Short Index includes funds that employ a directional strategy involving equity-oriented investing on both the long and short sides of the market.
The S&P 500® Index is an unmanaged index considered representative of the US stock market.
The FTSE NAREIT All Equity REITs Index is an unmanaged index considered representative of US REITs.
The return/risk ratio is a measure of return in terms of risk measured by the standard deviation for a specific time period.
Standard deviation measures a portfolio's range of total returns and identifies the spread of a portfolio's short-term fluctuations.
Hedge funds are typically aggressively managed portfolios of investments for high net worth investors that use advanced investment strategies such as leverage, long, short and derivative positions with the goal of generating high returns (either in an absolute sense or over a specified market benchmark). Hedge fund managers have less restriction on their investment methodologies than mutual fund managers, and hedge funds are less regulated and therefore offer less investor protection than mutual funds. Mutual funds are more transparent with regard to disclosure of underlying holdings and have lower fees than hedge funds.
Alternative products typically hold more non-traditional investments and employ more complex trading strategies, including hedging and leveraging through derivatives, short selling and opportunistic strategies that change with market conditions. Investors considering alternatives should be aware of their unique characteristics and additional risks from the strategies they use. Like all investments, performance will fluctuate. You can lose money.
Stock and other equity securities values fluctuate in response to activities specific to the company as well as general market, economic and political conditions.
Fixed-income investments are subject to credit risk of the issuer and the effects of changing interest rates. Interest rate risk refers to the risk that bond prices generally fall as interest rates rise and vice versa. An issuer may be unable to meet interest and/or principal payments, thereby causing its instruments to decrease in value and lowering the issuer's credit rating.
Before investing, carefully read the prospectus and/or summary prospectus and carefully consider the investment objectives, risks, charges and expenses. For this and more complete information about the products, visit invesco.com/fundprospectus for a prospectus/summary prospectus.
The information provided is for educational purposes only and does not constitute a recommendation of the suitability of any investment strategy for a particular investor. Invesco does not provide tax advice. The tax information contained herein is general and is not exhaustive by nature. Federal and state tax laws are complex and constantly changing. Investors should always consult their own legal or tax professional for information concerning their individual situation. The opinions expressed are those of the authors, are based on current market conditions and are subject to change without notice. These opinions may differ from those of other Invesco investment professionals.
| | | |
| --- | --- | --- |
| NOT FDIC INSURED | MAY LOSE VALUE | NO BANK GUARANTEE |
All data provided by Invesco unless otherwise noted.
Invesco Distributors, Inc. is the US distributor for Invesco Ltd.'s retail products and collective trust funds. Invesco Advisers, Inc. and other affiliated investment advisers mentioned provide investment advisory services and do not sell securities. Invesco Unit Investment Trusts are distributed by the sponsor, Invesco Capital Markets, Inc., and broker-dealers including Invesco Distributors, Inc. PowerShares® is a registered trademark of Invesco PowerShares Capital Management LLC (Invesco PowerShares). Each entity is an indirect, wholly owned subsidiary of Invesco Ltd.
©2016 Invesco Ltd. All rights reserved.
How your view of stocks might impact your view of alternatives by Invesco Blog