The markets have really given us a ride so far this year. We just complete only the second week of January, however it seems much longer. There is really a lot of debate about what is causing all of this turmoil in the market; is it China, Oil, or the Fed tightening cycle? What if I told you there was something else going on? Perhaps something no one is really talking about.
Have you ever heard of the St. Louis Adjusted Monetary base? Well if you haven't now you have. It is basically the amount of money in circulation and on deposit at that the Federal Reserve Bank. Basically part of the Fed's balance sheet.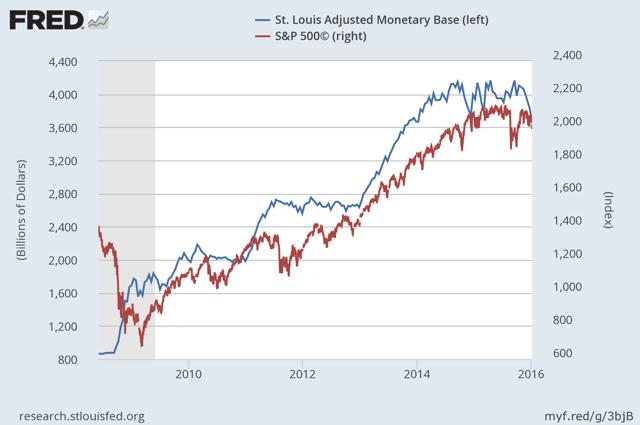 Click to enlarge
There has been a correlation of 97% between the monetary base and the S&P 500, since June of 2009. The two have been tied at the hip. It is basically all from QE. However, starting in middle of October 2015, the Fed started to pare this balance sheet down from $4.1 trillion to $3.6 trillion through January 6th, 2016. Well if it is correlated going up, then I guess it is going to be correlated going down. The balance sheet hasn't been this low since January of 2014.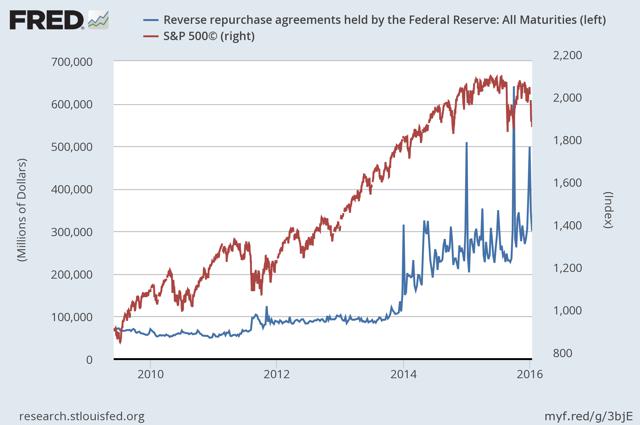 Click to enlarge
The Fed has been constantly adjusting the balance sheet, this just happens to be the biggest adjustment I can see from looking at the data. The question remains; is this the start of the fed contracting the monetary base or is this just normal operations? It looks to me like this part of normal monetary operations. We can see this all being conducted in the reverse repo market. There has been a correlation of 0.85 between the S&P 500 and Reverse Repo market since June of 2009. There was a very large reverse repo of $500 billion on December 31st, 2015. These transactions are when securities are sold to primary dealers or foreign central banks under an agreement to buy them back on specific date with interest.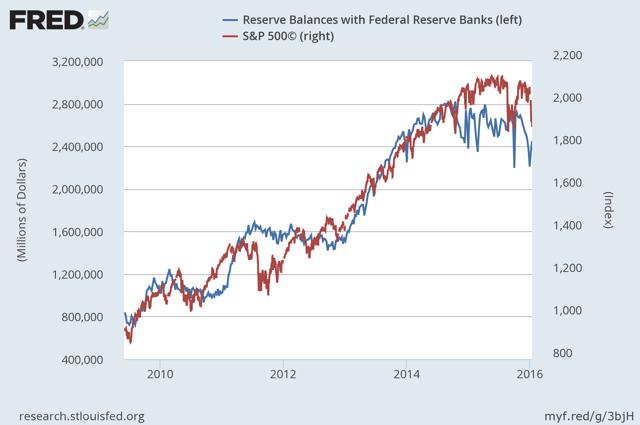 Click to enlargeWe can see by looking at the Reserve Balance with Federal Reserve Banks that the base appears to be heading back up. The Reserve Balance is part of the Adjust Monetary Base minus currency in circulation.
It is my opinion that much of this market volatility is related to the Fed's reverse repo operations. It is certainly worth monitoring very closely. The Fed has and is in more control than people think.
Disclosure: Mott Capital Management, LLC is a registered investment adviser. Information presented is for educational purposes only and does not intend to make an offer or solicitation for the sale or purchase of any specific securities, investments, or investment strategies. Investments involve risk and unless otherwise stated, are not guaranteed. Be sure to first consult with a qualified financial adviser and/or tax professional before implementing any strategy discussed herein. Past performance is not indicative of future performance.
© Mott Capital Management, LLC 2016. Unauthorized use and/or duplication of this material without express and written permission from Mott Capital Management, LLC is strictly prohibited.
Disclosure: I/we have no positions in any stocks mentioned, and no plans to initiate any positions within the next 72 hours.
I wrote this article myself, and it expresses my own opinions. I am not receiving compensation for it. I have no business relationship with any company whose stock is mentioned in this article.