Introduction
Metro Inc (OTCPK:MTRAF) is a Canadian retailer focused on food and pharmacy products [and should not be confused with the German company Metro AG (OTCPK:MTAGF)]. Surprisingly, the company's share price has actually gained some ground since January 1st whereas the major indices started a semi-freefall. Is Metro really an interesting company? Or is it now overvalued after its share price remained this strong?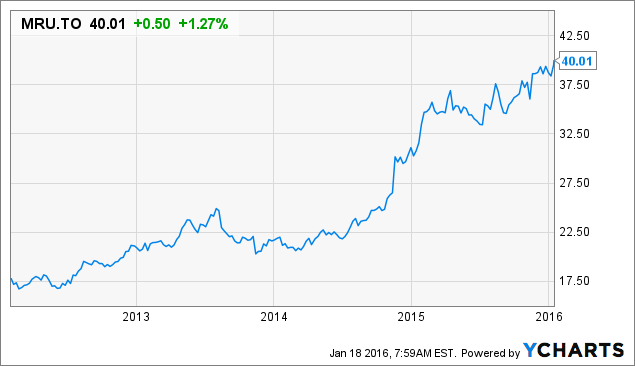 MRU data by YCharts
As you can imagine, the company's Canadian listing is much more liquid with approximately 525,000 shares trading on a daily basis. As the average daily dollar volume is almost US$15M, the Toronto Stock Exchange should be your preferred place to trade in Metro's shares. The ticker symbol in Canada is MRU.
FY 2015 was a good year for Metro, and the company continues to invest in its brand
Metro's financial year 2015 was pretty good as the company's total revenue increased by 5.4% to C$12.2B ($8.5B), despite a below-average revenue growth in the fourth quarter of the year (as the revenue in Q4 increased by just 4.5% which by itself obviously still is a respectable percentage). Metro wasn't just able to increase its top line, the operating expenses were also kept in line with the company's growth and as the COGS didn't increase faster than the revenue, the EBITDA increased from C$782M ($543M) to C$858M ($596M), a 9.72% increase, which is pretty nice. The bottom line was showing an even better result as the net income attributable to Metro's shareholders increased by 13.2% to C$506M ($351M).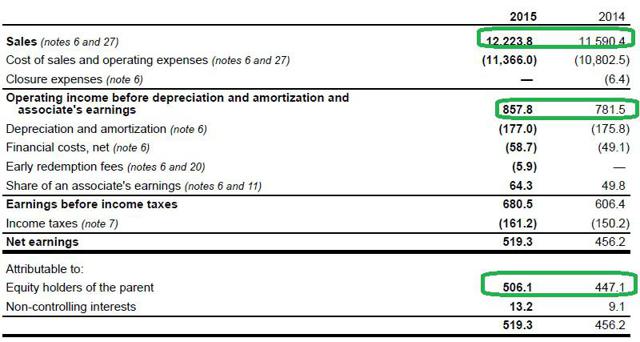 Click to enlarge
Source: annual report
This doesn't necessarily mean anything for retailers as it's more important to find out exactly how the revenue increase was caused. Fortunately in Metro's case, the majority of the revenue increase came from organic growth as the same-store sales increased by 4%, whilst the seven new stores contributed to a 1.4% increase of the consolidated revenue. This means that Metro's performance is actually quite impressive as just a minority of the revenue increase was caused by new store openings. Metro currently has 590 supermarkets (including discount stores, with a 55/45 split between Québec and Ontario) and an additional 254 pharmacies, so the company is quite well-represented in the Quebec and Ontario street view.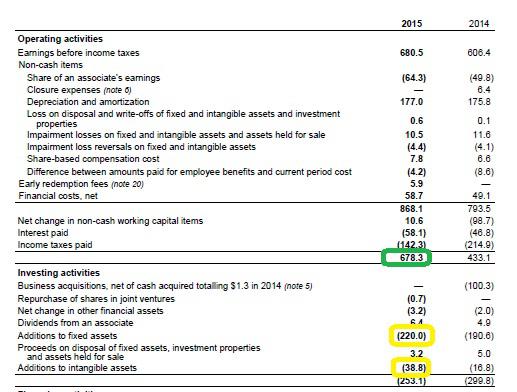 Source: financial statements
It's always nice to see a company is able to self-fund its expansion program instead of having to rely on increasing the debt position to cover all the outgoing cash flow. That's also the case at Metro, as the company's adjusted operating cash flow increased from approximately C$431M ($299M) to C$668M ($464M) on the back of a higher pre-tax and pre-interest cash flow. This C$668M was sufficient to cover the C$258M ($179M) in capital expenditures, leaving approximately C$410M ($285M) on the table for other purposes (see later).
With a free cash flow of C$410M and a market capitalization of approximately C$9.5B ($6.6B), Metro is currently trading at a free cash flow yield of approximately 4.3%. That's not dirt-cheap but also not very expensive, considering the company's growth profile (and continuous investment in further growth).
Metro has found a pretty decent capital allocation strategy I can feel comfortable with
A second large part I always focus on when doing my due diligence on companies is to find out whether or not those companies are reinvesting the cash wisely or are just throwing it out of open windows and doors.
A first step is to find out if the company is overpaying on a dividend, but as Metro's dividend of C$0.117 per quarter [or almost C$0.47 per year ($0.33)] is costing the company just C$111M ($77M) per year, it's pretty obvious the dividend is most definitely sustainable as the payout ratio based on the adjusted free cash flow is less than 27%.

Click to enlarge
Source: financial statements
However, Metro has also been conducting quite a substantial share repurchase program, and this resulted in the company having acquired 11.9 million shares under its Normal Course Issuer Bid for a total cash expense of C$381M ($265M). The net amount spent on repurchases (after taking the cash inflow from option exercises into consideration) was C$410M ($285M), and that's indeed higher than the C$300M in available free cash flow (defined as adjusted free cash flow - dividend payments) indicating the company 'overspent' on shareholder rewards to the tune of C$110M ($76M).

Click to enlarge
Source: company presentation
That doesn't necessarily have to worry you, as Metro's balance sheet most definitely can handle a little bit of extra debt. The company's total long-term debt is just C$1.15B ($799M) and with a total net debt position of C$1.15B and an EBITDA of C$858M ($596M), the net debt/EBITDA ratio of 1.34 most definitely remains acceptable and under control. Metro has announced another share repurchase program allowing it to buy back up to 18 million shares, and in just the first 7 weeks of that program, Metro has bought back almost 3.5 million shares.
Investment thesis
It's nice to see Metro finding a pretty decent balance between investing in its own company by opening new store locations, paying a dividend and repurchasing shares. Although I understand the company is trying to treat its shareholders well by buying back shares, I'd feel more comfortable if the company would only use the available free cash flow to do so, instead of borrowing to fund these buybacks. After all, it's not like Metro's stock is trading at dirt-cheap levels right now, and it might be better to keep some powder dry to increase the effectiveness of the buyback program by taking advantage of weaknesses in the share price.
I will keep my eye on Metro, but I would like to see the free cash flow yield to approach 5% before initiating a position in this Canadian retailer.
Disclosure: I/we have no positions in any stocks mentioned, and no plans to initiate any positions within the next 72 hours.
I wrote this article myself, and it expresses my own opinions. I am not receiving compensation for it (other than from Seeking Alpha). I have no business relationship with any company whose stock is mentioned in this article.
Editor's Note: This article discusses one or more securities that do not trade on a major U.S. exchange. Please be aware of the risks associated with these stocks.