When I first started covering Starbucks (NASDAQ:SBUX), I used the Dividend Discount Model to determine that the company would grow both dividends and earnings (in per share terms) by 20 percent annually and had significant upside on this basis.
In this article, I revise my assumptions in the model taking into account last year's 2-for-1 stock split. To view the original calculations, please see my previous article.
Assuming that Starbucks manages to grow dividends and earnings by 20 percent per year, I forecast that a target price of $70.69 can be achieved, which yields a percentage upside of 22 percent from the price of $58 at the time of writing.
Dividend Per Share Forecast (2014 to 2018)
2014
2015
2016E
2017E
2018E
Projected 20% DPS growth
0.55
0.68
0.82
0.98
1.18
7% discount rate
0.51
0.59
0.67
0.75
0.84
Earnings Per Share Forecast (2014 to 2018)
2014
2015
2016E
2017E
2018E
Projected 20% EPS growth
1.35
1.82
2.18
2.62
3.14
7% discount rate
1.26
1.59
1.78
2.00
2.24
*Values adjusted for 2-to-1 stock split.
Assuming 20% Dividend and Earnings Growth
Forward P/E Ratio
30.06
Forward P/E * Estimated 2018 EPS (Expected Stock Price in Year 5)
67.33
Present Value of Dividends Per Share Through to Year 2018
3.36
Target Price in Year 2018
70.69
However, Starbucks exceeded DPS and EPS estimates in 2015, with 2015 DPS growing by 24 percent and EPS growing by 35 percent.
In this regard, there could be significantly higher upside to Starbucks than the $70 forecasted by the model. However, with the market undergoing a significant pullback and economic growth remaining sluggish around the world, can Starbucks continue this rapid rate of growth?
I had previously argued that a major aspect of Starbucks' success has been its ability to permeate fast-growing markets. For instance, the company managed to significantly increase margins in Asia Pacific last year while maintaining strong growth in the Americas. Moreover, Starbucks has made significant inroads in expanding into Sub-Saharan Africa. Such expansion shows no signs of slowing.
According to the Q4 Earnings Report:
► 1,800 new store openings are planned for 2016, with 700 in the Americas, 900 in China/Asia Pacific, and 200 in EMEA.
► Non-GAAP Earnings per Share is expected to come in at $1.87 to $1.89.
► Full-year consolidated revenue is expected to be 10% on a 52 week basis.
Assuming that earnings do indeed come in at a range of $1.87 to $1.89, then this would still exceed the $1.78 expected EPS based on a 7% discount rate. Is this a realistic EPS target?
It is important to remember that while Starbucks' expansion has been very impressive, the same comes at a high financial cost. For instance, we see that while total net revenues increased by 17.6% in 2015, total operating expenses had increased by 18.1% over the same period.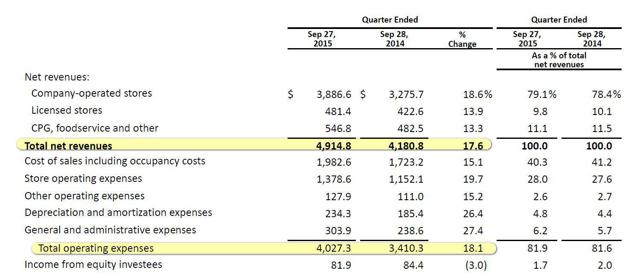 Click to enlarge
Source: Starbucks Q4 FY15 Earnings Release
This is significant because the company has committed to further large-scale expansion in 2016, and is doing so at a time of economic uncertainty. Should consumer spending across major markets drop, then there is a risk that the company could see costs rise faster than revenues, which would impede further earnings growth.
To conclude, I am bullish on Starbucks over the long-term and believe the company has a great future ahead. However, as an investor, I would wait before initiating a long position on the basis that 2016 may impede growth as a result of lower consumer spending.
Disclosure: I/we have no positions in any stocks mentioned, and no plans to initiate any positions within the next 72 hours.
I wrote this article myself, and it expresses my own opinions. I am not receiving compensation for it (other than from Seeking Alpha). I have no business relationship with any company whose stock is mentioned in this article.