Since mid-2015, Wells Fargo (NYSE:WFC) is a company that has been impressive in all aspects except share price. Over this period, we have seen the stock decline from highs of $58 to $48.82 at the time of writing.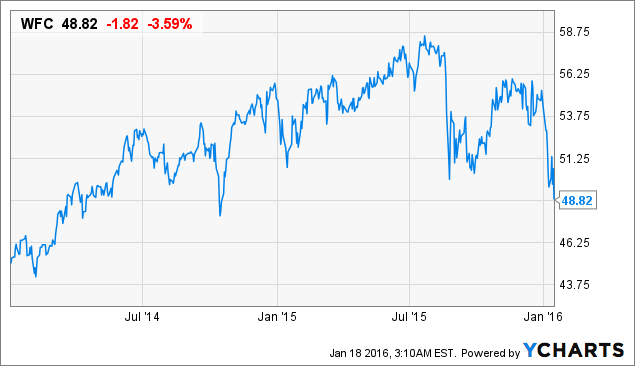 With the equity markets having taken a broad tumble overall during this period, the decline in Wells Fargo is not all that surprising. However, I have continuously argued that Wells Fargo is in a better position than its peers to thrive in the financial industry given its blend of commercial and investment-related activities, and I still stand by that assertion.
Since 2012, Wells Fargo has beat (or met) analyst earnings estimates during every quarter. Moreover, not only does the bank have a leading position in the consumer and business lending market, it has also been highly innovative in developing its investment banking arm to profit from favorable asset fluctuations.
In this context, I see the bank as having the ideal "business mix" to thrive irrespective of an interest rate rise. In theory, a bank stands to profit from an interest rate rise since this means a higher return on loans, but there is the rise that borrowing levels may take a slump as a result of such a rate rise. In any event, I foresee that the bank will continue to generate significant noninterest income and is still exposed to upside should borrowing levels remain upbeat.
Net interest income for Wells Fargo had increased in Q4 2015 to $11.6 billion, which was partially driven by the increase in interest rates. However, noninterest income had been down by $0.4 billion compared to the third quarter, which resulted largely from lower gains in the equity market. In this context, Wells Fargo may well take a hit in the short-term given a broad market decline, and gains from rising rates may be offset by a decline in borrowing demand. However, this will be the case across financial institutions as a whole and Wells Fargo seems to be as adequately diversified as any banking institution to limit short-term shocks.
Looking at the short-term, lower oil prices have been weighing in heavily on the financial sector, and Wells Fargo is no exception. The bank had accounted for higher provisions for credit losses in 2015 as a result of a $90 million loss on the bank's oil and gas portfolio. Moreover, net loan charge-offs had risen from $122 million in Q3 to $215 million in Q4. There is a risk that this might increase in 2016, as consumer sentiment is lower and the O&G industry continues to decline.
Moreover, while I do see a recovery in sight for Wells Fargo, it looks like investors will have to be patient. Previously, I had done a hypothetical analysis using the Dividend Discount Model. I argued that assuming a 20% rise in dividends and earnings year-on-year, Wells Fargo could be expected to yield a 12% annual return over a five-year period.
In the current macroeconomic environment, and given that earnings rises for Wells Fargo were much more modest in 2015, investors may be looking at some short-term pain. The decline in earnings appears to be driven by market conditions, but it is ultimately Wells Fargo's competitive advantage in the financial sector that will stand the company in good stead.
I expect that should markets recover significantly by 2017, then it is likely that Wells Fargo would make significant gains on noninterest income as a result of rising equities, and the combination of higher borrowing demand coupled with higher rates would bolster earnings by a much higher magnitude.
To conclude, Wells Fargo could well go through a rough patch this year and it could be a while before gains start to materialize. However, I continue to be long the stock, expecting that my patience will literally pay dividends.
Disclosure: I am/we are long WFC.
I wrote this article myself, and it expresses my own opinions. I am not receiving compensation for it (other than from Seeking Alpha). I have no business relationship with any company whose stock is mentioned in this article.