Started in 1996, OTG EXP (Pending:OTG) began their business with a single restaurant in the Philadelphia International Airport. Since then they've grown to become a leader in North America airport food and beverage with over 220 locations in 23 terminals across 10 airports. In this field they compete with HMSHost Corporation, SSP Group and Hudson Group, as well as other localized airport F&B. They also started to compete with concession program developers for contracts to develop terminal concession programs. Their competitors in this space consist of Westfield Corporation (NASDAQ:WFD), Marketplace Development and AirMall.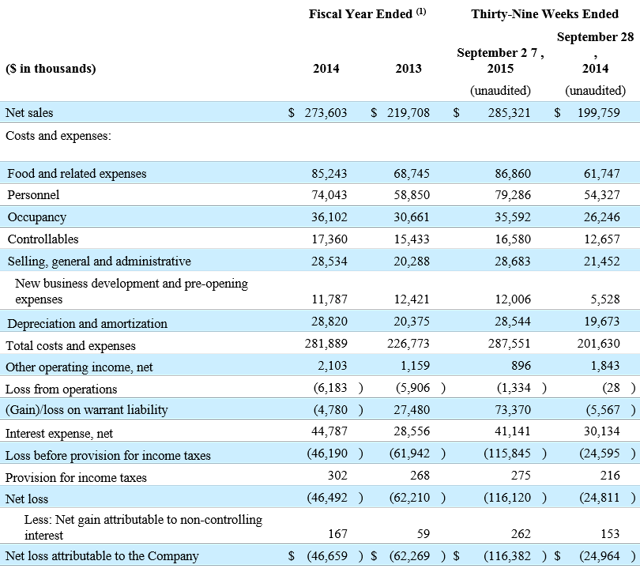 Click to enlarge
Source: OTG 's S-1
As you can see, OTG is operating at a net loss. Although it would be nice to chalk their losses up to their heavy debt, that's not the only issue. For the thirty nine weeks ending September 27, they had an operating margin of -0.5%. However, the good news is that over $12 million of that went into new business development. So if we added the money used to fund growth back on, they would be operating at a 3.7% margin - still not great, but significantly better than a loss.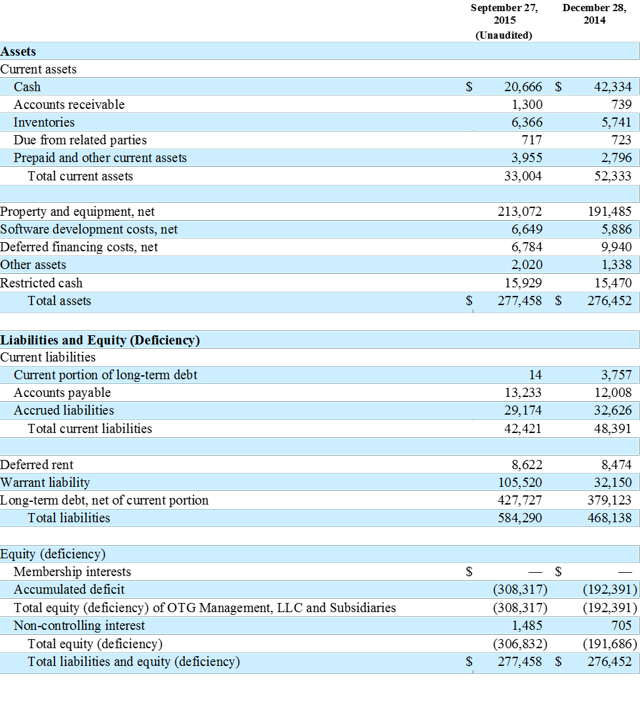 Click to enlarge
Source: OTG's S-1
On to the balance sheet. This isn't pretty. When we look at short-term liquidity, the good news is that OTG has the majority of their short-term assets in cash, but their current liabilities still outweigh their current assets. And when we look at book value, you'll notice they are upside down with total liabilities exceeding double their total assets. The long-term debt of nearly $437 million is creating a huge burden on the company's bottom line and is a large hole to dig themselves out of. So when we look at their current liquidity situation, negative net margins, and highly leveraged balance sheet, it seems as though the proceeds from this IPO might not only be useful in development, but maybe necessary to keep the doors open on current operations.
Risk
With 69% of the company's revenue coming from the New York metropolitan area, that presents a fairly significant risk. While I believe New York will still remain an attractive city for tourism for many years to come, there is talk of the MacAruthur airport, located in Islip, NY adding international airlines. This can present opportunity and risk. Opportunity for OTG to potentially expand into the growing airport, and risk that the airport will take away business from their rivals less than 50 miles away where OTG already operates. I believe this is a higher risk to harm OTG's largest sources of revenue rather than New York City losing its tourism desirability, terrorist attacks, changes in local economics, etc.
Conclusion
This is a growth investment with quite a bit of risk. Their weak balance sheet and lack of regional diversification is enough to draw a red flag and scare me away a little bit. If they can continue to move forward at their current growth rate and diversify into newer markets, the payoff can be quite good. However, with that likely comes more debt for business development. It's an interesting play, but not suitable for the risk averse investor.
Disclosure: I/we have no positions in any stocks mentioned, and no plans to initiate any positions within the next 72 hours.
I wrote this article myself, and it expresses my own opinions. I am not receiving compensation for it (other than from Seeking Alpha). I have no business relationship with any company whose stock is mentioned in this article.