Why exactly did the stock market crash in 2016 happen again? I get that oil is in a tailspin, has fallen to a new 12-year low last week, and is a drag on the energy sector's earnings. But what exactly have low oil prices and slowing growth in China to do with the profit outlook for real estate investment trusts in the United States? Very little, really, and that's a good reason to not run away from REIT stocks but to buy them during this market correction.
Real estate investment trusts and high-grade business development companies can be found at the top of investors' shopping lists every time the bottom is falling out from under markets. And what would we income investors really do without those occasional market hiccups that make so many REITs and BDCs more appealing from a valuation and yield point of view?
One REIT that has gotten clobbered lately is Stag Industrial, Inc. (NYSE:STAG), a cyclical commercial REIT play I covered not too long ago. In fact, Stag Industrial is not only a play for monthly income. It's large target market makes the company a compelling growth story, too.
Stag Industrial has a couple of attractive features that make it a promising stock to buy on market drops.
Stag Industrial had 281 buildings, or 52.1 million square feet of real estate in its property portfolio at the end of the September quarter, and the REIT manages its properties well: The occupancy rate at the end of Q3-15 was an astounding 95.7%. Leases run out after a specified time period, so it is up to Stag Industrial to re-lease it to the old tenant or find a new one...and so far the REIT has done a good management job.
While the company knows how to manage industrial real estate, it is managing risk properly, too: In order to keep a lid on portfolio risk, Stag Industrial has diversified its real estate portfolio among three dimensions: Geography, Tenant, Industry.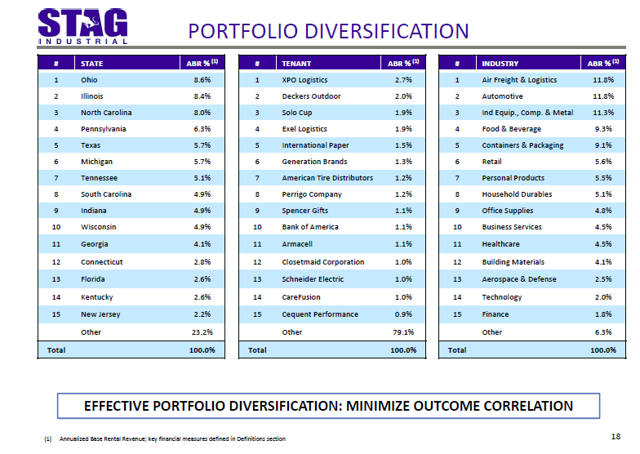 Click to enlarge
Source: Stag Industrial, Inc.
Buy the dip...STAG has now an even lower valuation than last month
When I penned my first piece on Stag Industrial, STAG sold for ~11.7x Q3-15 run-rate core FFO. Based on $0.39/share in core FFO, Stag Industrial sells for even less today: ~10.9x Q3-15 run-rate core FFO, to be precise. At the same time STAG's yield has crossed the 8% yield mark. Based on Friday's closing price of $16.95, an investment in STAG yields 8.20%.
Your Takeaway
Stag Industrial looks good from my point of view: The industrial REIT has the finger on efficient portfolio management (occupancy rate in excess of 95%) and runs a very diversified property portfolio that spreads risk across geographies, tenants and industries. Further, STAG has a BBB investment grade credit rating.
In terms of valuation and yield, STAG has become an even better income play during this year's market correction. The industrial REIT pays a 8%-plus dividend on a monthly basis and sells for less than 11 times third quarter run-rate core funds from operations. Buy the dip for income.
Disclosure: I/we have no positions in any stocks mentioned, and no plans to initiate any positions within the next 72 hours.
I wrote this article myself, and it expresses my own opinions. I am not receiving compensation for it (other than from Seeking Alpha). I have no business relationship with any company whose stock is mentioned in this article.