JPMorgan (NYSE:JPM) reported $5.4 billion in net earnings (down -20% q/q, up 10% y/y) in Q4'15 (ROTCE 11%) on revenues of $22.9 billion (flat q/q, up 1% y/y). The figure corresponded to an EPS of $1.32 which was above the consensus of $1.25. For FY 2015 the bank earned record net income of $24.4 billion (up 12% y/y) and record EPS of $6 and a ROTCE of 13.5% on revenue of $96.67 billion (down 1.3% y/y).
The average balance sheet was down $100 billion y/y, largely driven by the reduction of wholesale non-operating deposits that were reflected in lower cash balances. We also saw securities reductions partially offset by loan growth. Loans-to-deposit ratio increased by 900 bps to 65% on annual basis, however, positive effects of the strong growth in loan book was limited due to lower rates as NII remained flat for the full year. NIM was up 7 bps from 2.16% to 2.23% in Q4 2015 q/q. For Q1 2016, the management guides for NII and NIM figure to be slightly up on higher rates and loan growth, and estimates $2 billion of incremental NII for full year 2016 with the December rate hike alone so in a rate flat scenario. I believe the interest income outlook is well-advised here as I predict NIM acceleration of JPMorgan would even be up to 35 bps with the help of ongoing asset mix trend and four rate hikes this year.
Noninterest income was down by 2.2% q/q, and remained unchanged y/y, additively, it was down 3% in 2015 when compared to last year. M&A activities are expected to be construction for investment banking this year, however, we may a decline in mortgage related fees due to higher rates. The fee income outlook in 2016 is in my view stable for JPMorgan. On the expenses side, we saw the best part of JPMorgan's 2015 story as non-interest expenses were down 4% for the year. The expenses reduction will continue in the consumer banking and the investment banking segments, which will probably result in an overhead ratio at mid-50s in two years.
On the asset quality front, we saw provisions for credit losses increase by 22% from $3.1 billion to $3.8 billion as the banking system headed for a malign asset quality cycle this year. Provisions are probably to be much higher in 2016 and 2017 and to offset the benefits of higher interest rates to some extent. In terms oil and gas, JPMorgan expects to build $750 million extra reserves for its loans to the industry if the oil price stays $30 per barrel over the next one and half year. I also expect more reserves to be built for the credit exposure in metals & mining, telecoms & media, and automotive industries. The deterioration in asset quality is the key risk hovering over JPMorgan's bottom-line growth prospects. But also note JPMorgan is currently in good shape in terms of the loan loss coverage.
The bank ended 2015 well ahead of the capital targets set by the management earlier, with CET1 ratio at 11.6%, thanks to capital generation and reduction in risk weighted assets (despite the loan growth). The bank also estimated significantly lower levels for the capital surcharge ratios to meet the regulatory requirements. This might turn into good news for investors during CCAR process with an approved capital plan including a hike in the dividend payments.
There also some important points to gleam from the segment-based results. In consumer & community banking we saw deposit growing at past face, on the hand deposit margin were by down by 20 bps y/y. Yet still, the bank recorded a ROE of 32% in Q4 2015 for the segment. In corporate and investment banking, the bank recorded a ROE of 10%, mostly due to lower expenses which were driven by lower legal expense and lower compensation expenses. These developments were partially offset by the higher reserves. In commercial bank, the loan book grew tremendously, with commercial and industrial loans up 11% y/y, and commercial real estate up 17%. Not surprisingly, we saw new reserves built, increasing the credit costs here either. In asset management, average AUM remained flat for the year.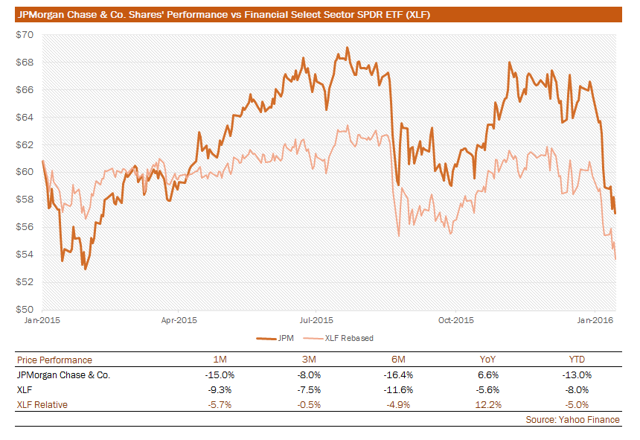 Click to enlarge
JPMorgan has underperformed the Financial Select Sector SPDR ETF (NYSEARCA:XLF) by 5% YTD, trading at 9.3 times its 2016E earnings implying approximately 12% discount to its peers. I think that JPMorgan's qualities such as its high capital adequacy, increasing efficiency, strong loan growth, relatively comfortable balance sheet and higher earnings potential deserve a premium. There I maintain my bullish view for the bank and continue to believe that it would be fairly valued at $74 per share.
Disclosure: I/we have no positions in any stocks mentioned, and no plans to initiate any positions within the next 72 hours.
I wrote this article myself, and it expresses my own opinions. I am not receiving compensation for it (other than from Seeking Alpha). I have no business relationship with any company whose stock is mentioned in this article.