For Enerplus (NYSE:ERF), things have turned from bad to worse in 2016 as the stock has already lost a third of its value this year. This rapid decline in Enerplus shares after a difficult time in 2015 is not surprising as crude oil has continued facing headwinds in the New Year. Looking ahead, it is likely that Enerplus will continue facing weakness due to a protracted decline in crude oil prices, which currently hover at less than $30 per barrel.
But, is Enerplus strong enough from a fundamental perspective to overcome further weakness in the oil patch? Let's find out.
Rightsizing its asset portfolio to reduce debt
Coupled with the weakness in crude oil pricing, Enerplus' highly-levered balance sheet is another reason why the company has been missing Wall Street's estimates by huge margins in the past three quarters. For instance, Enerplus carries total debt of $856 million on its balance sheet, which exceeds its puny cash position of $2 million and operating cash flow of $424 million by a wide margin.
What's even more bothersome is that Enerplus' leverage has continued increasing, while its cash flow is eroding at an alarming pace. This is shown in the chart given below: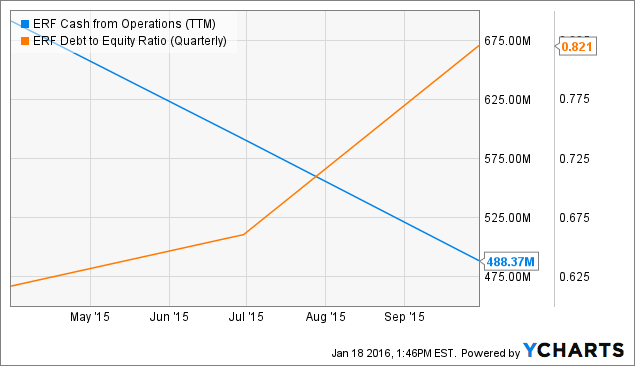 ERF Cash from Operations (NYSE:TTM) data by YCharts
Given the prevalent weakness in crude oil pricing and the thin fundamental position of Enerplus' balance sheet, the company could be staring at a liquidity crisis. In fact, Enerplus already has a weak liquidity position with a current ratio of just 0.81. As such, the company needs to take stringent steps to bring down the debt level or it might not survive the downturn in the oil market.
As a result, Enerplus is strategically engaged in selling off its non-core assets. Recently, it generated proceeds of $11.9 million from the disposition of its non-core oil properties in the Southeast Saskatchewan region of Canada. What's more, Enerplus has decided that it will be selling a portion of its North Dakota properties for $80 million. Additionally, last week, Enerplus revealed that it will be generating another $135 million in proceeds by selling off some assets in the Alberta region of Canada.
On the back of these asset dispositions, Enerplus should be able to provide some relief to its balance sheet and reduce the interest burden even though it does not have any debt maturities until the middle of next year. Moreover, Enerplus has also decided to reduce its monthly dividend from $0.05 per share to $0.03 per share, which will liberate C$50 million in cash that the company can use to improve its balance sheet.
Reducing costs to boost capital efficiency
Another impressive point to note about Enerplus is that it has been improving its capital efficiency by aggressively reducing costs. For instance, the company has reduced its annual guidance for operating and G&A costs by a combined C$0.30 per BOE for the second consecutive time this year.
This is primarily due the fact that Enerplus has downsized its workforce by more than 20% in the past twelve months. As a result, the company now expects its operating costs and G&A costs to be down approximately C$0.95 per BOE in 2015 from last year.
Looking ahead, in 2016, Enerplus believes that its cost saving initiatives and reduced staff levels will help it reduce cash G&A expenses by 20%. Thus, Enerplus has been taking tough steps to reduce overheads. But, what's even more important to note is that by reducing the presence of non-core assets, Enerplus is being able to improve capital efficiency due to a more streamlined asset base.
In fact, Enerplus' capital efficiency improvements are allowing the company to produce the same level of oil at lower costs. For instance, it expects its production for 2016 to come in the range of 100,000 BOE and 105,000 BOE per day, which is the same as 2015 levels. But, the interesting thing is that the company will be achieving this with 30% less capital costs, as shown below.

Click to enlarge
Source: Enerplus
This clearly indicates that Enerplus has become a leaner company, which makes it capable of overcoming the weakness in the end-market.
Moreover, Enerplus has built up a robust hedge book. It has hedged approximately 45%, or 14,500 barrels of crude oil per day, at an attractive price of $79.47 per barrel for the fourth quarter of 2015. More importantly, it has hedged nearly 34% of its oil volume for 2016 at a price of $64.35 per barrel, while also hedging 9% of its natural gas production at an attractive price of $3.00 per Mcf.
Conclusion
Thus, it is evident that Enerplus has been taking the right steps to counter the challenges in the oil patch. By reducing its capital expenses, selling off non-core assets, and reducing the dividend, the company will be able to bring its balance sheet into a better condition, and this will allow it to endure the weakness in the end market to some extent. So, in my opinion, Enerplus investors should not lose hope as it is capable of emerging from the oil rout as a better company with leaner and better operations.
Disclosure: I/we have no positions in any stocks mentioned, and no plans to initiate any positions within the next 72 hours.
I wrote this article myself, and it expresses my own opinions. I am not receiving compensation for it (other than from Seeking Alpha). I have no business relationship with any company whose stock is mentioned in this article.