Following the decision by Kinder Morgan (NYSE:KMI) to slash the dividend 75% and plow distributable cash flow into growth capex projects, it has been presumed that the resulting $0.50 per share dividend must be safe. After the cut, Kinder Morgan presents a markedly improved leverage outlook, able to neglect equity offerings and substantially reduce reliance on debt offerings for the visible future. Indeed, Moody's immediately changed Kinder Morgan's ratings outlook to stable from negative upon hearing the news, demonstrating a restoration of confidence in the solvency of Kinder Morgan.
Does this mean the dividend is ironclad going forward? To answer this question, I created a model which calculates the debt/EBITDA ratio under changing oil prices and interest rates, and added in a worst-case natural gas scenario as well. Generally, debt/EBITDA is a preferred metric for measuring the leverage of a corporation, and one which is watched closely by rating agencies to determine a corporation's credit rating. The broad understanding is that Moody's would downgrade Kinder Morgan's outlook and rating when the debt/EBITDA ratio exceeds 5.8x. Although Moody's calculates this ratio a bit higher (using an adjusted debt/EBITDA ratio) than Kinder Morgan, the 5.8x gives a solid benchmark for declaring leverage too high. If leverage were to meet/exceed 5.8x, I would expect Kinder Morgan to cut the dividend further to maintain investment-grade rating (alternatively, management could decide to curtail growth capex expenditures; I find this path unlikely, considering the company has already been faced with this exact decision a month ago and decided to cut the dividend rather than paring growth and acquisition opportunities).
Deteriorations in Kinder Morgan's underlying business could be caused by three easily addressable gradients: declining oil prices, declining natural gas prices, and faster-than-expected interest rate increases. Using the most recent budget projections from Kinder Morgan, I can find (including the December post-dividend-cut conference call, the Q3 conference call, and the latest investor presentation slide deck), I have created the model as follows.
Assumptions
Here are the assumptions that I've used in the creation of the model:
Decrease in oil price of $1 per barrel results in DCF decrease of $10M. (recent investor presentation, 2015 budget)
Interest rate increase of 1% results in DCF decrease of $100M. This is conservative as interest is a pre-tax expense, so the real impact would be a bit less. (recent investor presentation, 2015 budget)
Budgeted EBITDA for 2016 is $7.8B. (latest conference call)
The projected 2016 budget accounts for a few interest rate increases in 2016.
Starting debt for 2016 is $42.5B. (Calculated from debt/EBITDA projection of 5.5x after $400M of debt offering for 2016, latest conference call)
To reconcile DCF to EBITDA, I assume that changes in DCF caused by oil price or interest rate alterations are equivalent to changes in EBITDA, i.e. $1M decrease in DCF = $1M decrease in EBITDA.
Decreases in EBITDA will require an identical, concomitant increase in debt.
The Model: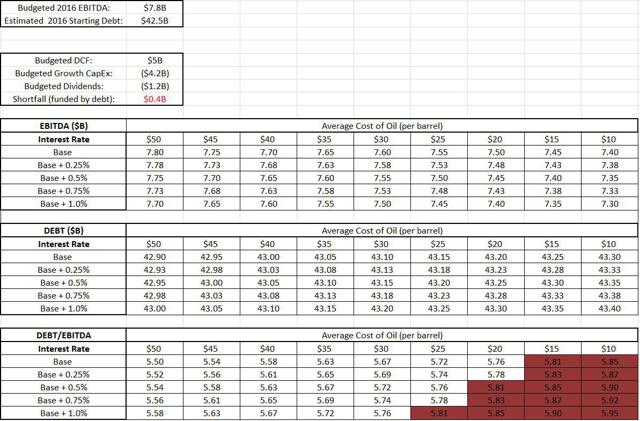 Click to enlarge
A few quick conclusions from the model:
Interest rates have little effect on leverage ratios in the near term. Even a massive 1.0% interest rate increase over the base case only increases debt/EBITDA leverage by a modest ~0.08x. Thus, Kinder Morgan is mostly immune from even substantial interest rate fluctuation.
Oil must average $20 or below for 2016 to threaten the dividend for Kinder Morgan. In the base interest rate case, a substantial deterioration of oil must proceed in 2016 in order for Kinder Morgan's investment-grade rating to be threatened.
If oil stays at current levels for the year, the dividend is safe. The only scenario in which $25+ oil threatens the dividend in this model is if the Fed increases interest rates a striking 1% above budgeted interest rates, which is highly unlikely. With oil trading near $30/bbl, the dividend is safe... for now.
Weaknesses of the above model
No account for natural gas pricing. According to the recent investor presentation from Kinder Morgan, a $1/MBTU decrease in natural gas prices would decrease DCF by $30M. As natural gas prices are around $2 today, this means the maximum impact of a natural gas price decline would be ~$60M. This translates to an increase in leverage of ~0.05x. In the worst case scenario for natural gas, here is how the debt/EBITDA ratios look:



Click to enlarge

Importantly, at current oil prices and assuming essentially free natural gas, the dividend remains secure unless interest rates increase 0.5% above the base case.
Does not account for counterparty risk. Because of the tenuous financial standing of many US producers, it is plausible that bankruptcies will occur, invalidating some of Kinder Morgan's contractual cash flow. However, Kinder Morgan is insulated from this in two ways: 1) The post-bankruptcy wells will still produce for creditors, and product will still travel through Kinder Morgan pipelines and 2) Kinder Morgan has "very few customers that account for even more than 1% of our revenues", limiting the effect of individual bankruptcies. It is quite hard to get an approximation of how an "average" bankruptcy would affect EBITDA for Kinder Morgan, so I have not built a "# of bankruptcies" model; one could arbitrarily do this by estimating the EBITDA impact of a producer bankruptcy and calculating the change in leverage based on the number of bankruptcies, but without any concrete metrics to go by, this becomes more arcane than a solid model should be.
A few notes
High interest rates and low oil... together? Although the scenario of high interest rates coupled with low oil prices is the most bearish for KMI, I find it to also be the least likely. In order for interest rates to be raised so quickly, either the underlying US economy would have to be thriving or inflation would have to be progressing rapidly. Little evidence supports either event. Further, a strong US economy, while likely leading to increased interest rates, would act to increase local and global oil demand, buffering low crude prices; similarly, inflation buoys commodity prices.
There is no magic number. Although I've used a debt/EBITDA ratio of 5.8x as the "magic number" where investment-grade rating is threatened and the dividend may be cut, this is by no means a concrete branch point. I expect that in the case of further deteriorations in crude and natural gas pricing, Kinder Morgan will continue communications with the major debt rating agencies; these discussions may alter the debt/EBITDA leverage that the agencies are satisfied with. Further, I suspect that the exact satisfactory leverage ratio differs among the rating agency, as well as their preferred method of calculating it (for instance, Moody's calculates debt/EBITDA about 0.2x higher than Kinder Morgan's numbers). This makes the maximum acceptable leverage a bit of a moving target, lessening the efficacy of the model.
The model is conservative. The model I've constructed is a bit more conservative than others I have seen from analysts, with my model having slightly higher debt/EBITDA ratios at given crude prices; this may give a little more leeway before reaching the exact "danger zone" where a dividend cut becomes likely.
Why so little breathing room? After the creation of the model, I was surprised to find that even after a 75% dividend cut, the $0.50 dividend per share wasn't ironclad in some reasonable scenarios. Part of the reason for this is the massive $4.2B growth capex that Kinder Morgan plans for 2016. This represents a substantial front-loading of capex spending; with 5-year growth capex projections $20B, the $4.2B represents a large jump-start. If growth capex was evenly distributed, we would expect $4B, and if it was backloaded, perhaps $3.7B. Thus, even if DCF stays flat over the next 5 years, the dividend will become increasingly secure as the amount of growth capex subsides.
Conclusions
Even following the 75% dividend cut, the dividend is not completely safe for Kinder Morgan. Although the requirements for the scenarios in which I/G rating is threatened are unlikely, they are not so far-fetched as to be of negligible risk. As long as Kinder Morgan wishes to maintain investment-grade rating (which I believe it always will) and continue ambitious growth projects (another fair bet) for 2016, the dividend has a small, but not negligible, chance of being slashed again.
Note: Kinder Morgan plans to release FY2015 results on Wednesday after market close, and discuss business updates in the conference call. I will update the above models with any pertinent information that deviates drastically from the assumptions used above.
Author's Update dated January 20, 2016
Following the Q4 2015 conference call, the model is drastically changed. Kinder Morgan has announced a substantial reduction in growth capex for 2016 (from $4.2B to $3.3B). Additionally, Kinder Morgan has announced its starting debt in 2016 as $41.2B, which is less than my estimate of $42.5B. Dividends remain unchanged. Thus, the budget surplus for 2016 looks to be about $0.4B. I put that into the model as debt repayment of $400M. Finally, the 2016 budget has a little less sensitivity to oil price change and a little less sensitivity to natural gas price change. The updated model (with the most bearish natural gas outlook) looks as follows.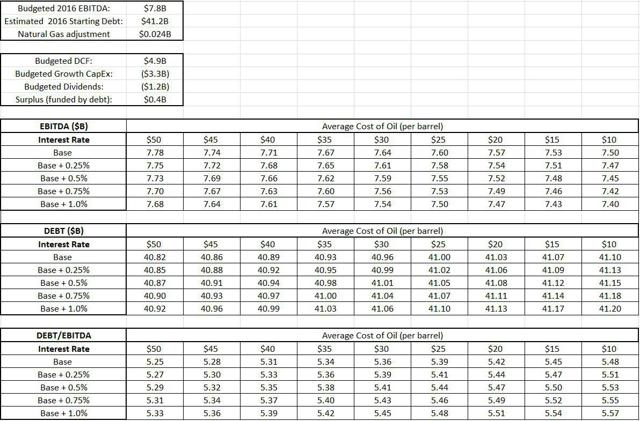 Click to enlarge
New conclusions
Barring major black swan events, the dividend should be absolutely safe for KMI in 2016. I'm curious to see what is going to happen with the substantial extra cash flow in 2016; I expect we'll get some more clarity next week after the investor conference. As a check of my (extremely quick) modifications to the model, Kim Dang confirms that Kinder Morgan plans to not access debt or equity markets in 2016. Importantly, under even a fairly bearish oil scenario of $30/bbl in 2016, KMI will still find itself with debt/EBITDA of ~5.35x. That's in the middle of the company's targeted 5-5.5x ratio. With the rapid deleveraging of the balance sheet, might we see a return to debt markets in 2017? Still a lot of moving parts, but a lot of answers should come in the next week.
Disclosure: I am/we are long KMI.
I wrote this article myself, and it expresses my own opinions. I am not receiving compensation for it (other than from Seeking Alpha). I have no business relationship with any company whose stock is mentioned in this article.
Additional disclosure: Note: All data above were compiled from company sources (latest quarterly or annual report, conference calls, investor presentations) and personal estimates. This article does not imply investment advice regarding Kinder Morgan.