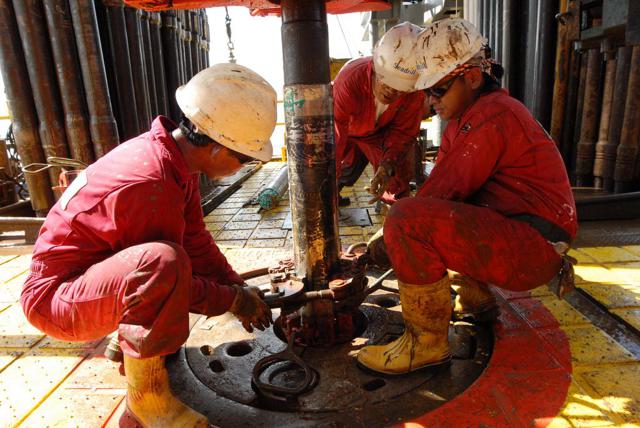 Click to enlarge
Source: arabianoilandgas.com
In early December I advised investors to continue to avoid Seadrill (NYSE:SDRL) as its limited working capital left little margin for error. I followed that up with a $4 price target. Since, SDRL has fallen over 30% to $2.34, and I have turned more negative on the stock. Longs should avoid SDRL even at these levels.
What Changed?
Whenever new information develops I update the thesis. The following items have changed since my most recent valuation:
Seadrill's Run-Rate EBITDA Less Than Anticipated
I must being getting soft in my old age. I have been hammering stocks for a while now with little regard for what longs think. During my most recent valuation of SDRL I held back some out of fear of a strong blow back. That was a mistake, and it was a disservice to my readers. I awarded SDRL a multiple at the low-end of my valuation range (5x EBITDA). However, I may have been too optimistic on my estimation of the company's run-rate EBITDA.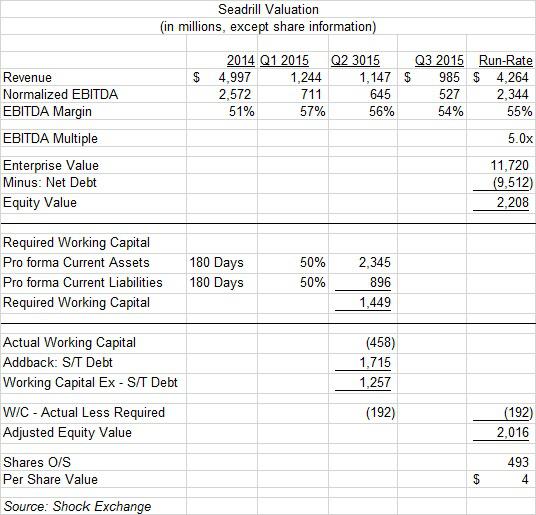 I combined Q2 and Q3 EBITDA and annualized it to derive a $2.3 billion run-rate. Since Q3 results ($527 million) were 18% below that of Q2, a more accurate method would have been to simply annualize Q3 results. That would have generated run-rate EBITDA of $2.1 billion (10% less) and lowered the price target closer to $2 per share. After a commenter on my previous article reminded everyone about Seadrill's falling dayrates, I suspected my run-rate EBITDA was overstated:
Commenter: It's easy to be bearish because SDRL is a company that has debt out the gazoo in a world of declining day rates & nil forward contracts ... How is SDRL going to pay the bills on it's shiny new rigs without hefty day rate contracts? Newbies to this cheap stock will be rewarded with nothing. SDRL is in all likelihood headed for restructuring, & the current shareholders will be wiped out.
I will account for this during my updated price target next quarter.
Oil Prices Have Continued To Fall
Oil prices fell below $40 in December and have remained there for over a month. With prices this low many deepwater drilling projects are not economical.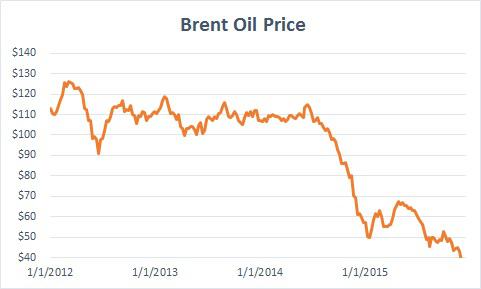 U.S. oil drillers are now allowed to export oil abroad for the first time in 40 years. That could bring a flood of new product onto global oil markets, driving the price down further. Oil futures fell below $30 -- the lowest in over a decade -- on Monday due to expectations that Iran will return to the oil markets early this year. Sanctions had previously cut Iran's oil exports by about 2 million bpd.
Oil prices at sub-$30 for a protracted period likely means there is no hope for an uptick in dayrates any time soon. Future deepwater projects are being shelved; according to Wood McKenzie, the number of E&P projects that have been shelved has doubled to nearly $400 billion since June. Meanwhile, existing projects could be at risk if big oil sacrifices offshore contracts to maintain its dividend payouts or stem cash burn.That is particularly problematic for Seadrill due to its $11.4 billion in debt and nearly $4 billion it owes on new builds.
The company recently delayed delivery of two newbuild ultra-deepwater drill ships. However, its lenders may not be so understanding. Seadrill has $4.5 billion in debt due over the next to years. These obligations will be difficult to meet with $527 million in quarterly EBITDA. JP Morgan believes it will take major evasive action for the company to avoid covenant breaches in 2016 and 2017. In case of a breach and oil prices sub-$30, banks may have no choice but to accelerate the debt or risk losing everything. Secondly, if banks waive covenants the quid pro quo may be an equity stake, warrants, et. al. I cannot envision a scenario where a company as financially distressed as Seadrill breaches debt covenants and shareholders do not get clipped.
Disclosure: I/we have no positions in any stocks mentioned, and no plans to initiate any positions within the next 72 hours.
I wrote this article myself, and it expresses my own opinions. I am not receiving compensation for it (other than from Seeking Alpha). I have no business relationship with any company whose stock is mentioned in this article.