In a recent research report Wells Fargo analyst Jeffrey J. Donnelly, CFA said that "the current pullback in hotel REIT stock prices is reaching a level on par with the steepest declines experienced in the past twenty years outside of pullbacks driven by external events."
Donnelly points out that the (lodging) industry has experienced far worse declines than seen in the past year but the most severe downturns were ultimately the result of the compounding impacts of external events (September 11, 2001 and the 2008 Global Financial Crisis)."
How far will the selloff last?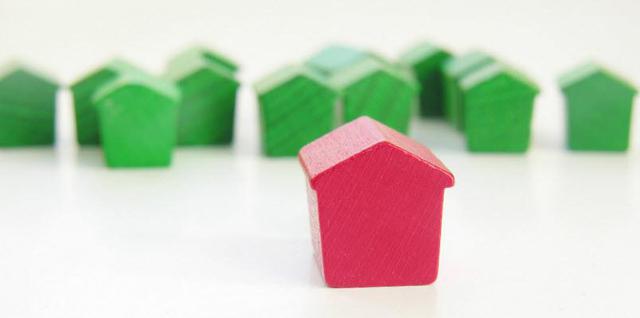 Click to enlarge
Donnelly believes that "we may be nearing the culmination of the current pullback unless an unforeseen external event materializes." Yet, the senior analyst offers more lukewarm recommendation as he sees "more negatives than positives headed into the Q4 2015 reporting period (e.g., lower 2016 guidance, lower consensus estimates & price targets) and he reiterates that "investors should remain patient."
Ladenburg Thalmann analysts provide a more cautious outlook as the company downgraded the hotel REIT sector yesterday - and six individual companies - to "sell" ratings, predicting that the lodging recovery will end in the coming months.
Specifically, analysts Daniel Donlan and John Massocca cited a move by LaSalle Hotel Properties to lower full-year 2015 RevPAR and adjusted EBITDA guidance, and to opt out of providing 2016 guidance, citing slowing RevPAR. The analysts wrote:
While LHO management has been the most bearish team in the hotel REIT sector, their outlook is highly credible (in our view) given that they were the first hotel REIT to express concerns in mid-July 2015 about the macroeconomic environment. As such, we see most hotel REITs and hotel REOCs following suit in the coming days and weeks as perpetual downward guidance revisions are not helpful to the marketplace.
The flow of negative news could cause analysts to revise earnings estimates downward across the sector, and most predict that U.S. RevPAR growth will turn negative in the second half of 2016, amid lower U.S. GDP growth, lower commodity prices and a stronger U.S. dollar, in addition to a weakening Chinese economy.
They also cited projected new supply growth in 2016, predicting that it will disproportionately hurt full-service hotel REITs, and argued that the rise of short-term rental sites such as Airbnb (Private:AIRB) will exacerbate new supply concerns.
Given all of the worries surrounding lodging, "we have a tough time believing that hotel operators will have the confidence to push rates (even if demand growth remains positive) in the coming months and quarters," the analysts wrote.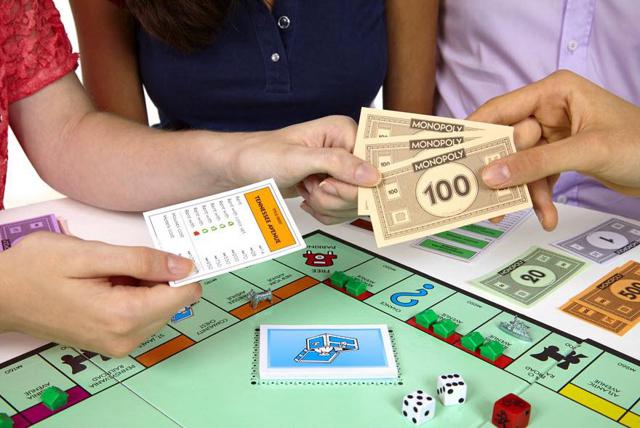 Click to enlarge
How To Play The Game
In a rising rate environment, hotels are supposed to be one the safest asset classes, primarily due to their short-term leases and ability to move room rates virtually overnight. As part of a well-balanced REIT diet, I began investing in Lodging REITs in 2014 hoping to smooth out volatility within my overweight Net Lease exposure.
It stands to reason that Net Lease REITs are subjected to the most interest rate pressure as they do not have the ability to mark the leases up, keeping up with borrowing expenses related to rising rates. The reasoning seems logical - that Lodging REITs are better prepared for rising rates - but instead of providing lower volatility, the plan backfired, in a tantrum characterized by indiscriminate selling.
As referenced above, LHO has been one of the hardest hit REITs in 2015, perhaps due to the lead-off earnings report in Q2-15. Other REITs followed suit as the entire sector was painted by the same brush.
Then in Q3-15 it was almost an instant replay of Q2-15, except RevPAR results were worse and a few REITs lowered guidance.
Fears continued to escalate, some pundits argued that a recession is near and while I'm not buying that argument, I consider the arch enemy of the lodging sector to be increased supply. Ironically, the same argument is being voiced in the healthcare sector.
Similar to healthcare, I believe "over supply" is the excuse, but not the answer. I know there are pockets of over-supply (like Manhattan in Lodging), but the best REITs will be able to withstand the more challenged geographical hazards and manage the risk.
In other words, now is the time to take a more tactical approach to this sector and begin to selectively build a strategic shopping cart. As Q4-15 earnings are released in the next few weeks, there could be a window of opportunity to buy Boardwalk.
Chatham Lodging Looks Cheap
I began purchasing shares in Chatham Lodging (NYSE:CLDT) in December 2014 and I later purchased shares in August 2015 and in September 2015. As you can see below, my average total return over this period is around -25%.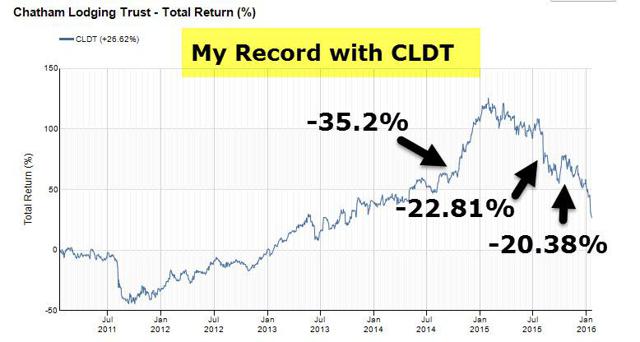 Click to enlarge
Keep in mind that CLDT pays monthly dividends, and one of the primary reasons that I own this company is because of its dependable dividend income. As you can see below, CLDT's dividend yield is now 7.1%; the highest yield generated in several years.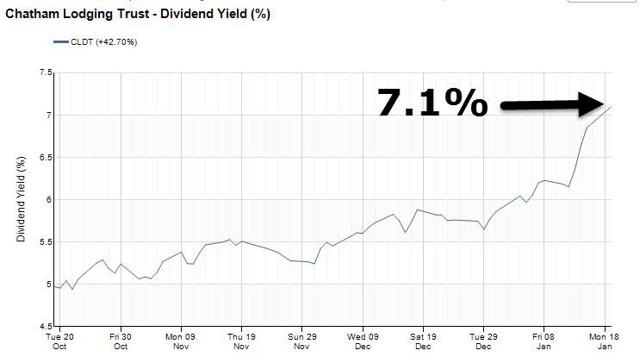 Click to enlarge
Given the low share price and corresponding valuation, CLDT appears to be a perfect candidate for me to dollar cost average shares. The primary purpose for this article is to determine whether or not I want to risk more capital now or wait until CLDT's Q1-15 earnings are released. It's been painful to watch the decline in CLDT's share price as evidenced by the 1-year total return chart below:

Click to enlarge
There's no argument that CLDT is dirt cheap, as evidenced by the P/FFO chart below:

Click to enlarge
Here's how CLDT's dividend yield compares with the peer group:

Click to enlarge
How far can CLDT continue to slide? Should I purchase shares on other Lodging REITs? Should I jump ship now? Keep reading…
The Evolution Of Chatham
In over five years (the IPO was in April 2010), CLDT has grown in assets from around $222 million to more than $1.34 billion (as of Q3-15). As of September 30th, the REIT owned 38 hotels, with an aggregate of 5,675 rooms located in 15 states and the District of Columbia. As evidenced by the snapshot below, CLDT prefers coastal markets and the company's highest exposure is on the West Coast: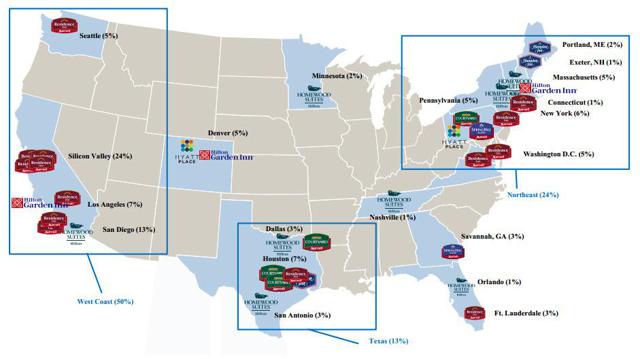 Click to enlarge
CLDT has NO exposure in Manhattan. In 2015, the company acquired four high-quality hotels in leading MSAs (San Diego, Boston, Ft. Lauderdale and Los Angeles). All strong market growth, multiple demand generators and high barriers to new supply in each of these markets.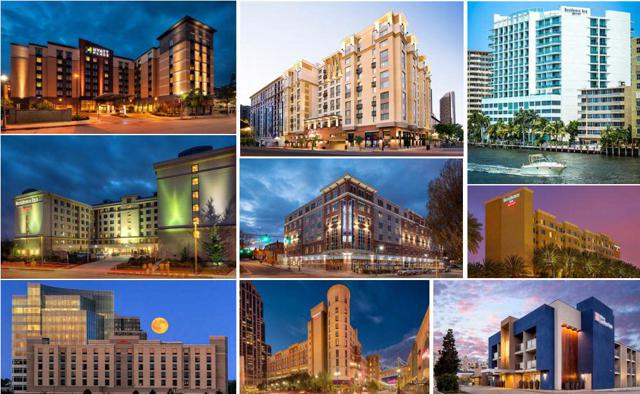 Click to enlarge
Also as of September 30th, CLDT also owns:
A 10.3% non-controlling interest in a joint venture (the "NewINK JV") with affiliates of NorthStar Realty Finance Corp. (NYSE:NRF), which was formed in the second quarter of 2014 and acquired 47 hotels comprising an aggregate of 6,094 rooms from a joint venture (the "Innkeepers JV") between the CLDT and Cerberus Capital Management ("Cerberus");
A 10.0% non-controlling interest in a separate joint venture (the "Inland JV") with affiliates of NRF, which was formed in the fourth quarter of 2014 and acquired 48 hotels from Inland American Real Estate Trust, Inc. ("Inland"), comprising an aggregate of 6,401 rooms; and
A 5.0% non-controlling interest in a joint venture (the "Torrance JV") with Cerberus that owns the 248-room Residence Inn by Marriott in Torrance, CA.
Over the last two years, CLDT has completed $845 million of hotel investments: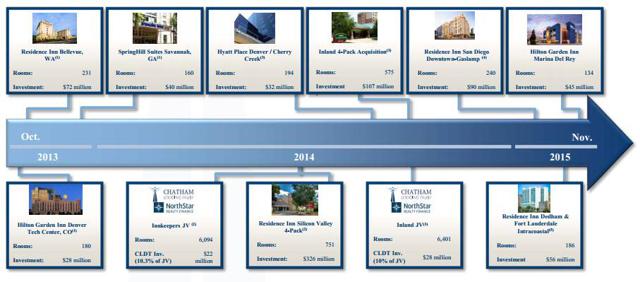 Click to enlarge
What Are The Growth Drivers?
CLDT pursues a unique strategy of focusing on "premium brand select" service hotels, such as Residence Inn, Homewood Suites, Hyatt Place, Courtyard and Hampton Inn. The company concentrates on upscale Extended Stay properties that generate a 10-15% occupancy premium.
By focusing on these "premium brand select" hotels, CLDT earns higher RevPAR and market share than other select service hotels. That means higher margins, lower cost and attractive cash flow that is not dependent on group business models. Here is a snapshot of CLDT's premium brand select service hotels compared with full service.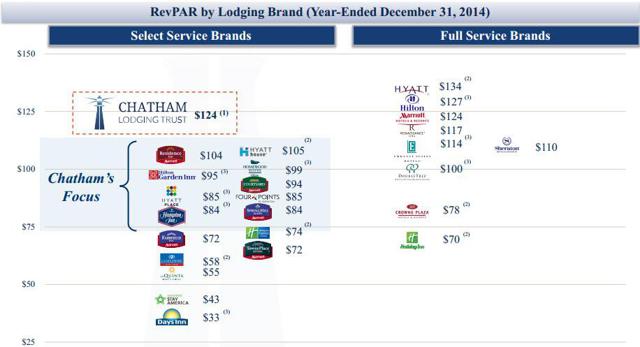 Click to enlarge
CLDT's RevPAR guidance for the 3rd quarter was 5-6% for all hotels, and ended up seeing growth of 5.3%, all attributable to an increase in rates, but still below that in Q1 and Q2. CLDT's portfolio delivered RevPAR growth of 6.1% for the nine month ended September 30th. Note: CLDT has guided Q4-15 RevPAR at 5.0%-5.5%.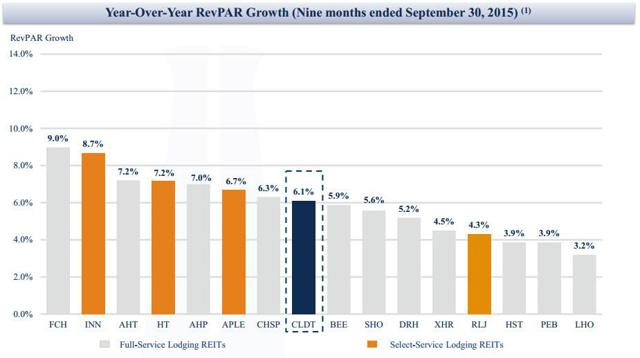 Click to enlarge
At this point, Lodging is 67 months into a cycle, which is longer than the last cycle. But given the fact that new supply is still fairly well contained for the next couple of years, most industry experts believe this will be a longer cycle, similar to the cycle that lasted 111 months which began in the mid-1990s.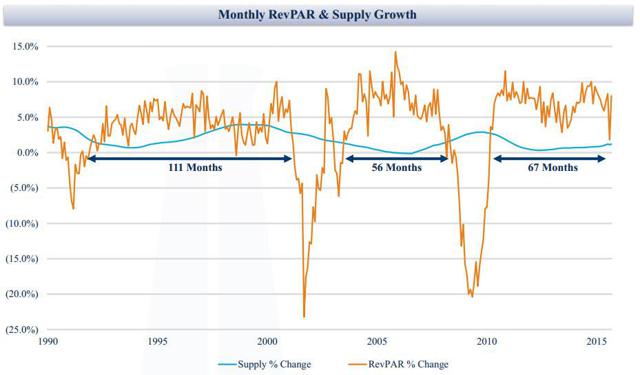 Click to enlarge
Adjusted EBITDA rose almost 40% and was $39.4 million in the 3rd quarter versus the guidance range of $38.7-40.0 million. CLDT's hotel EBITDA margins finished the quarter at a very strong 46.7%, at the low end of the guidance range of 46.5-47.5%.
For the nine-month period, CLDT's Hotel EBITDA margins increased 44.7% (from 42.6% in the prior year) and that ranks as the best performance in the sector.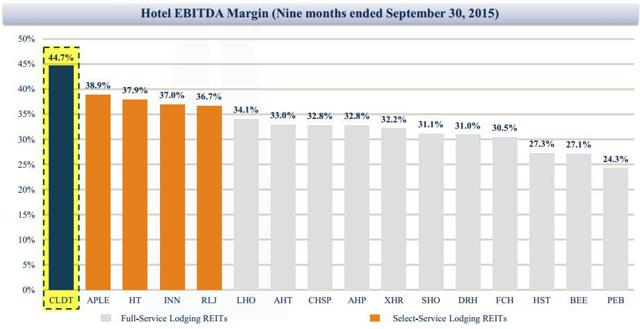 Click to enlarge
High occupancy creates the opportunity to increase room rates (or ADR) which drives higher profit flow-through/Hotel EBITDA growth (rate increases are primarily profit). Here's a snapshot of CLDT's occupancy rate (for 9 months) compared with the peer group:

Click to enlarge
As you can see below, CLDT has maintained above-average occupancy rate performance since 2003.

Click to enlarge
Management Matters
As I consider increasing my stake in CLDT, I become especially fixated on management. As I said, it's critical to be in business with a company with not only experienced leadership but also a team that can effectively manage risks. The bios below reflect sound leadership that can be relied upon through various economic cycles: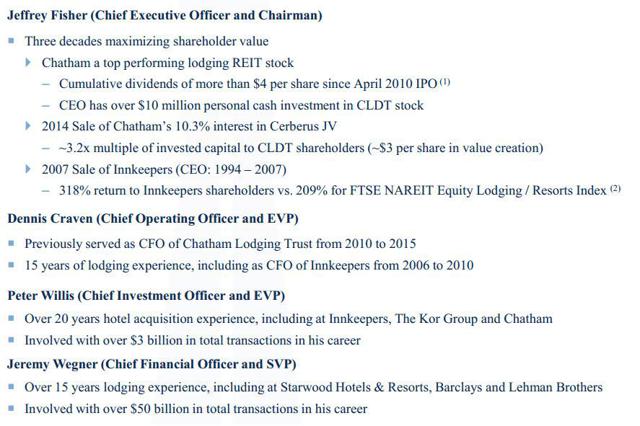 Click to enlarge
Given the selloff occurring in the Lodging sector, I am also comforted that CLDT is focusing on quality select hotels in high growth markets. This appears to be the best category given the choppy macro-economic dynamics. Based on the historical trends (noted above), CLDT seems to be best equipped to grow profit margins.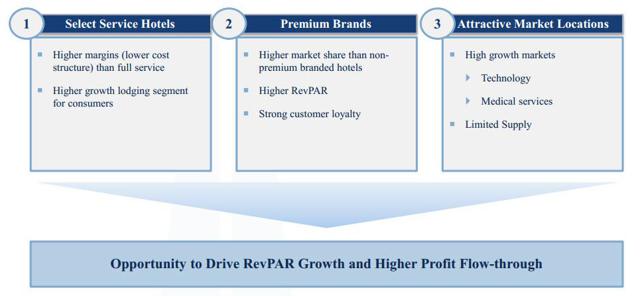 Click to enlarge
In 2015, CLDT raised considerable equity that continue to generate accretive opportunities. Given the stock price today, it's obvious that CLDT will not be issuing equity and it is also maintaining discipline by not increasing leverage. The balance sheet has around 90% fixed rate debt with a weighted average cost of debt of 4.4%.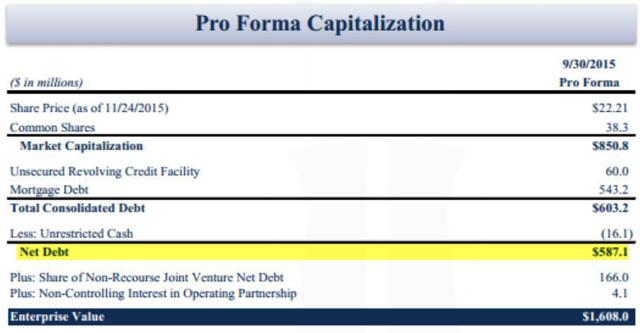 Click to enlarge
CLDT's weighted average debt maturity is around 8 years with only one $6 million mortgage debt maturing before 2020.

Click to enlarge
What Drives Value?
The most compelling argument to own shares in CLDT is the strong AFFO per share growth. As you can see below, CLDT has generated 27% CAGR in AFFO per share between 2011 and 2015:

Click to enlarge
This compares very favorably to the peers (3rd best in the Lodging sector):

Click to enlarge
CLDT has not issued 2016 guidance. Here's a snapshot of 2015 guidance (AFFO per share mid-point is $2.30 per share).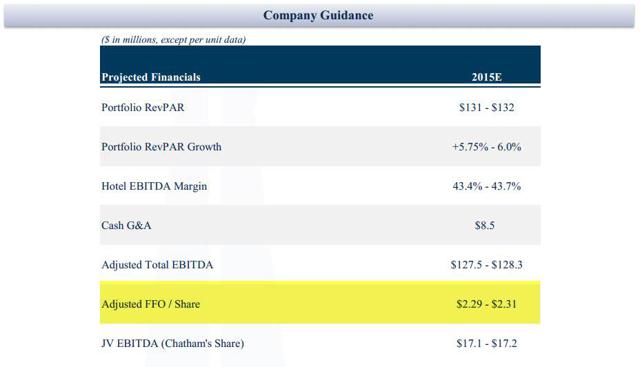 Click to enlarge
Can CLDT continue its predictable record of performance?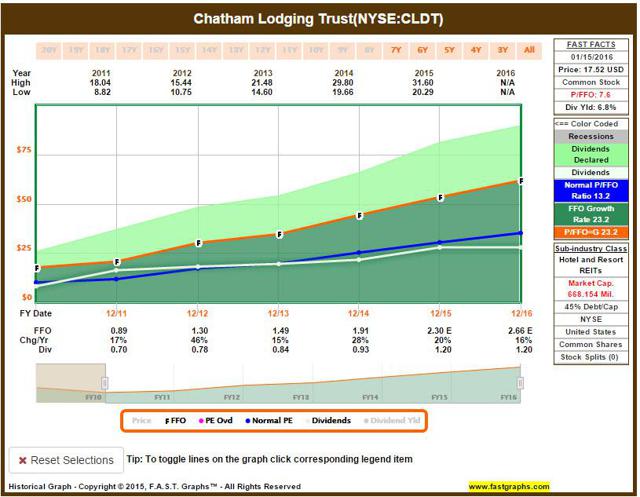 Click to enlarge
Yes. Keep in mind: (1) CLDT has the ability to asset manage in "real time" because of its relationship with Island Hospitality. This close association allows CLDT to produce better margins and enhanced market share. (2) CLDT is well positioned to continue to grow RevPAR and once Mr. Market recognizes that CLDT can grow RevPAR and that occupancy is not dropping, the valuation should normalize. (3) The US in NOT in a recession and GDP is not slowing down.
Historically, CLDT has traded within 11x-13x P/FFO and shares are clearly dirt cheap today: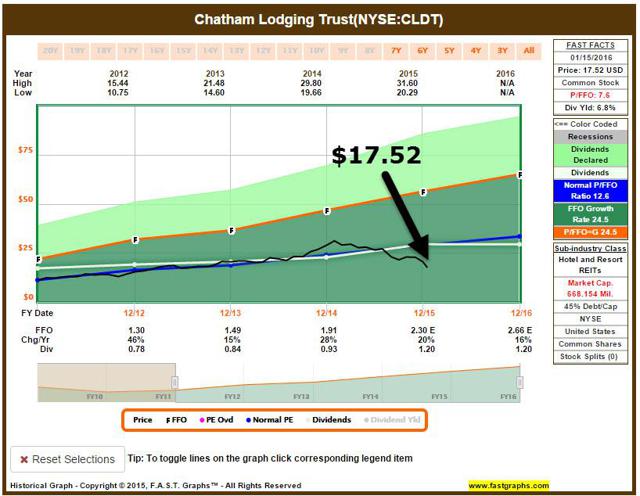 Click to enlarge
My Crystal Ball: CLDT's discount is significantly mis-priced and based upon my more recent analysis, I find the price to be outrageously cheap. The next question I ask myself is not "if" I will add more shares, but "when." Keep in mind, it takes just one large block sale to swing shares in this small cap ($671 million market cap) up or down.
CLDT's payout ratio (of 52%) points me to my final catalyst. The last dividend increase was just over a year ago (from $.08 per month to $.10 per month) and I assume that the company will announce another increase soon. The earnings trends for CLDT support more predictability and in my view, the fear is overbaked.
So as my crystal ball (FASTGraph) suggests, it's time to check back into Chatham using the dividend rewards card. Shares are much cheaper today (margin of safety) and I consider this pullback to be a window of opportunity to own more shares. As my mother used to say, "you only make hay when the sun is shining."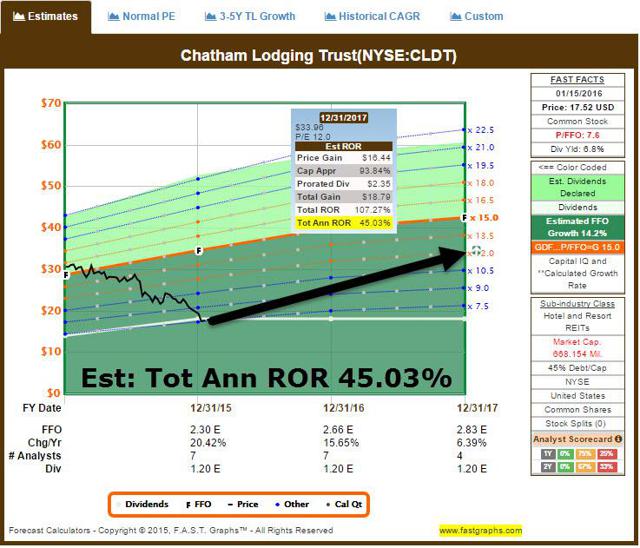 Click to enlarge
Author's Note: I'm a Wall Street writer, and that means that I am not always right with my predictions or recommendations. That also applies to my grammar. Please excuse any typos, and I assure you that I will do my best to correct any errors if they are overlooked.
Finally, this article is free, and my sole purpose for writing it is to assist with my research (I am the editor of a newsletter, Forbes Real Estate Investor), while also providing a forum for second-level thinking. If you have not followed me, please take 5 seconds and click my name above (top of the page).
The only guarantee that I will give you is that I will uncover each and every rock I can in an effort to find satisfactory investments that "upon thorough analysis promises safety of principal and satisfactory return. Operations not meeting these requirements are speculative." (Ben Graham)
Sources: SNL Financial, FAST Graphs, and CLDT Investor Presentation.
Disclaimer: This article is intended to provide information to interested parties. As I have no knowledge of individual investor circumstances, goals, and/or portfolio concentration or diversification, readers are expected to complete their own due diligence before purchasing any stocks mentioned or recommended.
Disclosure: I am/we are long O, DLR, VTR, HTA , STAG, GPT, ROIC, HCN, OHI, LXP, KIM, WPC, DOC, EXR, MYCC, BX, TCO, SKT, UBA, STWD, CONE, BRX, CLDT, HST, APTS, FPI, CORR, NHI, CCP, WSR, CTRE, WPG, KRG, SNR, LADR.
I wrote this article myself, and it expresses my own opinions. I am not receiving compensation for it (other than from Seeking Alpha). I have no business relationship with any company whose stock is mentioned in this article.