When something in my portfolio gets expensive, I usually try to take a close look at it and make an 'executive decision.' Realty Income (NYSE:O) is one of those stocks that needs to be looked at right now. While the broader stock market has been dropping, this retail REIT has actually been inching upward and is now trading well above its average valuation. This chart from FAST Graphs sums things up very well.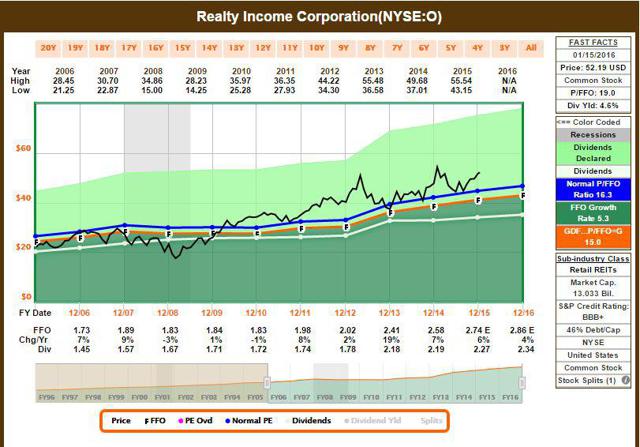 Click to enlarge
Courtesy of FAST Graphs. Solid blue line represents average ten-year valuation.
As you can see, shares of Realty Income are trading well above their average valuation. In an environment where stocks are falling broadly, Realty Income seems to be remaining above the fray. Ten-year average valuations are 16.3 times FFO, but shares currently trade at 19 times, which means Realty Income trades at a 16.5% premium to its average valuation. In this environment, my first instinct would be to cash in on Realty Income and buy something more beaten up.
But on the flip side, things are usually expensive for a reason. That is indeed the case for Realty Income, and it is true for a number of reasons. This article looks into why Realty Income is still above the fray, and where the stock might wind up going forward.
Fleeing to quality
I believe people are running to Realty Income because they are fleeing to safer ground. Realty Income is a safe haven for more than one reason, so let's take a closer look at some important factors at work here.
First is the US Dollar. The Dollar has been on a tear lately, and that has pulled down earnings of any company which does business outside the US. Realty Income isn't exposed to that because all of the company's business is in the US. This has given Realty Income a huge advantage over multinational companies and REITs with significant exposure to Europe and Canada.
Realty Income also has one of the highest credit ratings in the REIT space. Moody's pegs the company's debt at Baa1, which is three ratings into 'investment grade.' On the subject of debt, Realty Income's debt is only 5 times EBITDA, which is quite good for a REIT. Other, undervalued REITS which I've considered swapping with Realty Income with have debt/EBITDA ratios of six times or over. I can see why people may want to stick with Realty Income instead, especially if debt markets become unfriendly to riskier debt.
As you may know, retail spending has been a big disappointment in 2015, and about 80% of Realty Income's 4,000+ properties are retail properties. But Realty Income has spent the last few years strengthening its portfolio. Realty Income tends to be in only services which cannot be replaced by e-commerce, for example, convenience stores, drug stores and fitness centers. If Realty is in traditional retail, it is almost always with stores that provide exceptional value propositions to low-end customers. In reshuffling its portfolio as described, Realty Income has protected itself and its shareholders.
Realty Income expects solid growth in 2015 and in 2016. This year Realty Income expects 1.3% same-store rent growth, $750 million in acquisitions, and AFFO per share growth of between 4.4% and 6.2% even in this muted retail environment. That's not bad.
To be sure, there are many good dividend picks out there which one could buy with proceeds from Realty Income. However, when I look through my watchlist of beaten-up REITs, I have a hard time finding one that can replace Realty Income. Pebblebrook Hotel Trust (NYSE:PEB) is way down, but it is held back by a weak dollar which is keeping foreign visitors away. Ventas Inc (NYSE:VTR) is a great healthcare REIT, but its leverage is a good bit higher. WP Carey (NYSE:WPC) is also quite cheap, but its leverage is higher too, not to mention a large exposure to Europe and the Euro. At the end of the day, Realty Income is worth holding onto here. It's expensive for a reason.
Where might I sell Realty Income? Well, it's all about relativity. One REIT of comparable safety (or even greater safety) is Public Storage Inc (NYSE:PSA). Public Storage trades at about 28 time FFO. If Realty Income starts approaching those valuation levels, then I will strongly consider selling, but that would mean share of Realty Income would need to be some $15 higher than where they are today.
Conclusion
In a market where downside is very high for those who have the wrong exposure, lose a credit notch or are too levered, Realty Income is quite a safe haven. Realty Income is indeed desirable for a reason, and I intend on holding onto it.
Disclosure: I am/we are long O, VTR.
I wrote this article myself, and it expresses my own opinions. I am not receiving compensation for it (other than from Seeking Alpha). I have no business relationship with any company whose stock is mentioned in this article.