Wynn Resorts (NASDAQ:WYNN) bounced back last week following the release of its preliminary Q4 results. The results weren't optimistic but at least they were a bit better than expected in general and EBITDA of the Macau operations were in line with market estimates. The slowdown in China's economy and growing competition in South East Asia could keep weighing on Macau.
Based on the recent update, for Q4 2015 Macau revenues are down by 27%, year on year. While Las Vegas showed a modest gain of 3.8%. In Macau there was a sharp fall in VIP turnover and number of table games in the past quarter. The room occupancy edged down to 96.3% but remained much higher than in Vegas where the occupancy rate is 81%.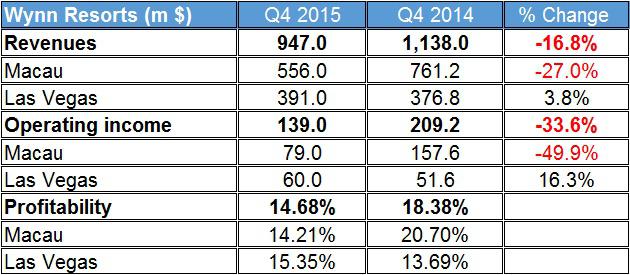 Source: Wynn
In terms of profitability, Vegas presented a modest improvement, as indicated in the table above. As a result, the profit margin in Vegas was slightly higher than in Macau.
Looking forward, investors still await for the opening of the new 1,700 rooms casino in Macau, Wynn Palace, which is expected to open in the middle of the year. Analysts estimate the company's overall earnings per share to rise by over 30% in 2017, year on year, following the opening of Wynn Palace. But there are several factors that could hinder on the growth of Wynn's earnings:
What's next for China: The fall in the China's stock market isn't a good indication for gambling revenue in Macau. China is facing a possible economic slowdown - the recent GDP for Q4 was lower than expected at 6.8% -- and pressures to cut down investments and devalue the RMB. The flight of capital - in the second half of 2015 outflow was at an annualized pace of $1 trillion - is making it harder for the PBOC to keep its currency semi-pegged to the U.S. dollar and for the Chinese government to keep relying on high investments to maintain elevated growth. And with slower growth in China and less money in the pockets of Chinese gamblers, this could mean lower revenue in Macau - as we have seen in the past year;
Growing competition in Macau: Wynn isn't the only company planning to open a new casino in 2016-2017. According to one report there are another 7 casinos including the $2.9 billion MGM Cotai by MGM Resorts International (NYSE:MGM). These new casinos will only intensify the competition of Wynn and it remains unclear how these new casinos will impact the revenue and profitability of Wynn's Macau casinos;
Stronger U.S. dollar: Even though the RMB is semi-pegged to the U.S. dollar, the same can't be said of the Hong Kong dollar. The latter has devalued against the U.S. dollar in the past several weeks. And if the U.S. dollar keeps appreciating as the Fed further tightens its monetary policy and global economic gloom drives up the demand for U.S. treasuries, this could also have an adverse impact on Wynn's revenue;
Competition from other regions in South East Asia: Macau also faces growing competition from neighboring countries including South Korea, Australia, New Zealand, and the Philippines. In total, some expect 11 new casinos in Asia sans Macau by 2020. These neighboring countries are also likely to draw more money away from Macau and make it harder for Wynn to generate a positive ROI on its latest investment.
Final note
Up to now I didn't even consider the valuation of Wynn, which isn't too attractive compared to its peers - at least in terms of EV/EBITDA ratio -- and the industry average. The forward P/E puts Wynn in the middle of the pack.

Source: Yahoo finance and Damodaran's site
But considering Wynn's debt burden is the highest (by examining the debt-to-assets ratio) of the three companies, this makes an investment in Wynn riskier. The opening of the new casino could relive investors, but in the current market conditions it may not help Wynn's stock.
Disclosure: I/we have no positions in any stocks mentioned, and no plans to initiate any positions within the next 72 hours.
I wrote this article myself, and it expresses my own opinions. I am not receiving compensation for it (other than from Seeking Alpha). I have no business relationship with any company whose stock is mentioned in this article.