The first time I became aware of, and fascinated by, the stock market is seared into memory. It was October 19, 1987, a Monday, and I was a senior in high school. By the time the New York Stock Exchange ended the day, the S&P 500 Index fell about 20% from opening to closing bell. Beyond the horror of such a deep and swift change, I remember the pervading question asked by many that day: "What caused this?"
In my interactions with advisors and clients, I hear that question asked a lot these days. As with most stock market routs, the causes of the current one are multiple and complicated. The initial cause comes largely from China, which has been the major engine of global growth in recent years. In particular, China was one of the few engines that was still firing during the Financial Crisis. So it should come as no surprise that a slowdown there has created concern around the world. And since China has become such a major consumer of commodities in recent years, falling commodity prices - especially oil prices - have only exacerbated those concerns.
Beyond China
But it's not just about China. Investors have worried for awhile about the ability for earnings to continue to grow and support lofty stock prices in the US. According to FactSet, the projected blended earnings decline for S&P 500 Index companies in the fourth quarter of 2015 is -5.7%. If this comes to fruition, it will mark three consecutive year-over-year earnings declines - the first time this has occurred since 2009. There are two major headwinds facing US companies: low oil prices, which are savaging energy companies, and the strong dollar, which is hurting US-based multinational companies and eviscerating the manufacturing sector. Neither one of these headwinds looks poised to dissipate any time soon, which is weighing down stocks.
Adding to concerns is weak US economic data. We have seen manufacturing hurting for awhile, with the ISM Manufacturing Index falling deeper into contraction territory in December. Regional manufacturing measures have been negative as well - a notable recent data point was the abysmal Empire State Manufacturing Index for January. However, many have become accustomed to the negative impacts of a strong dollar and weak oil prices. But last week saw the release of disappointing retail sales results for December, which fell 0.1% for the month. Even stripping out autos and gas, retail sales were flat, which was well below consensus expectations.
Taking a step back, retail sales were unimpressive for much of 2015 despite the improving employment situation and lower energy costs. Rising just 2.1% for the year, retail sales registered their smallest gain since 2009. For additional perspective, retail sales rose a relatively robust 3.9% in 2014. While there were a few areas of positive surprise within this report, it was largely disappointing, begging the question of what consumers are doing with all the money saved because of lower energy prices. Not surprisingly, the Atlanta Fed GDP Now estimate, which attempts to gauge GDP growth, was lowered in the fourth quarter of 2015 to an annualized rate of 0.6%-well below projections of just a few weeks ago.
Fed fanning fears
But below the surface there may be another very important reason for the stock market correction: the perceived lack of a Yellen put. For almost 30 years - since that fateful day in October 1987 - investors have grown accustomed to Fed intervention. Back then, Fed activism played an important role in combating the crisis, as the Fed explained, "The Federal Reserve was active in providing highly visible liquidity support in an effort to bolster market functioning." In particular, the Fed "eased short-term credit conditions by conducting more expansive open market operations at earlier-than-usual times, issued public statements affirming its commitment to providing liquidity, and temporarily liberalized the rules governing the lending of Treasury securities from its portfolio."
The Fed viewed the liquidity support as important by itself, but also believed the public nature of the activities likely helped support market confidence. The Fed concluded that its response to the market contraction was well received and seen as important in helping financial markets return to more normal functioning.
That activism directed at supporting the stock market set an important precedent, which progressed during Alan Greenspan's tenure as Fed Chairman and was colloquially referred to as "the Greenspan put." This was followed by the historic measures taken by the Fed in the wake of the Financial Crisis: quantitative easing and a zero fed funds rate for many years. The Fed's extraordinarily accommodative policy was labeled a "Bernanke put" because of its support of the stock market.
But after the warm embrace of Fed Chairs for nearly 30 years, the stock market may be reacting to a more chilly relationship with Chair Yellen. While stocks initially reacted positively to December's rate hike decision, investors may have begun to think twice. Fanning fears has been the policy prescription from FOMC members of four potential rate hikes in 2016, despite the headwinds facing the US economy. It is this less forgiving policy stance that may be at least partially underlying the major drop in stocks that we've seen.
Finally, another cause of the drop may be more behavioral in nature. In our RiskMonitor survey conducted in the first quarter of 2015, we found that a full 41% of institutional investors globally thought a tail risk event in the next 12 months was likely or very likely. After several years of an upwardly moving stock market, investors were looking over their shoulders, waiting for the proverbial other shoe to drop. This sell-off may be something of a self-fulfilling prophecy, as weak data unnerved market participants.
The Fear Factor
41% of institutional investors expected
a 'tail risk' event heading into 2016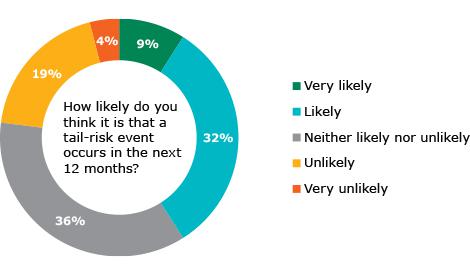 Source: RiskMonitor survey of institutional investors. Conducted in first quarter of 2015.
A matter of time
So where do investors go from here? As we've said with every sell-off, it depends on the time horizon. Those investors with a longer-term time horizon should stay the course and not allow this turmoil to rattle them. After all, we've been warning for quite some time that we will see much higher volatility as the Fed normalizes monetary policy. It's important for investors to recognize that it will likely take weeks, or even months, for stocks to be re-rated and for investors to become comfortable with monetary policy normalization.
While we expect lower economic growth and lackluster earnings over the short term, we are optimistic that both will improve over the course of the year and that stocks will look more attractive as we advance into 2016. And those investors who have a higher risk tolerance should be working on their "shopping list" right now, as this market downturn will, in the rear-view mirror, likely represent an attractive buying opportunity for investors with their eyes on long-term gains.