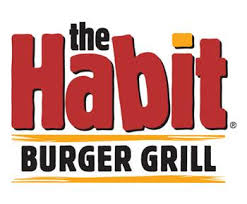 Habit Restaurants (NASDAQ:HABT) has been fascinating to watch since it came public a little over a year ago. The company's rapid growth plans have certainly had investors excited about the stock but in true 2015 fashion, the IPO went bust. After trading in the mid-$30s and above for much of the year, the stock cratered and now sits in the low $20s. HABT's growth plans were not enough, it seems, to sustain the stratospheric valuation and a dose of reality is setting in for shareholders. And after FQ4 results failed to light a fire under the bulls, is there anything that warrants buying at this point?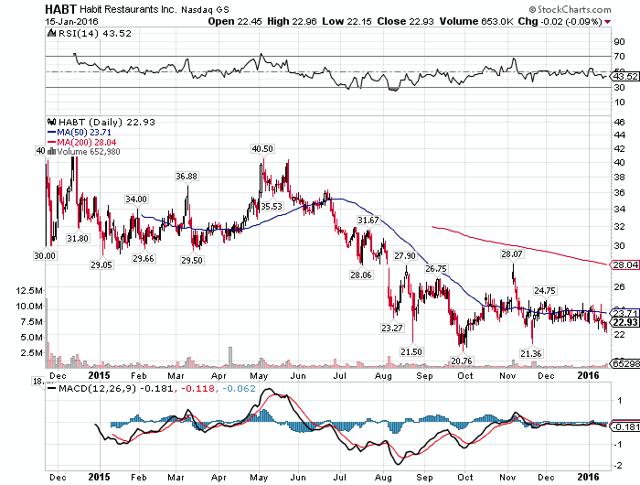 Click to enlarge
HABT posted beats on both the top and bottom lines in FQ4 as its growth continues unabated. The top line flew 25% higher as comp sales posted their 48th consecutive quarter of gains, moving 3.3% higher at company-owned stores. No one has ever questioned Habit's ability to grow and the stock certainly reflects that, but is the growth story really that compelling?
Habit has a very familiar, very popular formula that many others emulate. It serves hamburgers and associated side items and drinks in a premium fast casual environment and while that formula works, it isn't new or different. How many of these places can big markets support? I'm skeptical of paying 65 times forward earnings for something dozens of other chains are doing.
In addition, while Habit's string of comp sales increases is certainly impressive, the most recent quarter saw a big red flag for me. When looking at a restaurant chain in its growth phase, I always look at comp sales to gauge real demand. The headline comp sales number is certainly important but more so is the composition of the comp sales gains. In Habit's case, its 3.3% overall gain was due to a 3.5% average ticket increase and a 0.2% loss in the number of transactions. I have always argued that the number of transactions is far more important than average ticket because average ticket has a ceiling for any chain. There is only so much people are willing to pay for a hamburger so price increases can only get you so far. At some point, you need people coming in the door and with Habit still very much in its infancy, slowing traffic is an enormous red flag as the company's demand should be growing, not shrinking. If Habit really is growing as quickly as it seems that it is, it shouldn't be seeing weakening demand and that is a huge negative. Habit needs to see rising traffic or its ultimate growth path is certainly at risk. After all, if it can't grow traffic with a very small number of restaurants, how will it do so when it is much larger?
Another point I think warrants some caution on Habit is the fact that analysts are so very bullish on Habit that I believe it is setup to disappoint. Analysts are expecting sales growth of 27% in 2016 on top of the ~30%+ Habit did in 2015, quite the feat indeed. And keep in mind that as Habit gets larger, these kinds of gains will be impossible to sustain. That's the problem with projecting one or two years' worth of growth into the stratosphere; it never works out that way. This company is barely profitable with operating income at less than 5% of revenue and with its ambitious growth plans that isn't likely to change anytime soon. If Habit were focusing on franchising I could see a scenario where it gradually grew its operating margins substantially over time but its focus on company-owned stores is capital intensive and will sport lower margins than a franchise-heavy model.
Given all of this, the company's forward PE of 65 is ludicrous and I think this is a stock that can be shorted. Yes, Habit is down roughly half from its highs of 2015 but there is more to go. Investors are still expecting far too much from this company and its focus on company-owned stores and especially its weakening traffic will keep earnings down in the future. That means the company won't live up to its expectations and that implies a lower share price. Habit is already pricing in earnings beats on its sky-high expectations, something that I'm not willing to bet on so I think the bias is lower from here and that Habit is a nice short candidate. Should 2016 hit even a small rough patch, we could see this stock down near $10.
Disclosure: I/we have no positions in any stocks mentioned, but may initiate a short position in HABT over the next 72 hours.
I wrote this article myself, and it expresses my own opinions. I am not receiving compensation for it (other than from Seeking Alpha). I have no business relationship with any company whose stock is mentioned in this article.