I have written previously on Rightside (NASDAQ: NAME), see my previous article here for more background on the opportunity. In this article I want to give an update on Rightside's progress in growing the registry business during the 3rd quarter and update expectations for the 4th quarter's results that should be announced mid-February.
3rd Quarter Results
Registry revenue growth accelerated during the 3rd quarter up from 1.925mm to 2.382mm for quarter over quarter growth of 23.7%, compared to 19.9% growth during the 2nd quarter. Overall revenue growth was also robust, posting a quarter over quarter gain of 3.7%. Registry revenue now covers the roughly 2mm per quarter it costs the company to operate the registry infrastructure.
Margins
While the revenue growth of this magnitude is a positive, the real exciting development is the margin expansion we see developing due to the growth in the gTLD opportunity. As registry related revenue continues to grow as a percentage of Rightside's overall revenue, margins will expand dramatically. As we can see in the below graphics, Rightside operates nearly 2mm domains on it's backend with over 400k of those being Owned & Operated by Rightside.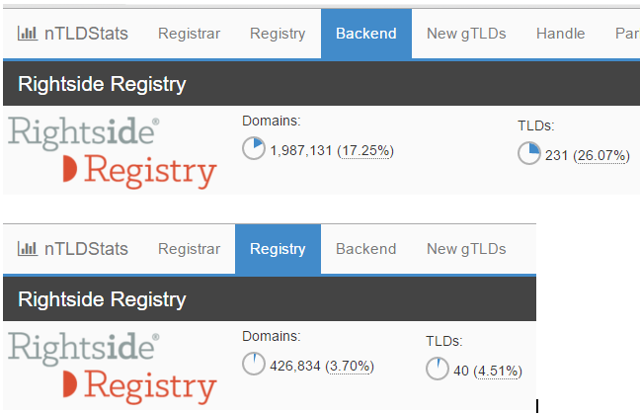 Click to enlarge
Source: https://ntldstats.com/tld
Going back to a familiar page from the investor deck, we're reminded of the value accruing to Rightside from registrations of the new generic TLD's and particularly those that are owned & operated.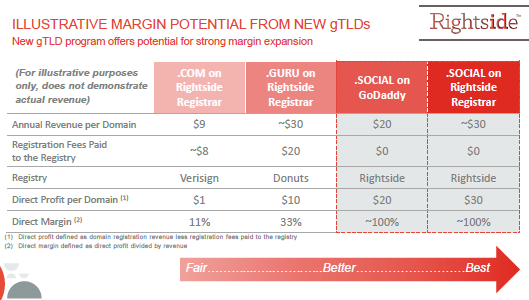 Looking Forward
In addition to strong growth, Rightside benefits from a predictable stream of reported revenue due to the nature of the domain name services business. When a customer registers a domain name from Rightside the company collects payment for a registration good for 1 or more years. Cash is collected up front with revenue and associated costs being recognized over the term of the domain name registration. These amounts show up on Rightside's balance sheet as 'Deferred Revenue' (a liability, i.e. unearned revenue) and 'Deferred Registration Costs' (an asset, i.e. pre-paid expenses). These Deferred Registration Costs represent the Fees paid to the Registry owner with the remainder net revenue to Rightside.
As the gTLD program and Rightside's Registry business has grown, the net revenue or margin has expanded. The below trend in these deferred balance sheet items shows the expansion in margin embedded in these revenues to be recognized over the next 12 months along with the comparative size of the Registry vs. Registrar businesses. The trend below shows that the relatively small level of Registry revenue has already had a sizeable impact on margins as they have expanded from the 18-19% range to well over 20%. I expect this trend to continue as new TLD's gain awareness and acceptance.

Click to enlarge
Disclosure: I am/we are long NAME.
I wrote this article myself, and it expresses my own opinions. I am not receiving compensation for it (other than from Seeking Alpha). I have no business relationship with any company whose stock is mentioned in this article.