Corn futures are near a 9-year-low level. Personally, I see few reasons that would prevent corn from reaching the mark of $3.20 in the first half of 2016.
Correlations
Earlier, I described the statistical model that allows predicting the corn futures price based on the stock-to-use ratio. Taking into account the latest USDA forecasts, the given model shows a strong potential for corn futures price reduction. Thus, in my opinion, now there are no reasons for a prompt shift of the global corn balance in favor of the "bulls."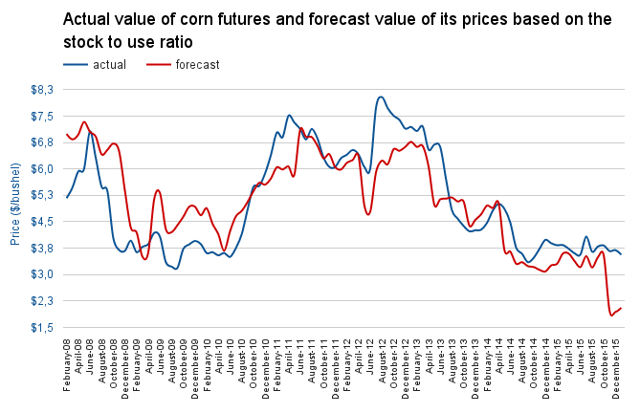 Click to enlarge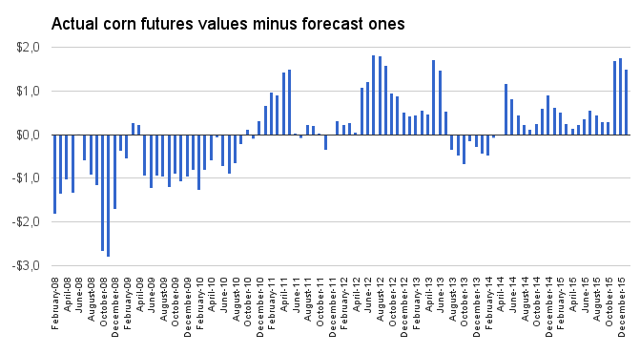 Click to enlarge
U.S. corn exports and outstanding sales
The expensive dollar is the main problem of U.S. exporters in addition to a severe global glut. This factor will not disappear in the near future taking into account the long-term scenario of U.S. monetary policy tightening. The national currencies of Argentina and Brazil continue to become cheaper. Meanwhile, indicators of corn exports in the U.S. are already alarming.
According to the latest data, just 23% of the total forecast volume of corn exports was exported in the U.S. in the current marketing year. This is the lowest indicator in at least the past four years.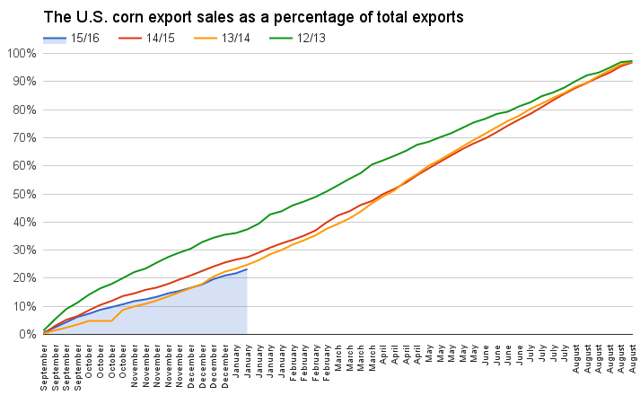 Click to enlarge
Source of data: USDA
Taking into account outstanding sales (sales not yet shipped), the situation is even less encouraging. Accumulated exports with the amount of outstanding sales expressed as a percentage of the expected exports currently total 49%. That is at least 10% lower than indicators of previous years on the same date. If U.S. corn in the future will not go down in value, USDA's subsequent forecasts will have to significantly reduce export expectations while raising forecasts for final corn inventories.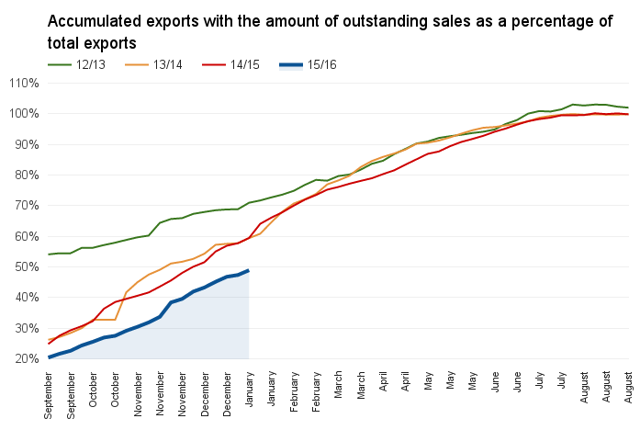 Click to enlarge
Source of data: USDA
Weak domestic demand
Declining oil prices have a negative impact on the ethanol price. This reduces the margin of ethanol producers and leads to a decline in production. Therefore, demand for corn as raw material for ethanol production falls.
At low prices, cattle breeders tend to increase the proportion of wheat, not corn, in their animals' diet. Relatively cheap wheat is more attractive since its nutritional qualities are better.
Higher borrowing costs, which complicate farmers' financing of their operations and purchase of land and equipment, also play a role. To finance their activity at low prices, farmers have to sell more corn, which again leads to a fall in prices. It is kind of a vicious circle.
Conclusion
Since the beginning of 2015, corn futures prices have been descending. At the beginning of 2016 there was a break in this pattern, but the price quickly returned to to its decline trend.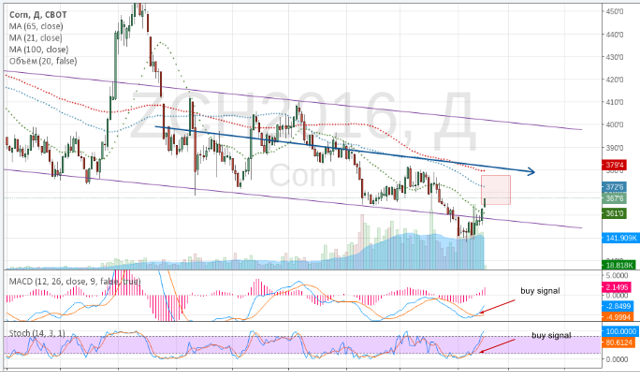 Click to enlarge
Judging by physical market prices, U.S. corn is now relatively competitive. In the near future we are likely to see an increase of corn futures at about ​​$3.70 - ​​$3.80. However, the long-term market goal remains at $3.20.
Unless otherwise noted, all charts included are my own.
Disclosure: I/we have no positions in any stocks mentioned, and no plans to initiate any positions within the next 72 hours.
I wrote this article myself, and it expresses my own opinions. I am not receiving compensation for it (other than from Seeking Alpha). I have no business relationship with any company whose stock is mentioned in this article.