"Melt up" is an expression that has frequently been used in relation to the stock market since the early days of the financial crisis. And dissecting the historical data shows exactly how unique these melt ups are to the current market environment.
A market melt up can be characterized in the following way. Stocks open the day lower, flat or slightly positive. And for much of the trading day, they are following a fairly predictable and subdued pattern. Then all of the sudden toward the end of the trading day, stocks begin to take off to the upside. By the close, the market has transformed what may have otherwise been a flat if not down day into an impressive advance. An interesting development when it occurs to say the least.
The most notable recent example of this market melt up phenomenon occurred on October 4, 2011. The stock market had already been plunging for weeks and had opened the day down -2% from 1097 to 1074 on the S&P 500 Index (SPY). This decline had decisively broken an important technical resistance level at 1100, and after struggling to regain its footing throughout the trading day, stocks looked poised to make another leg lower by late in the afternoon.
Late that afternoon, I checked the market before heading into a brief meeting at 3:20PM. The S&P 500 was down -20 points, trading at 1077, and trending lower. But by the time I left my meeting and climbed into my car a short 40 minutes later at 4:00PM, the stock market had rallied +46 points higher on the S&P 500 to close the day up +26 points, or +2.25%, at 1124. Nothing newsworthy or notable happened. The market just exploded higher in a matter of minutes. Such is a stock market melt up.
So how unusual are these market melt ups? They are certainly unique and characteristic of the current post crisis market that is perpetually inebriated on monetary stimulus and timely rumor mongering.
One way to measure today's market melt up phenomenon is the powerful intraday reversal. Similar to the events of October 4 mentioned above, this is when the market has traded sharply lower during the trading day only to end the session sharply higher. Although historically rare, such occurrences have become far more commonplace since the outbreak of the financial crisis.
Since the end of World War II on September 2, 1945, the stock market has opened and closed for 16,714 trading days over the roughly seven decades since. Over the 15,849 trading days from the end of WWII to the collapse of Lehman Brothers in September 2008, the stock market has traded down by over -0.75% intraday only to close the trading session up over +0.75% on only 164 occasions. This represents just 1% of all trading days over this stretch. Putting this in the context of today's market, this would imply a Dow trading down over -100 points intraday only to end the trading session up +100 points or the S&P 500 trading down -10 intraday and up +10 at the close. Traditionally, this is an extremely rare event.
But in the 865 trading days since the outbreak of the financial crisis, the stock market has dropped by -0.75% intraday and gone on to close higher by +0.75% or more on 34 different occasions. In other words, what happened only 164 times in sixty-three years from 1945 to 2008 has taken place 34 times in the less than four years since. Such dramatic reversals are occurring four times more frequently than normal.
Short covering might reasonable explain these sharp intraday reversals. After all, the markets have been teetering on the brink on numerous instances over the last several years, so having days when shorts are swiftly and dramatically flushed out of the market is to be expected now and then. But short interest has often been relatively low on many of the days when these reversals have taken place. And it also does not explain the numerous additional days where the market is trading flat to modestly higher and suddenly ramps to the upside at the close, often on light trading volume.
The other major influence that has coincided with the outbreak of the financial crisis in late 2008 was the advent of unprecedentedly aggressive monetary policy support including two rounds of quantitative easing (QE1 and QE2) and a third round of stealth quantitative easing (Operation Twist). Given how the stock market has generally responded so positively over the last several years to these stimulus programs, and knowing how the stock market struggles so badly once these stimulus programs are removed, it would be reasonable to surmise that these same forces might also be playing a part in sparking these market melt ups on so many days. Maybe it is a factor, maybe not. But it seems a bit too coincidental to think otherwise.
click to enlarge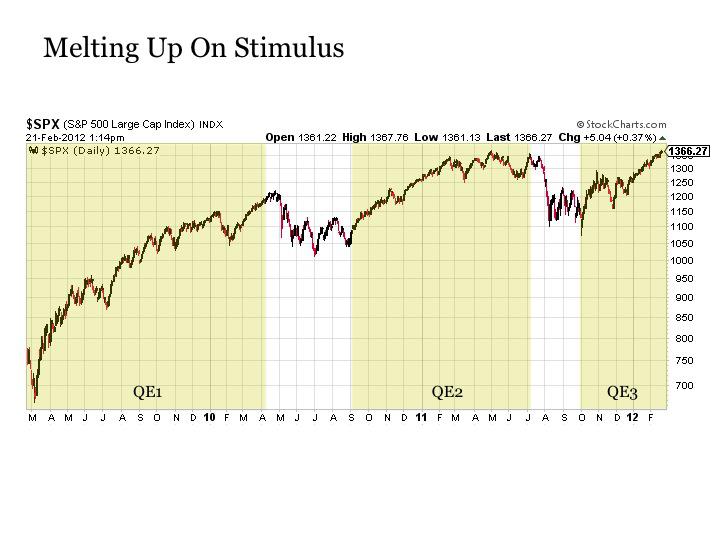 But the key takeaway here is that the stock market is behaving differently than normal in the current environment. And a stock market that is trading unpredictably is not one to be fully trusted, for melt up phases are often followed by sudden and staggering melt downs. A cautious backdrop for those long the market and a trecherous environment for those attempting to short. As a result, a 100% allocation to stocks may bring with it more risk than most investors are willing to tolerate. Instead, a portfolio that blends a variety of asset classes that are performing more predictably in the current environment provides a favorable way to capture returns opportunities while managing risk.
This may include categories such as gold (GLD), U.S. TIPS (TIP) and Agency MBS (MBB), all of which have low to negative correlations to stocks. And emphasizing more defensive segments such as within stock portfolios may also be worthwhile to manage against any unpredictable market swings. Representative names under this approach include McDonald's (MCD), Bristol Myers Squibb (BMY) and HJ Heinz (HNZ). Such a blended strategy will allow for participation in any market melt ups while protecting against the staggering melt downs that have been known to suddenly erupt along the way.

Disclaimer: This post is for information purposes only. There are risks involved with investing including loss of principal. Gerring Wealth Management (GWM) makes no explicit or implicit guarantee with respect to performance or the outcome of any investment or projections made by GWM. There is no guarantee that the goals of the strategies discussed by GWM will be met.