A multi-month base is near in crude
Crude oil's slide has continued into the new year with prices dipping below the $30 per barrel mark for the first time in 12 years.
Further inventory builds, alongside the lifting of Iranian sanctions has seen the bears out in force with calls of $20 and $10 oil hitting the front pages and scaring investors away from the oil market. However, as I wrote in my article, A crude oil rally is imminent, I expect that this capitulation will find a base and begin a correction that should last 3-6 months.
As I stated in my oil call, a correction is likely to hold in the near-term, however the medium-to-long term is not something I would try to predict in the current climate of excess supply and weakening demand. It would be wise not to discount the potential for supply disruptions in the Middle East though.
Pioneer has boosted its defences
As I look at the oil sector for a long oil opportunity, Pioneer Natural Resources (NYSE:PXD) is one company that should provide a reliable investment.
Pioneer have recently announced a debt and share public offering to raise a total of $2.5bn, made up of $1.5bn net from the share sale at a price of $117, and $1bn in senior notes expiring in 2021-2026.
The sum of $992m will be used for "general corporate purposes" and the refinancing of debts due in 2016 and 2017, whilst the remaining will help to "actively develop its acreage position in the Spraberry/Wolfcamp play... maintaining a strong balance sheet in the current period of low commodity prices."
Company should be immune to near-term shocks
Although a refinancing of debt and a share offering are negatives for a stock price, Pioneer is actually showing its cards at a key moment for oil so it removes the potential for further balance sheet problems in 2016. The potential to boost its acreage is also an aggressive move at what could be an opportune time, if the oil market provides some much-needed recovery.
Despite the additional debt, Pioneer is still well positioned with net debt-to-book capitalization under its 2015 target of 35%. For a rough relative comparison, Devon Energy (NYSE:DVN) has debt-to-equity of 100%, which would explain some of the difference in performance of both stocks.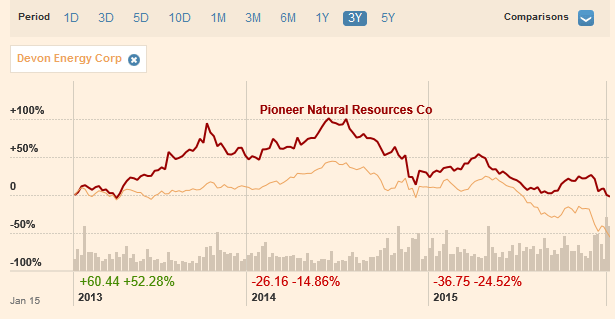 (Source: Financial Times, K George)
Looking beyond a rally
If the worst-case scenario is now priced-in for crude oil then the same should apply to Pioneer. If oil were to bounce but remain under $50 for the majority of 2016, then the stock price will largely track the market but be fully capitalized to absorb low prices.
In the event of supply disruptions or a change in demand however, Pioneer would be in a cash-rich position relative to many of its peers, with drilling costs 30% lower than in 2014 and a strong hedging war chest to lock-in future cash flows.
Summary
With oil probing beneath $30 it seems the world is turning extra bearish and throwing in the towel, which means the potential for shocks are more likely to the upside for now. Although some will play a rally in oil-tracking instruments, Pioneer Natural Resources is a stock opportunity that can capitalize on oil gains, with a potential for additional upside if the market can mount a longer recovery. With the bad news priced-in and a healthy supply of cash there should be time to sit patiently through 2016 if oil prices move higher.
Disclosure: I/we have no positions in any stocks mentioned, but may initiate a long position in PXD over the next 72 hours.
I wrote this article myself, and it expresses my own opinions. I am not receiving compensation for it (other than from Seeking Alpha). I have no business relationship with any company whose stock is mentioned in this article.