Novo Nordisk (NYSE:NVO) is known as a giant in the diabetes sector and has used that muscle to work its way into the anti-obesity space, garnering approvals faster than others in the space and also garnering revenues that would make the anti-obesity pill players jealous. The biggest differentiator in the Novo Nordisk story with Saxenda is the size and abilities of the company to drive a market rather than wait for it and hope that it develops.
As a general consumer who is not diabetic, I had reservations about the ability of Novo's Saxenda to penetrate the space. Those reservations were even bigger when I saw all of the trouble Arena (NASDAQ:ARNA), Vivus (NASDAQ:VVUS) and Orexigen (NASDAQ:OREX) have had. Even Arena's partners Eisai (OTCPK:ESALY) and Orexigen's partner Takeda (OTCPK:TKPYY) are not immune to the overall poor reception that the prescription anti-obesity space has delivered.
With all of those hurdles, Novo Nordisk moved forward with garnering the approval for Saxenda, a stronger dose of an existing diabetes medicine (Victoza). The U.S. approval was quickly followed by approvals in Europe and Canada. Meanwhile, the U.S. launch of Saxenda in the spring of 2015 has had more than a few people trying to figure out the magic.
Saxenda started off 2016 with script sales of about 2,400. This number is not as impressive as the 9,400 that Qsymia started off with, nor the 9,900 Belviq scripts sold. It is well shy of the 15,000 scripts that Contrave started off the year with, but the story is deeper than that.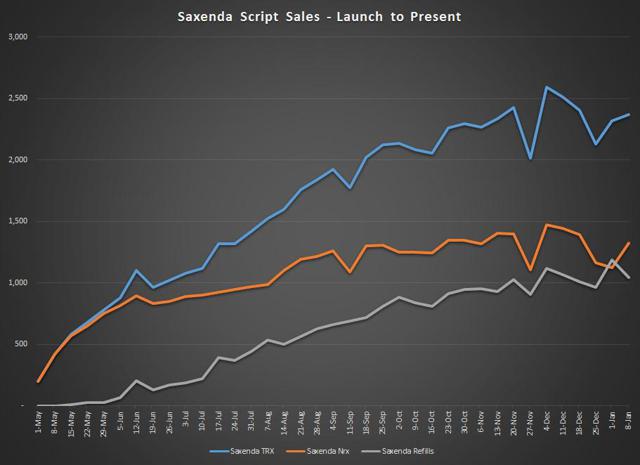 Click to enlarge
Chart Source - Spencer Osborne
Unlike its branded anti-obesity pill brethren, Saxenda is backed by a company that is flush with cash and can afford to develop a market. Heck, Novo can even afford to fail in the anti-obesity space if it does not grow.
Novo Nordisk garners more money per script than anyone else in the anti-obesity space. It also has very little differentiation in the cost side because the anti-obesity drug Saxenda is identical to the already popular Victoza. The only real difference is the dose. Saxenda's sales reps have a distinct advantage on educating doctors because many are already very familiar with Victoza and already scripting it. In hindsight, while I may not like the idea of injections to lose weight, the biggest pool of patients is very likely people that are already injecting themselves.
Novo Nordisk and Saxenda have already started off 2016 with a distinct advantage over one pill competitor. Qsymia from Vivus is excluded from the CVS Caremark formulary, and ironically, Saxenda is a listed alternative.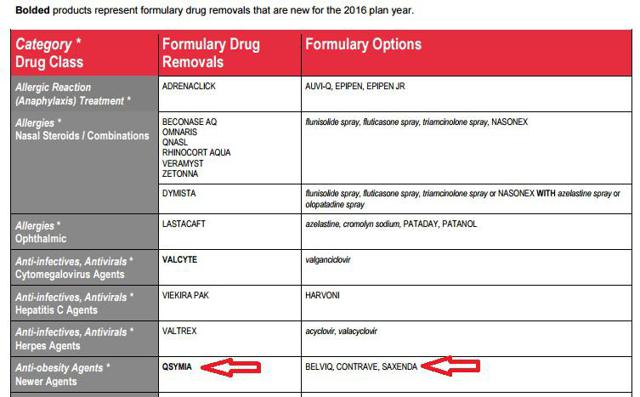 Click to enlarge
Chart Source - CVS Caremark 2016 Formulary
In addition to garnering some additional insurance coverage for the 2016 plan year, Novo Nordisk is offering savings programs that will assist consumers. The best benefit is for those with some form of coverage.
Pay no more than $30/month for prescription plans that cover Saxenda®. Maximum benefit is $200/month. Up to 12 prescriptions benefits per patient. If your co-pay is already $30 or less, this offer does not apply.
Save $200/month if you pay out of pocket. Maximum benefit is $200/month. Up to 12 prescriptions benefits per patient.
These savings initiatives still have Saxenda as the most expensive option, but if an overweight person already has insurance, and was already a candidate for Victoza for diabetes, Saxenda may be an easy choice for the doctor and patient to make.
For clarity, I do not see the anti-obesity sector and Saxenda as a compelling reason to invest in Novo Nordisk. I do see it as a value-added component of an already stellar company and product line. In my opinion, 2016 will be the year where NVO decides how aggressively to get into the anti-obesity space. It will give Saxenda every bit of support needed, but is not going to hang its hat on this one drug, not by any stretch of the imagination.
In the best-case situation, Saxenda adds some value. In the worst-case situation, Novo Nordisk can just let the sales grow organically. Stay Tuned!
Disclosure: I am/we are long NVO, ARNA, OREX.
I wrote this article myself, and it expresses my own opinions. I am not receiving compensation for it (other than from Seeking Alpha). I have no business relationship with any company whose stock is mentioned in this article.
Additional disclosure: I have no position in Vivus
Editor's Note: This article covers one or more stocks trading at less than $1 per share and/or with less than a $100 million market cap. Please be aware of the risks associated with these stocks.