Everybody knows just how ugly crude (NYSEARCA:USO) looks. The cause, also known to everybody, is an excess of supply. An excess of supply brought about by previous high crude prices worldwide (gone since 2014), and the U.S. shale boom in particular, whose effects led to increased U.S. production until mid-2015. Furthermore, as we enter 2016, Iran is now able to sell crude into the world market, making for yet more supply.
Against this picture, we have demand which has been growing steadily but slowly and that's now threatened by an economic slowdown involving China (as well as economic fears more or less worldwide).
It all makes for a so-called "supply overhang". A supply overhand which is commonly put at ~1.5 million bpd. For instance, here we have the International Energy Agency's opinion: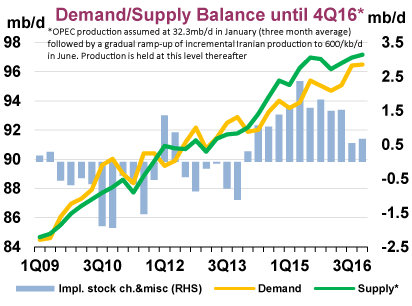 Source: IEA
As we can see, there was a 1.5 million bpd overhang throughout 2015, and IEA projects an overhang of around 0.5-1 million bpd through 2016.
Usually, such a supply excess would be met by OPEC through a cut in production, quickly bringing the market into balance. OPEC was the "swing producer". This time, though, OPEC chose not to intervene. Some would say the move was to make sure the U.S. shale industry went bust. Whatever the motive, the fact is that it did not intervene.
Outside of OPEC, perhaps only Russia could have the political power to influence oil production and exports to such an extent. But having a single producer bear all the supply reduction would be hard to begin with, never mind that Russia is now more of a capitalist country and thus not as likely to meddle into the affairs of private or semi-private companies.
Finally, in the U.S., shale production is spread through hundreds of different companies. There is no political coordination to restrict these companies' output. They just take their own decisions regarding their own output. Those decisions seemed to have been less than bright, so any production reduction took longer than it should reasonably have taken. And even when the companies take the decision to not drill anymore, or are forced to take it because of a lack of financing, the impact on production is slow as it depends on the slow depletion of existing wells.
For instance, EIA's drilling productivity report shows that, at the current rate of drilling, we can expect a sequential drop in output of around 100k-120k bpd per month. This is cumulative but takes time to accumulate. If this reduction made itself felt for an entire year, it would reduce the production run rate by 1.2-1.44 million bpd. It would actually be enough to bring back the market into balance, but it would take a full year to materialize.
We can thus say that U.S. shale producers can also be a "swing producer", but they are a slow one.
The Other Swing Producer
What I am going to put forward here is somewhat of a new thesis. It's the thesis that there's yet another large swing producer most people haven't been talking about, and whose motivation to cut production is much stronger than anyone else's.
This swing producer is "Canadian/Alberta oil sands" (made up of many actual producers). These have gotten to a point where they provide the market with ~2.3 million bpd. This means Canadian oil sands provide in excess of the entire worldwide oil supply overhang.
But here's the thing, crude oil derived from oil sands is exceptionally heavy. In its bitumen form, it doesn't even flow through pipelines and needs to be upgraded. That is, it needs to be blended with lighter crudes to be able to be transported and consumed by end users.
Even then, it's still heavy crude, known as Western Canadian Select. As such, it trades at a significant discount to WTI crude. For instance, whereas WTI now goes for around $29/barrel, WCS sits at $15.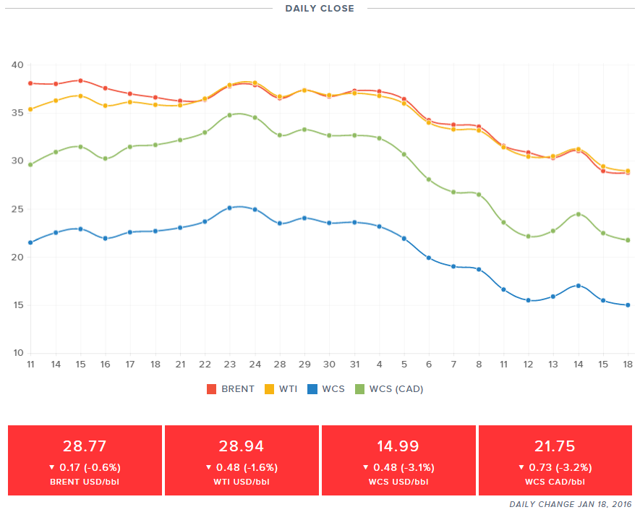 Source: OilSandsMagazine.com
Not only does this crude sell at a large discount, but it also entails much higher operating costs to extract. I am not talking about upfront costs (though those are high as well). I mean actual costs just to have a viable product, from mining for it (when applicable) to upgrading the mined/pumped product.
Suncor (NYSE:SU), a large producer of this type of crude, recently put its cash cost at $27 per barrel. Producing this crude is more akin to mining than to regular oil pumping.
When you have borne the costs to take a regular oil well (or even shale oil well) to completion, the costs to keep it running are low. You can run the well for cash flow even at the present prices. Of course, if you don't drill new wells, you are going to face declining production, but the decline comes "slowly".
Not so with crude from oil sands. Such crude implies large ongoing costs just to continue producing. You will be burning cash with every barrel you produce. Hence, while the right decision for a shale oil producer would simply be to stop spending capex on new oil wells and let existing wells cash flow, the right decision for an oil sands producer can only be to shut down existing production and stop the cash bleed.
Therein lies the difference. Canadian oil sands' output could suffer an extreme drop out of rationality. This is made difficult by existing contracts, the possibility of damage to reservoirs, integrated refineries and other such limitations but the possibility cannot be ignored. After all, we're talking about a swing producer that's large enough to eliminate the entire oil supply overhang, and which at the present prices requires straight economic irrationality to keep its taps open.
That's the other swing producer. I expect Canadian oil sands production to suffer quickly, at least from the smaller producers which can't keep on burning cash while they wait for a price recovery. This is already being felt through early maintenance stoppages, but I believe what happened to crude prices in the last 2-3 weeks will bring about significant production stoppages in excess of such stop-gap measures like maintenance scheduling.
Conclusion
We are usually concentrated on what OPEC might do regarding crude production, or how U.S. shale production can drop due reductions in drilling capex and high depletion rates. However, the case can be made that there's yet another source of production reduction which is even more economically-incentivized to reduce its production.
I am talking about the Canadian oil sands, now supplying the world market with more than 2.3 million bpd, which is more than the world's crude supply overhang. This crude is much more expensive to produce on an operational basis and at the same time it sells at a discount.
The present reality is that while crude being supplied by conventional and shale wells provides positive free cash flow if the producers cut capex, oil sands crude doesn't. It provides negative free cash flow even on an operational basis, no capex required.
Thus, it doesn't make economic sense to continue producing this crude at the same pace if the more you produce, the more cash you burn. As a result, I expect oil sands crude production to see a significant drop if crude prices do not recover rapidly. This can itself provide for a faster crude price recovery than would otherwise happen.
Disclosure: I/we have no positions in any stocks mentioned, and no plans to initiate any positions within the next 72 hours.
I wrote this article myself, and it expresses my own opinions. I am not receiving compensation for it (other than from Seeking Alpha). I have no business relationship with any company whose stock is mentioned in this article.