This recent rally in equities has been decried by many (myself included), embraced by some, and has mystified most. Although I am still skeptical of the sustainability of the overall upward movement in equities, the U.S. Dollar Index (NYSEARCA:UUP) is signaling that this rally might have a bit more room to run.
USD - U.S. Dollar Index and the S&P 500
Generally speaking, a rising dollar index is bearish for equities and vice versa. To illustrate my point, look at a chart of the U.S. Dollar Index vs. a chart of the S&P 500 (NYSEARCA:SPY) for the past year.
click to enlarge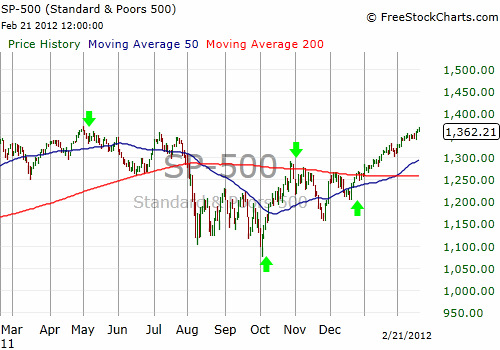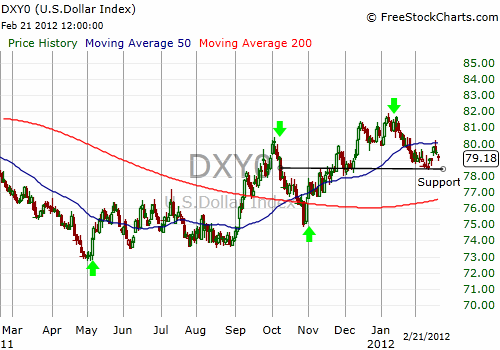 As you can see the U.S. Dollar Index formed a 12 month low at around the same time the S&P 500 hit a year high on May 2, 2011. Throughout the past twelve months a relative top/bottom in the U.S. Dollar Index has been met with a corresponding bottom/top in the S&P 500. The green arrows indicate a top/bottom in one index, and the corresponding bottom/top in the other.
Most recently the U.S. Dollar Index hit a year high around 82 in early January, and has been dropping ever since (this is around the same time that the S&P 500 started its current grind upwards.) The U.S. Dollar Index spiked last week (due to Greek debt talk fears), but hit resistance at the 50 DMA and came back down. I am looking for support around the $78.50 area, and if that breaks than we will probably see 1400+.
Keep in mind that on a relative basis, the U.S. Dollar Index has a bit more to fall before it reaches past levels where the S&P has topped. This also gives me a reason to think that this rally could continue; especially if the macro data continues to beat.
Conclusion
Watch the U.S. Dollar Index (good idea to watch the Euro (NYSEARCA:FXE) as well) for confirmation of market moves, keep an eye on the macroeconomic data, and the headlines coming over from Europe. With the Greek debt talks being all but complete, it seems as if the proverbial can has been kicked for at least the next few months. I think that the probability of a continued equities rally is better than even.
Disclosure: I have no positions in any stocks mentioned, but may initiate a long position in SPY over the next 72 hours.
Additional disclosure: My long position would be initiated by purchase of March calls. Please do your own due diligence before investing.