It was in the middle of last year that China overtook the United States as the country with the most billionaires for the first time. A consultancy based in Shanghai reported that China had 596 billionaires, an increase of 242 on 2014, compared to the U.S. figure of 537.
We believe this sudden and largely unexpected increase in the number of billionaires could be seen as positive news for auctioneer Sotheby's (NYSE:BID) which has been uniting collectors with the finest works of art since 1744, especially if art collector Liu Yiqian is anything to go by.
Late last year Liu Yiqian purchased a Modigliani painting for $170.4 million, making it the second-highest price paid for a piece of art in history. He has been quoted in The New York Times as saying:
"The message to the West is clear: We have bought their buildings, we have bought their companies, and now we are going to buy their art."
While on this occasion it was rival Christie's that won the listing, we believe there is clearly an appetite for art that is more than sufficient for both auction houses to profit greatly from in the future. This is great news for Sotheby's which has seen revenue growth fluctuate and then stagnate somewhat as shown below.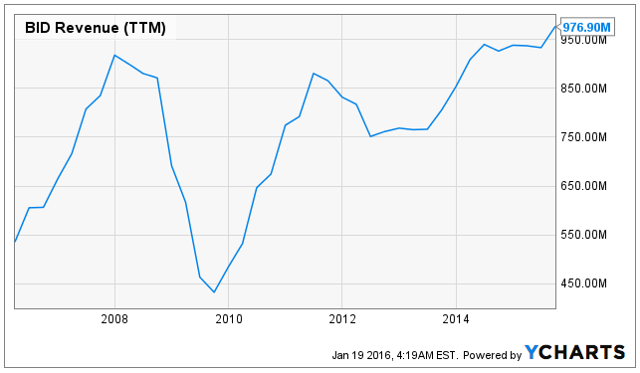 An appetite for art is clearly overdue. Auctions in 2015 (calendar year) came in at a total $5.989 billion for Sotheby's, a little short of 2014's $5.999 billion. Another slight worry is that in 2014 auctions closed at an average of 5.34% less than the high estimate, whereas in 2015 they closed 13.34% lower than the high estimate on average. It is admittedly difficult to quantify the desirability of art work and judge it on a year over year basis. You could also reason that high estimates increased in 2015 because of the success of 2014.
For the first nine months of fiscal 2015 the company's performance is lagging that of fiscal 2014. Total revenues have increased 7% to $626 million, but net income is down 3% to $63 million as you can see on the table below.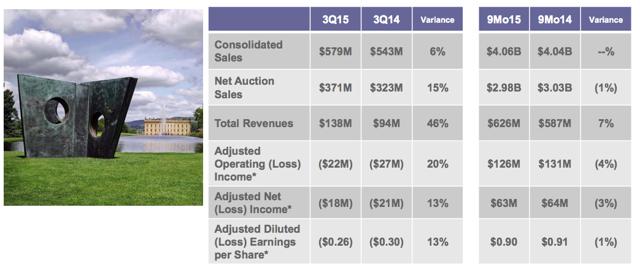 Source: Company Earnings Presentation
So of course if revenue is up, but earnings are down, there has been a decrease in margins. Management has stated a "decline in auction commission margin from 19.9% to 15.2% in the third quarter and from 15.5% to 15.3% in the nine-month period when compared to the prior year […] due to higher level of shared auction commissions and the unfavorable impact of a change in sales mix." The bad news is that it expects Q4 to be much the same, but we have high hopes that things might improve in fiscal 2016.
For us the Taubman sale seems to be an incredibly risky play. To win the listing Sotheby's guaranteed the Taubman estate around $500 million. On the Q3 call the company has said it will not "roll dice in the auction room with shareholders' money" and would only undertake such high profile lots with judgment and sensible risk management.
Ultimately, we recognize that to lose this listing would have been a big blow to the company's image. If the heirs of a former chairman of Sotheby's were to have sold his collection through its rival it would have looked extremely bad. Auctions continue to take place and we hope to see the company at least break even from it.
Sotheby's is more than just auctions, it must be said. The finance segment continues to perform strongly. Sotheby's Financial Services offer loans secured by art work. It usually lends up to the range of 40 to 60% of the low estimate of the art work, which we believe should protect the company against any downturns in the market.

Source: Sotheby's Q3 10Q
Finally, Citi Private Bank believes that the art market will continue to grow at 9% per annum for the next 15 years. This long-term growth, although slower than the previous 15 years, is still great news for Sotheby's in our opinion.
So where does this leave us now? Well, we expect revenue to be up slightly year over year, but due to pressure on margins we feel earnings will be down. Because of this we're forecasting earnings per share of $1.80 on revenue of $950 million for fiscal 2015.
In fiscal 2016 we expect a vast improvement which we feel will be fuelled in part by higher demand from Asian buyers. We feel revenue will increase to $1 billion dollars, and due to a recovery on margins we forecast earnings per share of $2.20.
The stock is currently trading at a much lower than average price to earnings ratio than usual due to the stock losing half its value since July 2015. Traditionally the stock has traded at around 20 times earnings in the last ten years, but finds itself trading at just 12.68 times earnings today.
We feel the market may be a little cautious over its long-term future right now and, until positive news comes out from earnings, it may continue to trade at lower multiples. A successful Q4 and good guidance for fiscal 2016 could be the catalyst to taking the stock higher.
We see the stock trading at around 14 times earnings in the medium term, meaning we have a twelve-month price target of $30.80 based on our $2.20 fiscal 2016 forecast.
Disclosure: I/we have no positions in any stocks mentioned, but may initiate a long position in BID over the next 72 hours.
I wrote this article myself, and it expresses my own opinions. I am not receiving compensation for it (other than from Seeking Alpha). I have no business relationship with any company whose stock is mentioned in this article.