Ensco plc (NYSE:ESV) operates a fleet of 79 offshore drilling rigs, including those formerly owned by Pride International which Ensco acquired last year. This fleet is comprised of seven drillships, 13 dynamically positioned semi-submersibles, seven moored semi-submersibles, and 49 jack-ups. The company's fleet status report also lists the Kizomba, a deepwater TLP drilling rig currently operating in Angola, the Thunderhorse, a deepwater semi-submersible currently operating in the U.S. Gulf of Mexico, and the ENSCO I, a MARACAIBO-type drill barge that is not currently under contract.
As saratogahawk pointed out in the comments to one of my prior articles on offshore drilling, Ensco has a heavy emphasis on jack-up rigs. Approximately 62% of Ensco's fleet is composed of jack-up rigs. This gives the company heavy exposure to this segment of the offshore drilling market. Ensco thus has substantial exposure to the shallow water environment with all of their jack-ups operating at depths of 400 ft. or less.
Ensco has another six rigs that are classified as midwater drilling rigs. These six rigs are:
ENSCO 5000: Operating in Brazil with a dayrate in the high $230,000 range
ENSCO 5002: Operating in Brazil with a dayrate of around $200,000
ENSCO 5003: Not currently under contract
ENSCO 5004: Operating in Brazil with a dayrate in the low $220,000 range
ENSCO 5005: Operating in Brazil with a dayrate around $235,000
ENSCO 6000: Operating in Brazil with a dayrate in the low $150,000 range
The remainder of Ensco's fleet is deepwater and ultra-deepwater units, made up of a combination of drillships and floaters. This mix consists of seven drillships and fourteen semi-submersibles.
Transocean (NYSE:RIG) provides a case study in opposites when compared to Ensco. Transocean's fleet contains 140 offshore rigs. The composition of the fleet is:
27 ultra-deepwater units split into 20 drillships and 7 semi-submersibles
16 deepwater units split into three drillships and 13 semi-submersibles
Seven harsh environment semi-submersible floater units
25 midwater floater units
Nine high-specification jack-ups
49 standard jack-ups
One swamp barge
Six units under construction split into two ultra-deepwater drillships and four high-specification jack-ups
In previous articles, I have discussed how fundamental market factors in the offshore drilling industry are driving up dayrates for ultra-deepwater floater rigs. This trend looks to be more promising for Transocean than for Ensco. Please note however, most of Transocean's ultra-deepwater units are drillships and not floater units which command a higher dayrate. The reverse is true at Ensco, with deepwater and ultra-deepwater floaters making up the majority of their deepwater drilling fleet.
Ensco has a much larger portion of their fleet allocated to the jack-up segment of the offshore drilling industry than Transocean does. This would make Ensco a better play on shallow water drilling (jack-ups operate in depths of four hundred feet or less) than Transocean.
The shallow water segment of the market may not be the best way to play the offshore drilling industry though. An article published on Rigzone in August of 2011 included this chart:
right click to enlarge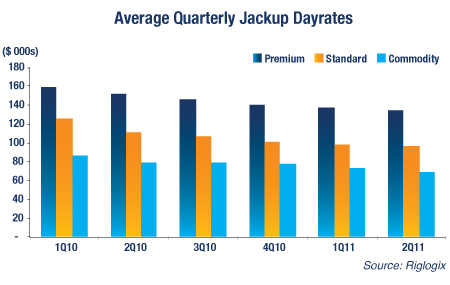 The same article predicted that jack-up rates would improve slightly due to price improvements during July of 2011. That proved to be somewhat optimistic though. In July of 2011, the market rate for a premium jack-up rig was approximately $139,000. According to SeaDrill's (NYSE:SDRL) presentation at the SEB Enskilda Nordic Seminar, today's market dayrate for a premium jack-up rig is $135,000 and prices have been fluctuating between $130,000 and $150,000 for most of the past two years.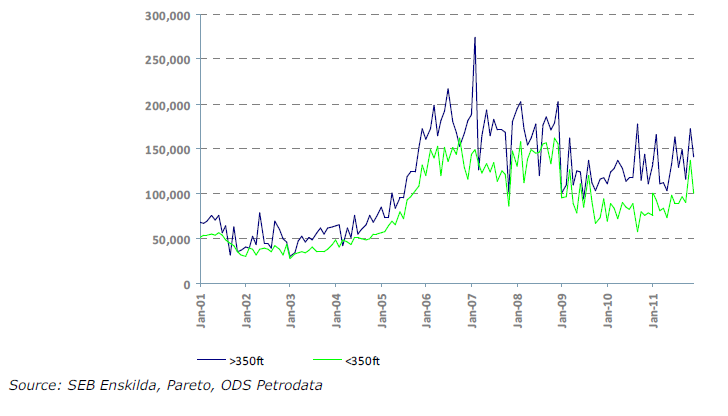 Jack-up rigs that have the capability to operate in than 350 feet of water command the highest dayrates. This does not include most of Ensco's fleet. Here is a chart from Rigzone that shows the average dayrate for different classes of jack-ups. This is the average dayrate of currently contracted rigs. The market rates for each classification are lower than the averages shown in this table. Ensco's fleet status report (linked above) shows that most of the company's rigs operate in the 250-300 foot range of water depth. On top of that, Ensco has few jack-up rigs earning anywhere close to the $135,000 figure cited above. Here are the ones that do:
ENSCO 100: Earns in the high $150,000 range
ENSCO 101: Earns in the low $200,000 range
ENSCO 102: Earns in the low $200,000 range
ENSCO 104: Earns in the high $140,000 range
ENSCO 109: Earns in the low $170,000 range
As should be obvious, this is a very small percentage of Ensco's large jack-up fleet. The remainder of their jack-ups earn dayrates that are less, most of which earn less than $100,000 per day. This is due in part to these rigs being less capable to the best rigs on the market and it is also due in part to the age of their rigs. The dayrates on Transocean's jack-ups are better but even they only have two standard jack-ups that are earning at least $130,000: GSF Adriatic X (beginning in July) and GSF Key Manhattan. Only four of their nine high-specification jack-ups surpass that price: GSF Constellation I (beginning in May), GSF Galaxy II, GSF Galaxy III, and GSF Magellan.
In a recent article, I showed that jack-up rigs have the worst economics of any offshore rig type. That calculation assumed a dayrate of $145,000 for jack-up rigs. The payback period of jack-up rigs gets longer as the price goes down. This hurts the revenue and profits from the jack-up rig operations at both Ensco and Transocean. Transocean is much less exposed to this though due to their greater focus on midwater, deepwater, and ultra-deepwater environments compared to Ensco.
Disclosure: I am long SDRL.