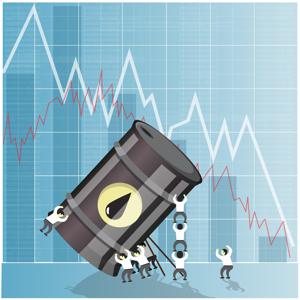 Stocks bled red in early action as Wall Street took its cues from weakness across Asian markets and a fresh drop for oil prices below $28 a barrel.
The broad S&P 500 (SPX) and other leading indexes erased Tuesday's mild bounce early in today's session, putting major SPX support at 1835 in play (figure 1).
Hong Kong stocks hit a 3½-year low and Japan's Nikkei closed in bear market territory after China on Tuesday said its gross domestic product expanded 6.9% in 2015, the slowest pace in 25 years. Some overnight speculation for another round of Chinese economic or market stimulus emerged but was quickly dashed by Chinese inaction. European stocks were sharply lower to begin their session, trading at 13-month lows and feeling the sting of global uncertainty and weakness in energy stocks. China's slowdown hits there, too, because its population consumes some 12% of the world's crude, according to global trade figures.
London-traded Brent crude for March delivery, largely considered the global oil benchmark, was down 2.5% and had traded as low as $27.70. U.S.-traded March West Texas Intermediate futures shed some 2.7% in early action to $28.76 a barrel. The nearby February WTI contract fell 2.9%, to $27.63 a barrel.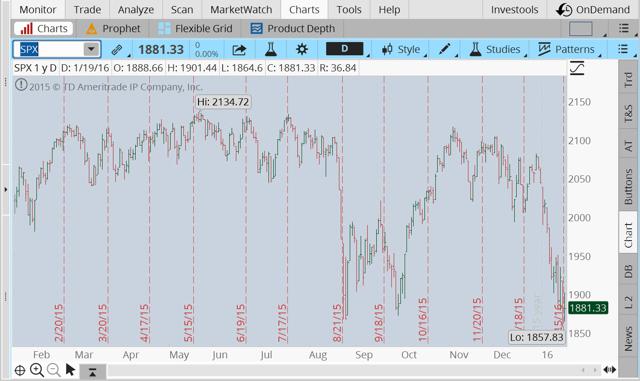 Click to enlarge
Figure 1: Next Support? The S&P 500's (SPX), plotted here on the thinkorswim® platform, saw what could be a short-lived bounce on Tuesday. Major support next comes in at 1835. Data source: Standard & Poor's. For illustrative purposes only. Past performance does not guarantee future results.
Swimming in Oil? The International Energy Agency said on Tuesday that "unless something changes, the oil market could drown in oversupply." The IEA projects that oil markets will still have a surplus of 1.5 million barrels a day in the first half of 2016. Plus, the lifting of international sanctions on Iran could add 300,000 barrels a day of crude by the end of the first quarter, reducing the effect of the 600,000-barrel-a-day reduction expected from producers outside the Organization of the Petroleum Exporting Countries, the IEA said.
Housing Starts Mixed; CPI Dips. U.S. housing starts fell 2.5% last month to an annual rate of 1.15 million, government data showed, below Wall Street's expectations. Yet for the full year home builders started work on 1.11 million new houses, the most since the Great Recession. Starts climbed nearly 11% compared to 2014. As for that inflation picture, this morning's consumer price index (NYSEARCA:CPI) report revealed a 0.7% rise in the measure for all of 2015, the second slowest rate in 50 years, and largely woed to falling gasoline prices and softness in some food prices. There's more to the figures, though. Core consumer prices-it strips out the volatile food and energy categories-have climbed at a 2.1% annual rate, marking the biggest 12-month change since 2012. Higher costs of shelter, medical care, and other services have driven the increase.
Financials, a Bright Spot (Sorta)? Even in a sector-by-sector survey, it's challenging to find a bright spot among stocks in the short term. Some glimmer emerges from the financial sector, which has been reporting earnings whose results largely have met or beat lowered Wall Street expectations. Investment banks and retail banks grapple with low interest rates, volatile trading, and energy loan liabilities but many have said the worst appears behind them. Will they too face fresh turmoil from the latest market rout? The latest to report, Goldman Sachs (NYSE:GS) said it continues to work through legal expenses but reported improvement in investment banking. Q4 net income fell to $765 million, or $1.27 a share, from $2.17 billion, or $4.38 a share, a year earlier, hit by a regulatory penalty. Revenue dropped to $7.27 billion from $7.69 billion.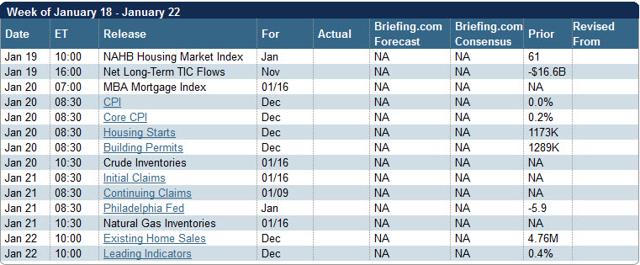 Click to enlarge
Figure 2: Economic Agenda. This week's U.S. economic report calendar. Source: Briefing.com.
TD Ameritrade, Inc., member FINRA/SIPC. TD Ameritrade is a trademark jointly owned by TD Ameritrade IP Company, Inc. and The Toronto-Dominion Bank. Commentary provided for educational purposes only. Past performance is no guarantee of future results or investment success.
Disclosure: I/we have no positions in any stocks mentioned, and no plans to initiate any positions within the next 72 hours.
I wrote this article myself, and it expresses my own opinions. I am not receiving compensation for it (other than from Seeking Alpha). I have no business relationship with any company whose stock is mentioned in this article.