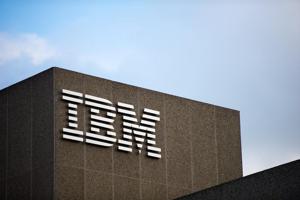 When it comes to IBM's (NYSE:IBM) earnings reports, to paraphrase Yogi Berra, it's déjà vu all over again. It seems investors become more displeased with each passing quarter. Again and again, IBM's revenue declines, its future guidance disappoints, and the stock slides. It happened once again Wednesday, as IBM shares opened 6% lower, even though the company beat earnings estimates. And yet, I remain bullish.
I wrote about IBM several times last year, in these articles:
What Everyone Is Missing About IBM
IBM: Growing Free Cash Flow, 3.5% Dividend Means I'm Buying More
Why I'm Not Selling IBM And Neither Should Dividend Investors
Throughout the downturn, I've consistently pointed investors to focus on two things: the growth of the strategic imperatives and IBM's free cash flow. I believe the company's turnaround remains on track, and even in these difficult times, IBM still generates massive free cash flow.
The market isn't convinced, and continues to punish the stock. But as a shareholder, that's fine by me. All this means is that IBM's billions in buybacks can purchase shares at an even better price, and the dividend yield now exceeds 4% thanks to the stock price decline. It seems nobody wants to buy this highly profitable cash machine at 10 times earnings except me, but so be it.
Here's why I bought more IBM shares Wednesday morning.
Déjà vu All Over Again
IBM reported quarterly earnings of $4.84 per share on an adjusted basis, on $22.06 billion of revenue. Analysts expected about $4.81 per share in EPS and $22.02 billion, so both figures modestly surpassed estimates. On a year-over-year basis, the results were once again poor. Revenue declined 9% as reported, while earnings per share fell 17% from 2014. IBM stock has declined for several years now. In early trading today, the stock briefly fell below $120 per share. It's now down 21% in the past year, and 32% over the past two years.
While the headlines are once again overwhelmingly negative, IBM still gets a lot right. Put simply, IBM is highly profitable, generates a huge amount of free cash flow and returns a great deal of it to investors at what amounts to a bargain stock price.
Keep Focus on What Counts
Investors seem obsessed with IBM's growth (or lack thereof). But the first thing to keep in mind is that foreign exchange is doing most of the revenue damage. The U.S. dollar is impacting revenue growth for all large multinational companies, not just IBM. In addition, divestitures have played a big part in IBM's revenue and earnings declines. Last year, the company sold off its System X and customer care businesses. That has caused revenue to decline, but IBM's divestments were the right decision because those businesses generated barely any profit.
For example, full-year revenue from continuing operations was reduced $7 billion from currency and $3 billion from divestitures. That's $10 billion of revenue because of foreign exchange and divestments. With that kind of a headwind, it should not be surprising to see total revenue decline once again last year, simply because of the difficult comparisons. Underneath the headline though, IBM is making real progress.
The 'strategic imperatives' as they are known, which encompass IBM's higher-growth areas like data, the cloud, security, and mobile, continue to grow at a high rate. These areas collectively grew revenue by 26% in 2015, adjusting for currency and divestitures, and are now 35% of IBM's total revenue. As these businesses continue to grow at high rates, they will eventually become the majority of the total company.
This indicates that the company's strategic shift into higher-value areas is working as planned. For further evidence, look at free cash flow, which continues to grow, even though revenue and earnings are declining. IBM generated $13.1 billion of free cash flow in 2015, up $700 million from the previous year. That easily covered the $4.9 billion of dividends and $4.6 billion of share repurchases. Going forward, IBM will continue to buy back stock at advantageous prices, and the dividend can easily continue growing at double-digit rates, as the payout ratio is just 37% of free cash flow.
I'm Buying Once Again
I've remained bullish on IBM over the past year, but the stock keeps going lower. This is certainly frustrating, but the reality is that nothing fundamentally has changed except the stock price. The turnaround story is still intact. The strategic imperatives are growing, and while they are currently overshadowed by IBM's bigger, struggling businesses, that won't always be the case.
Free cash flow and dividends continue to grow. The stock is still declining, and can decline further still - after all, very cheap stocks can maddeningly become cheaper, far beyond what seem like rational levels. But as long as IBM continues to grow free cash flow and dividends, I'm not selling. At a 10 P/E, a 4.2% dividend yield, and a 16% free cash flow margin as a percentage of revenue, I'm content being what seems like IBM's only fan. I added to my IBM position again Wednesday.
Disclaimer: This article represents the opinion of the author, who is not a licensed financial advisor. This article is intended for informational and educational purposes only, and should not be construed as investment advice to any particular individual. Readers should perform their own due diligence before making any investment decisions.
Disclosure: I am/we are long IBM.
I wrote this article myself, and it expresses my own opinions. I am not receiving compensation for it (other than from Seeking Alpha). I have no business relationship with any company whose stock is mentioned in this article.