DISH Network Corp., (NASDAQ:DISH) is scheduled to release its results on February 23, 2012. We have analyzed the company's performance for the last period and have highlighted points of interest to the investment community.
Lets look at fundamentals first
We classify DISH as Harvesting because of the market's relatively low growth expectations despite its relatively high returns.
DISH's asset efficiency and net profit margins are both around the median level.
Compared with its chosen peers, changes in the company's annual earnings are better than the changes in its revenue, implying better than median cost control and/or some economies of scale.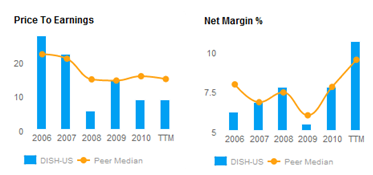 DISH's return on assets currently and over the past five years suggest that its relatively high operating returns are sustainable.
The company's relatively low gross margin suggests it may be constrained on pricing compared to its peers.
While DISH's revenues growth in recent years has been around the peer median, the stock's below peer median P/E ratio suggests that the market likely sees the company's long-term growth prospects to be fading.
DISH might have enough interest coverage to take-on additional debt prudently.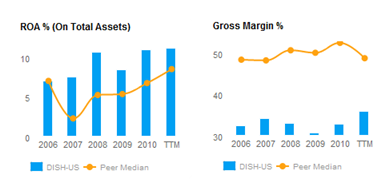 The company is likely overinvesting in a business with only median returns.
What about the Quality of Earnings for DISH?
Finally, we look at the quality of earnings by analyzing the last set of financial statements. This analysis made us conclude the following (and percolated items to watch out for in the earnings call).
DISH's net income margin for the latest fiscal year is around peer median, which combined with a level of accruals that is also around peer median suggests there possibly isn't too much accrual movement flowing into the company's reported earnings.
The company's accrual levels in this fiscal year are positive and around the peer median suggesting the company has a proper level of reserves.
Excluding the effects of change in revenue, the accounting categories causing the most impact on the movement of net income from the prior period to the current period are Accounts Receivable, Other Income and Accounts Payable.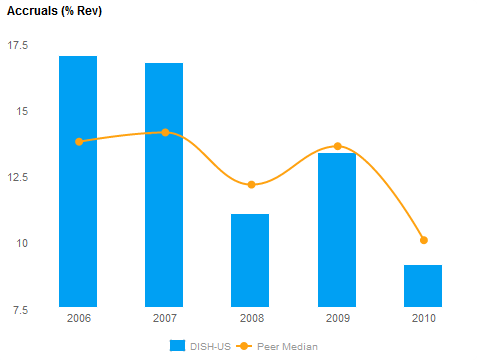 Supporting Data
We use a relative analysis methodology and have used our standard set of peers for this analysis. Users of the AnalytixInsight platform can customize this list and choose the companies to compare with for a custom report.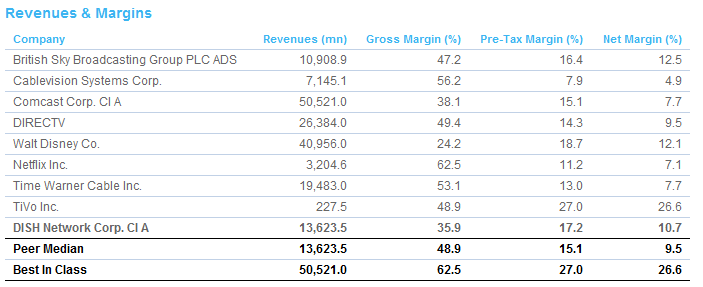 Company numbers are TTM (trailing twelve months) and share price data is previous day's close unless otherwise stated.

Disclosure: I have no positions in any stocks mentioned, and no plans to initiate any positions within the next 72 hours.